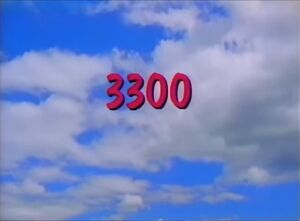 Picture
Segment
Description




COLD OPEN
Big Bird, Telly, Luis, Mr. Handford, Celina, and some kids await the broadcast of the Worm Summer Games as an announcer (voiced by Martin P. Robinson) introduces the event.




SCENE 1
Tim McCarver covers the games, being held in Wiggly City, Georgia. Slimey is a part of the worms at the event, representing The United States of America. Oscar joins as his coach, along with other international Grouches. Tim recalls Slimey's past attempts at the Worm Winter Games, even though he lost. Oscar chews out Tim for his negative coverage as the Grouches argue over who's the most proud.

Cartoon
Geography Guy points to China on the globe.
(First: Episode 3270)

Muppets
Mr. Johnson goes to the local gym, where Grover is one of the instructors. He is about to help Mr. Johnson work out, but keeps leaving to get his towel, whistle, barbell, and radio. Once he is planned to work out, Grover is too tired to do anything else.
(First: Episode 3262)

Cartoon
A caterpillar sings "Exercise, Exercise."
Artist: ArtistMike
(First: Episode 2839)

Song
Leon Redbone sings "Blueberry Mouth."

Cartoon
Bruce the moose invites Toulouse LaGoose over for juice.
(First: Episode 2498)




SCENE 2
The first event in the Worm Summer Games is the One-Yard Dash. The worms line on Wiggly Field and begin squirming. Slimey initially is behind the rest, but picks up the pace and comes in first across the finish line!

Cartoon
A parade of toys illustrates first and last.
(First: Episode 2857)

Muppets
Two flowers, a baby sparrow, and two bunnies sing "That's How I Got Here."
(First: Episode 2983)

Film
How to say "bunny rabbit" in sign language

Animation
Planet E / e
(First: Episode 2840)

Animation
Planting Letters: E
(First: Episode 3009)

Animation
E / e Gregorian chant

Film
A boy who lives in the Congo (in Africa) narrates a film of the kinds of games he and his friends play.
(First: Episode 2668)
Muppets
"African Alphabet Song"
(First: Episode 2360)

Cartoon
A dinosaur tries to eat an apple on a tree. A group of kids keep telling him to "GO HIGHER!"
(First: Episode 2908)

SCENE 3
Next is the "Over-Under-Around and Through" hurdle race, featuring Slimey and two other worms. Slimey is once again victorious. Tim tries bringing up Slimey's losses in the winter games, earning a rant from Oscar.
Blooper: Joey Mazzarino's Italian Grouch wanders into the scene, calling for his worm who's not present in the game. He runs by at the end of the scene doing the same, eliciting laughter from Tim and the crew.

Song
"Around and Around (Over, Under, Through)"
(First: Episode 2753)

Cartoon
A cartoon shows a few Spanish words - which are also English words.
Artist: Fred Garbers
(First: Episode 3011)

Muppets / Celebrity
Celia Cruz sings "Songo's Song."
(First: Episode 3279)
cut from the HBO version

Cartoon
At the Pride Day Ceremony, Donald is waiting to describe his proudest accomplishment, and is initially unsure of himself next to other impressive students. He finally proudly acclaims his achievement, tying his shoes all by himself.
Artist: John Korty
(First: Episode 2085)

Film
A girl floats around in a circle.
(First: Episode 3130)




SCENE 4
Up next is the circle-throwing event (a miniature version of discus). Squiggly, the Kenyan worm, throws it an impressive 16 inches. Slimey goes next, hurling himself across the field along with his disc, going further than Squiggly. Tim thinks there might be a penalty call, but the judges allow it; Slimey wins another event!

Song
"I'm in Great Shape": Kids dance with triangles, circles and squares.
(First: Episode 3277)

Cartoon
A red scribble demonstrates out and in.
Artist: Fred Garbers
(First: Episode 3128)

Muppets / Celebrity
Ernie and Aaron Neville sing "I Don't Want to Live on the Moon."
(First: Episode 3242)

Film
Jaws spoof presenting the letter E.

Animation
Computer E / e
(First: Episode 3071)




SCENE 5
Up next is the balancing event, where Slimey performs an impressive routine on the balance beam. All the judges give him a perfect score! Oscar and Slimey decide to express their happiness away from "Mr. Media."

Film
Kids dance around at gymnastics to "Rockin' Robin."
(First: Episode 3147)

Cartoon
A chorus of 5s come out of a 5 painting.

Muppets
"Elmo's Jive Five"
(First: Episode 2939)

Cartoon
5s are found in an icy environment.
Artist: Joey Ahlbum

Song
"I'm an Aardvark" (re-filmed version)
(First: Episode 2520)

SCENE 6
Slimey now competes in the Letter Diving event. Lo Mein, the worm representing China, attempts an Uppercase L Half-Gainer, but doesn't quite get it. Slimey tries a Lowercase L Triple-Gainer and successfully makes the dive, drenching Tim with water (much to Oscar's glee).

Film
Wegman's dogs form the letter L.
(First: Episode 3270)

Muppets
Ernie and Bert sing "La, La, La."
(First: Episode 0321)

Animation
Arnold uses his imagination.
Artist: Craig Bartlett
(First: Episode 2754)

Film
A gymnastics team practices tricks for the circus.
(First: Episode 2889)

Song
"Front Back Ballet"
Artist: Jane Aaron
(First: Episode 3016)




SCENE 7
It's time for the closing ceremonies of the games, where Slimey receives 5 gold medals - a first in worm history, though Slimey can't keep his head up while wearing them all. After Tim announces the sponsors, Oscar robs him of his mic to deliver a message of perseverance to all the worms of the world.
Notes
This episode, which aired on January 6, 1995 and reran on July 7th, was featured in Sesame Street Magazine issue 246 (July/August 1995).
See also
Community content is available under
CC-BY-SA
unless otherwise noted.