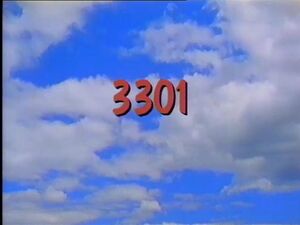 Picture
Segment
Description




SCENE 1
Susan welcomes the viewer and says, "We're gonna talk about this number" (19). Benny Rabbit, passing by, asserts he is not included in this "we," since he's going downtown. A Honker father presents his baby to help show the number and Benny sticks around to see the result. The little Honker honks 19 times.

Cartoon
Rap #19
(First: Episode 2560)

Film
Growing Numbers #19
(First: Episode 2937)

Muppets
Ernie & Bert — Ernie plays a game with Bert where Ernie plays riffs on his drum set and Bert has to repeat them back. Bert is surprisingly good at the game.
(First: Episode 1809)

Cartoon
An elephant, a zebra, a hedgehog, an ostrich, a frog and a ladybug create a rhythm with their footsteps.
Artist: Karen Aqua
(First: Episode 2794)

Muppets
Muppet & Kid Moment — Morgan and Grover count in English and Spanish.
(First: Episode 3138)

Cartoon
A lizard sings about how she likes to be "Above it All", as well as below.
Artist: Sally Cruikshank
(First: Episode 2559)

SCENE 2
Benny runs into Savion as he makes his way downtown and secretly watches as he plays a rhythm game with a Honker and Dinger. Benny accidentally makes his presence known when he repeats their rhythms with his squeaky teeth.

Cartoon
A penguin repeats the rhythms of the sounds it hears, which include a drum, a door knock, a saw and a typewriter.
Artists: The Hubleys
(First: Episode 0239)

Film
"Body Dance" (MC Lyte)
(EKA: Episode 2816)

Cartoon
Kid names his own body parts
(First: Episode 0809)

Muppets
Guy Smiley hosts the Letter of the Day Pageant.
(First: Episode 2212)

Cartoon
E Imagination
Artists: The Hubleys
(First: Episode 0001)

Song
Ornate E's go easing by to a song.
(First: Episode 2937)

Film
A trip to an African dance school.
(First: Episode 3266)

Celebrity
Picabo Street stops by the park to tell Elmo about her skiing and how she won a medal. Afterwards, the two play Peek-a-Boo together.

Cartoon
A little girl sings "There Is Only One Me."
(First: Episode 1942)

Muppets
The Martians are looking for the Earth and find pigs in space and the Moon along the way.
(First: Episode 2725)

Animation
Planet G / g
(First: Episode 2844)

Muppets
Anything Muppets sing "Oh, G" in praise of the letter G.
(First: Episode 1167)

Cartoon
Fish form G and g.
(First: Episode 3112)

Film
"In the middle of the city we have a garden...."
(First: Episode 2889)

SCENE 3
Gordon puts some Honkers and Dingers in place for a musical game. Benny insists he's going downtown still, but hangs around to see how the pattern game works. He's glad to see the guess he was going to make was correct, then rushes away embarrassed.

Film
What sound does a rooster make?
(First: Episode 3278)




Muppets
Polly Darton sings "Save Your Energy for Me," a song about energy conservation.
(First: Episode 3134)

Cartoon
A little girl leaves everything on in the house, until the TV set recites a poem about sharing electricity.
Artist: Lisa Crafts
(First: Episode 2845)

Muppets
Grover gives the viewer a brief explanation of "here" and "there."
(First: Episode 3130)

Cartoon
Wilbur and Wanda try to find the lamp in a dark room, while figuring out who's here and there. Finally, their son turns on the light.
Artist: ArtistMike
(First: Episode 3073)

Muppets
Anything Muppets (including Farley) shout "E!"
(First: Episode 0408)

Animation
E / e (elephant / jazzy trumpet)
(EKA: Episode 2222)

Film
Girls sing a jump-rope rhyme about naming a puppy.
(First: Episode 3279)

Cartoon
Lots of bunnies are needed to pull the huge carrot from the ground. (new music and sound effects added)
Artist: Irra Verbitsky
(First: Episode 1473)

SCENE 4
Celina invites Benny to dance with her and the kids and he declines, as he only likes doing his own dance - "The Benny Hop." He reluctantly shows them how the dance goes and finds himself having a great time.

Cartoon
"There's an Exercise That's Right" even for a snake.
(First: Episode 2962)

Muppets / Transition
Big Bird's eyes get wider as the next segment plays ...
(First: Episode 3163)




Film
Xiao-Mei from northern China describes a festival at the end of every year that her family participates in. Each day of the festival, there is a new show to watch, a series of parades and lots of food like noodles and dumplings. Women prepare floats for the parade while men dress up as river animals. Xiao-Mei's favorite part or the festival is the lion dance. Xiao-Mei also demonstrates how she can walk on stilts which are strapped to her legs, and hopes someday to dance in the big parade.
(First: Episode 3266)

Animation
A map of China morphs into the shape of animals and things that are found there.
(First: Episode 2782)

Muppets
The Two-Headed Monster sounds out the word "hop" and starts hopping.
(First: Episode 1482)

Film
"Box City Recycling Rap"
Kids sing a rap song about recycling. They build a city out of boxes and cartons.
(First: Episode 2851)

SCENE 5
Gordon sees everyone doing the "Benny Hop" and asks to join. Everyone continues doing the dance as Susan announces the sponsors.