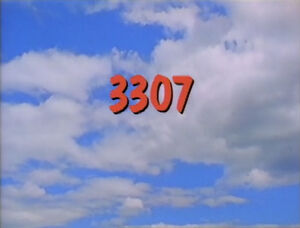 Picture
Segment
Description

COLD OPEN
Oscar announces Slimey's mother is having a baby...though they're not sure when.

SCENE 1
Oscar watches the skies for an airplane that Slimey's father, Dusty, will be riding from work to take his wife to the hospital. They receive a wormgram from Dusty, saying he missed the plane and is waiting for the next one. He adds that Oscar had agreed to help if he couldn't make it.

Film
Katie is going to be a big sister.
(First: Episode 2769)

Muppets
Two-Headed Monster: MOM.
(First: Episode 1481)

Animation
Kids talk about families, often mentioning having rhinoceroses as pets.
(First: Episode 2759)

Animation
Pencil box A/a
(First: Episode 3082)

Film
A for action, acrobat, art, artichoke, and applause.
(First: Episode 3266)

Cartoon
An ape takes a bite out of a yellow A.
(First: Episode 2813)

Muppets / Celebrity
Jim Carrey shows Elmo and Telly how he expresses his emotions - with his feet (in speed-induced footage, no less).
(First: Episode 3023)

Film
A Japanese boy plays taiko drums in the park.
(First: Episode 3153)

Cartoon
How they say "good night" in Haiti and in India.
(First: Episode 1824)




SCENE 2
Maria and Luis help Oscar pack Eartha's overnight suitcase. They load in several (teeny, tiny) items, including a small photo of Slimey, who helps fit all the things into the suitcase.

Muppets
Baby Tooth and the Fuzzy Funk: Caribbean dance
Part 1
(First: Episode 3136)

Cartoon
A dog, a girl and a lizard dance to a bongo beat.
Artist: Karen Aqua
(First: Episode 2795)

Muppets
Monsterpiece Theater: The King and I
(First: Episode 2727)

Animation
Ornate I's swing through the air to a song.
(First: Episode 2921)

Cartoon
CGI sheep graze out I and i.
(First: Episode 2896)

Song
"Jump" (soul)
(First: Episode 3136)

Animation
Luxo Jr.: Heavy and light
(First: Episode 2860)

Muppets
Telly and Elmo sing about the difference between "Heavy and Light."
(First: Episode 2809)

Cartoon
Don't cross the street alone.
(EKA: Episode 1974)

Muppets
Baby Tooth and the Fuzzy Funk: Caribbean dance
Part 2
(First: Episode 3136)

SCENE 3
Everyone loads into The Sloppy Jalopy. Maria and Luis are skeptical it'll make it to the hospital, but Oscar reminds them it worked when they went to the hospital to give birth to Gabi. Oscar fastens Slimey's seatbelt and tests out the other worm seatbelts with Maria and Luis, who use their fingers as worms. Oscar then tests out the sirens and flashers of the car, which won't shut off for 20 minutes. The grown-ups can't escape; they're trapped in the seatbelts.

Animation
Cecille sings "I'm Gonna Get to You."
(First: Episode 2873)

Muppets
Baby Tooth and the Fuzzy Funk: Caribbean dance
Part 2a
(First: Episode 3185)

Cartoon
Jake the Snake demonstrates body parts.
Artist: Buzzco Associates, Inc.
(First: Episode 2486)

Film
Wegman's dogs form a letter A.
(First: Episode 3292)

Cartoon
The Typewriter: A for airplane
Artist: Jeff Hale
(First: Episode 0770)

Song
"I'm a Little Airplane"
(First: Episode 3266)

SCENE 4
Another wormgram arrives from Dusty, who says he's on the next flight and may be late.




SCENE 4 cont'd
On the plane, Dusty (voiced by John Raitt) imagines what it'll be like to have a child and sings an inner soliloquy. After his song, a flight attendant points out their proximity to Sesame Street and reminds the passengers of their "No Singing" policy.

Animation
Amelia likes to pretend she can fly.
(First: Episode 2902)

Cartoon
Number Creatures #20
(First: Episode 2687)

Muppets
Muppet & Kid Moment — Grover and John-John count to 20.
(First: Episode 0476)

Animation
Rubber Stamp #20
(First: Episode 2935)

Muppets
Big Bird is between what we just saw and what we're about to see ...
(First: Episode 3145)

Song
Jerry Nelson sings "I'm the Big One Now."
(First: Episode 2876)

Cartoon
Lillian discusses the adjustments she had to make when her parents had a new baby. She ultimately appreciates her sister.
Artist: Craig Bartlett
(First: Episode 2746)




SCENE 5
Eartha begins to wriggle back and forth, indicating the baby is coming. Dusty sends another wormgram, telling them to just head to the hospital without him. The Sloppy Jaloppy won't start and Eartha begins to go into labor. Maria assists her and her new baby girl is born.

SCENE 5 cont'd
Just then, Dusty arrives via parachute with a bouquet of flowers.

Song
"Doing the Family Thing"
(First: Episode 3180)

Muppets
A baby Honker hatches from an egg and learns to honk like all the Honkers.
(First: Episode 1616)

Cartoon
A girl fantasizes what she could do without leaving her room if her nose, ears, legs, and arms got bigger.
(First: Episode 3285)




SCENE 6
Slimey feeds his new sister, whom they've named Sloppy after the car she was born in. Another wormgram arrives, reciting the sponsors (as read by Maria).
Notes
Community content is available under
CC-BY-SA
unless otherwise noted.