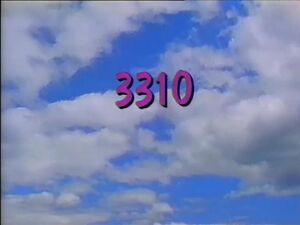 Picture
Segment
Description




SCENE 1
Baby Bear enters Birdland, where he hears Hoots playing the saxophone. He asks Hoots to teach him to play an instrument, and Hoots explains that it takes a love of music, an instrument of choice, and a lot of practice to become a good musician. Baby Bear immediately starts playing the piano tunelessly, insisting he doesn't need to practice. He imagines opening up his own jazz club, Bearland, and playing the piano there every night - yet, even in his imagination, he drives his customers away with his tuneless playing, so he decides that the piano is not for him. He goes off to think about which instrument he wants to play instead.

Cartoon
A boy learns to play his violin by practicing.
(First: Episode 1513)

Song
"It's All Right to Cry"
(First: Episode 3154)

Cartoon
R for Rhinoceros
(First: Episode 2518)

Film
Ornate Rs fly through the sky to a song.
(First: Episode 2932)

Cartoon
R /r paper fold
(First: Episode 3127)

Muppets
The Martians are a "Yip Yip Family."
(First: Episode 2724)

Film
A boy dances his way into his family's portrait.
(First: Episode 3129)

Cartoon
Two kids argue over a cat and a dog, who chase each other around the fence.
(First: Episode 1210)

Song
"I'm a Polar Bear"
(First: Episode 3276)

Cartoon
The story of Tommy LaPlaid, the painter so sad until he discovered the joys of kicking his paints on the canvas.
Artist: Mo Willems
(First: Episode 3208)




SCENE 2
Baby Bear has decided that he wants to play the saxophone, just the way Hoots plays it. Hoots says that everyone who plays the saxophone plays it differently, and tells him the story of a clarinet player named "Golden Licks" ("licks" being a jazz music term), with Goldilocks as the title character. In the story, Goldie wandered from one jazz club to another, hoping to jam with the band there. The first jazz band was too hot for her, and the second band was too cool, but the third band was just right for her. Baby Bear then decides to find his "sound" by playing a loud, raucous note on the saxophone.

Cartoon
Two men try to go over a very steep hill.
(First: Episode 1522)

Song
Kevin Clash sings "Skin."
(First: Episode 2749)

Cartoon
S for Snail (new music added)
Artist: Jeff Hale
(First: Episode 1158)

Film / Muppets
Alphaquest: S
A swimsuit, Grover as a silly surfer, a seagull, a sunset and a submarine.
(First: Episode 2729)

Cartoon
S - Serpiente
(First: Episode 0382)




Muppets
Big Bird's Video Postcards
Big Bird explores the mask gallery at the Museo del Barrio in New York City. Edna, the art instructor, shows him and some kids how to make their own masks for a parade. (First: Episode 3058)

Cartoon
A cartoon shows a few Spanish words - which are also English words.
Artist: Fred Garbers
(First: Episode 3011)




SCENE 3
Baby Bear notices Hoots singing in a peculiar way, and Hoots tells him it's called "scat singing". In a flashback sequence, a young Hoots waits on tables at a jazz club in New Orleans. He can't help but scat along to the music of the jazz band, and the band leader hires him on the spot as a singer. Back in the present, Baby Bear decides that he wants to scat-sing.

Cartoon
A man uses his memory to tell a woman how to get to a red house.
(First: Episode 2185)

Muppets
Clementine and Buster get on a train, and try to tell Forgetful Jones that he's supposed to get on the train with them, but Forgetful Jones would much rather remember on his own why he's at the train station. The train leaves just as Forgetful remembers why he's there.
(First: Episode 1654)

Animation
Counting 20 shells
(First: Episode 2994)

Film
Growing Numbers #20
(First: Episode 2967)

Cartoon
An elephant counts to 20.
Artist: Owe Gustafson
(First: Episode 1466)




Cast
Gordon hosts "The Crossing Zone," in which a boy named Jonathan has to find a way to cross the street. Susan helps him across.
(First: Episode 2729)

Cartoon
Why did the chicken cross the road?
(First: Episode 2050)

Film
Kids make the city traffic "stop" and "go."

Cartoon
What if an elephant and a mouse had their features switched around?
Artist: Cliff Roberts
(First: Episode 0212)

SCENE 4
Baby Bear approaches Hoots and the band, thinking that maybe jazz isn't for him after all. The band sings him a song showing how jazz can be applied to any kind of song, and Baby Bear has fun with jazz after all.

Cartoon
Igor listens as Dr. Frankenstein names body parts in creating another Igor.
Artist: Irra Verbitsky
(First: Episode 1637)

Muppets
Muppet and Kid Moments: Grover and Eric observe the differences between fur and skin.
(First: Episode 1642)

Film
Letter R hoist
Music: Joe Raposo
(First: Episode 0315)

Cartoon
A wizard turns into R things.
(First: Episode 0369)




Muppets / Cast
Ernie & Bert — Ernie and Bert go see a silent movie, "The Picnic" (starring Maria as Chaplin and Linda as the girl).
(First: Episode 2071)

Cartoon
A shy girl wants to join a group bouncing a ball.
Artist: Joanna Priestley
(First: Episode 2849)

Animation
Teeny Little Super Guy notices his friend Alice wanting to join a baseball game. He gives her the idea to go over there and ask them if she can play.
Artist: Paul Fierlinger
(First: Episode 1900)

Cartoon
A real Indian boy tells two boys who are playing Cowboy and Indian that Indians don't say "ugh", despite what the other boys had heard on TV.
(First: Episode 0771)

Celebrity
The Neville Brothers sing "Believe in Yourself," with a montage of clips from films including "I'm the Big One Now," "Reach Your Hand Up High" and "Hot in the City."
(First: Episode 3158)

Cartoon
Can a cat bark?
(First: Episode 0859)

Muppets
Gina and Maria sing The Word is "No."
(First: Episode 2548)

Cartoon
A boy imagines his room turning into a jungle.
Artist: Karen Aqua
(First: Episode 2808)

Film
A boy makes fruit salad.
(First: Episode 1195)

Cartoon
A woman serves milk to her cat. Several other cats join him, including a lion. (new music button added)
Artist: Bruce Cayard
(First: Episode 1017)

SCENE 5
Baby Bear scats the Sesame Street Theme. Hoots announces the sponsors, and Baby Bear scats them too. The credits roll.
Community content is available under
CC-BY-SA
unless otherwise noted.