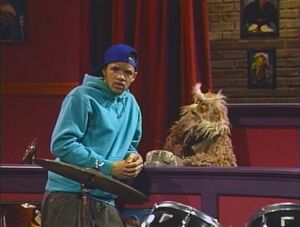 Picture
Segment
Description




Muppets / Celebrity
"A New Way to Walk"
Celebrity version
(First: Episode 3233)

Animation
See the lion walk.
(EKA: Episode 1015)

Film
Two Navajo kids go to school in Arizona. This year, Dante enters pre-school.
(First: Episode 2680)

Animation
D / d (space paint)
(First: Episode 3213)

Muppets
Ernie sings "Dee, Dee, Dee" as Cookie Monster hastily demonstrates each D word.
(EKA: Episode 0344)

Animation
D Candles
(First: Episode 3085)

Muppets
Muppet & Kid Moment — Telly and Shaun make happy and sad faces.
(First: Episode 3122)

Cartoon
A boy acts out his feelings as animals. ("There's a zoo in me!")
(EKA: Episode 0796)

Muppets
"We Are All Earthlings"
(First: Episode 2835)

Cartoon
A girl thinks she hears a monster doing a cha-cha outside her window, but it's only the wind and crickets. Her snores frighten the real monster.
Artist: Deanna Morse
(First: Episode 2951)

Insert
Celina shows the the Grouchketeers how to do "Doin' the Grouch."
(First: Episode 3203)

Cartoon
Campers don't want to play ring toss with Zork, until their counselor reminds them about being judgmental.
(First: Episode 2761)

Muppets
In the jungle, Joey and Davey Monkey see a bunch of bananas on a tree, and try to figure out how to get them down. They climb up the tree, knock the bananas off, and are about to climb down, when an elephant carries the bananas away. They decide to order a pizza instead.
(First: Episode 3230)

Cartoon
Buttons ride a rollercoaster "up and down."
(First: Episode 3207)

SCENE 1
Savion enters Birdland to relax and listen to some jazz. Soon after he sits down next to Little Bird and starts chatting, Hoots gets off the phone and calls him over. Birdland's waiter has to babysit tonight, so Hoots asks Savion to fill in for him. Savion has never been a waiter before, so Hoots explains the easy process. He says "Watch this ..." as both of them face the camera.

Muppets
Waiter Grover has a new method of remembering orders: He makes up a poem to remember what is ordered and who ordered it. Mr. Johnson orders a cheeseburger with a pickle and French fries, which Grover interprets as "Round and tasty on a bun, pickles, French fries, yum, yum, yum!" However, he brings Mr. Johnson a grapefruit on a bun.
(EKA: Episode 2440)

SCENE 1
cont'd
When the sketch ends, Savion is confused. Hoots explains that he should do the opposite of what Grover did, which is easy enough for anyone.

Cartoon
"Find the Opposite"
(EKA: Episode 2362)

Song
"Playground Map Song"
(First: Episode 2680)

Cartoon
An ostrich, a girl, and a pig do some exercises, and move the couch away.
(First: Episode 2988)




Muppets
Big Bird's Video Postcards
Big Bird visits a Puerto Rican casita in East Harlem. He tries to find out what people do there, but everyone is too busy raising chickens, planting tomatoes, cooking and planning music to answer.
(First: Episode 3018)

Film
A paper crumples to reveal Q, q and Qq.
(First: Episode 3105)

Muppets
"The Question Song"
(First: Episode 0378)

Cartoon
Q for Quarter
Artist: Bud Luckey
(EKA: Episode 1195)




SCENE 2
As Savion takes orders from the Birdland customers, Hoots asks him for another favor: this time, he needs a substitute drummer. Savion joins Hoots and his band as they play a jazzy tune, and instantly goes back to waiting on tables afterwards.

Film
Kids play bongo drums loud and soft.
(EKA: Episode 2862)

Cartoon
"I'm Curious"
Artist: Sally Cruikshank
(First: Episode 3066)

Muppets
Harvey Kneeslapper approaches a man and says, "Knock, knock!" The man asks, "Who's there?". Harvey says, "Dion." The man asks, "Dion who?" Then Harvey slaps a letter D on the man's chest and says, "D on you!"
(First: Episode 0292)

Cartoon
Consonant Sound Limerick: D—Dog
Artist: Jeff Hale
(First: Episode 1149)

SCENE 3
Savion is still busy serving the food to the customers, when Hoots needs him to fill yet another temporary position: a dance act. His tap-dancing skills prove to be more than suitable for this task, especially since he can alternate with the drums at the same time.

SCENE 3
cont'd
When he's done dancing, Savion takes a customer's order of a fruit-fly sandwich. He adds, "There's an interesting story behind that sandwich," and points to the following cartoon ...

Cartoon
The Great Inventors Series: John Montague, Earl of Sandwich, invents a new type of food that can be eaten while playing cards.
Artist: Bruce Cayard
(First: Episode 2574)

Film
A girl learns how to rollerblade.
(First: Episode 3270)

Muppets
Down on the farm, Ernie sings "Grow High Grow Low."
(EKA: Episode 2448)

Cartoon
All living things need clean water.
(First: Episode 2731)




SCENE 4
Next on the seemingly never-ending list of tasks Savion is needed for, is singing. For the grand finale of the floor show, he sings a song about the many things he's done at Birdland tonight - waiting on tables, playing the drums, tap-dancing, and singing (as well as mentioning the number of the day, 10).

Animation
Rubber Stamp #10
(First: Episode 2880)

Film
Russian nesting dolls 1-10
(First: Episode 0540)

Animation
Clown Honking #10
(First: Episode 3214)

SCENE 5
Savion's last task is being a replacement janitor. He sweeps up, as Maria announces the sponsors.