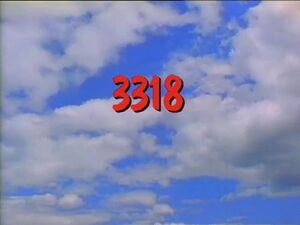 Picture
Segment
Description

SCENE 1
Benny Rabbit and Stinky the Stinkweed observe Telly playing catch with Gabi, Luis and Maria. This makes Stinky sad - since he's a plant, he doesn't have a mom or dad to play with. The Rodriguezes offer to take him in as part of their family, though Benny is skeptical.

Cartoon
Two hippie kids wonder how to make their droopy plant grow.
(First: Episode 1484)

Film
A girl dances her way into her family portrait.
(First: Episode 3119)

Cartoon
Poverty T
(First: Episode 0020)

Cartoon
Spinning T (to the tango beat)
(First: Episode 2933)

Cartoon
T for top
Artist: Cliff Roberts
(First: Episode 0298)

Muppets
Telly and Super Grover speak of the differences between above (such as a bird flying) and below (as in when Grover crash lands on Telly).
(First: Episode 3132)

Song
"Above and Below" (Christopher Cerf)
(First: Episode 2839)

Film
Kids in Jamaica play bongo drums.
(First: Episode 3160)

Cartoon
"Hammer Time with Hammer"
(First: Episode 3179)

SCENE 2
Stinky has been replanted at the Fix-It Shop and gets a major headache when Maria starts working with her tools. Benny confirms his suspicions, but Telly thinks they can get him a new family and follow Gina...

Cartoon
A girl sits on her mom's lap in a Picasso painting.

Song
"Mom and Me"
(First: Episode 2462)

Cartoon
Pencil box K / k
(First: Episode 2876)

Film
Girls dance and chant about K.
(First: Episode 3012)

Animation
"k" for king, kiss and key
(First: Episode 3084)

Muppets / Celebrity
Big Bird hosts "Big Bird's Poetry Corner," with guest Rita Dove.

Cartoon
Bruce the moose invites Toulouse LaGoose over for juice.
(First: Episode 2498)

Film
Photographic collage demonstration of ALL, MOST, SOME and NONE of an apple.
(First: Episode 0979)

Cartoon
"Ooh What a Fabulous Party"
Artist: Sally Cruikshank
(First: Episode 3006)

SCENE 3
Stinky sits atop the Hooper's Store counter, as his new "mom," Gina, prepares a BLT for Maria. Stinky points out the tomato in her sandwich reminds him of an old friend of his, which makes Maria lose her appetite. Benny is right once more and heads off to work, when Telly gets another idea - Stinky can stay at the Furry Arms!

Cartoon
Animals who eat crunchy things have nice teeth.
(First: Episode 1487)

Film
A silent film about an automobile that can be either long or short.
(First: Episode 0520)

Cartoon
Two dogs wait at a bus stop for a long time while the red dog talks endlessly about short and long.
Artist: ArtistMike
(First: Episode 3207)

Muppets
Sesame Street News Flash
Kermit interviews a bird who sings about how her parents still love her even though they don't live together anymore (though it is not directly stated whether her parents are divorced or separated).
(First: Episode 2695)

Film
A girl's grandmother teaches Spanish to her parrot Kuka.
(First: Episode 3101)

Cartoon
A girl talks about her skin.
Artist: Bruce Cayard
(First: Episode 2611)




SCENE 4
Stinky is brought to the hotel, though Benny thinks everyone will be too busy to take care of him. Sherry Netherland welcomes him, having gotten some allergy shots since his last visit. Everyone in the hotel sings a song about welcoming him to their family.

Cartoon
A girl explains the concept of relativity by explaining how her house is a part of a neighborhood, the neighborhood is part of a city, the city is part of a country, etc.
(First: Episode 2742)

Film
Maria and some kids count katydids hiding in the leaves.
Music: Joe Raposo
(First: Episode 2364)

Animation
Counting to 16 on quilt patterns
(First: Episode 2996)

Muppets
"Sixteen Samba"
(First: Episode 2822)

Cartoon
Number creatures #16
(First: Episode 2755)

Film
Lucia, who lives in Argentina, narrates a segment where she visits her abuelo's chocolate factory, where they make candy out of chocolate and mazapan.
(First: Episode 3171)

Animation
Counting to 10 (Latin rhythm)
(First: Episode 3045)

SCENE 5
Stinky helps out some of the guests, when he suddenly faints. A doctor goat prescribes dirt and water, which he already has. Benny fetches a sun lamp that revives him. Benny points out that families look out for each other, then heads for his break before things get too mushy.

Cartoon
AMOR, amor, amor ... amoramor ... amoramor
(First: Episode 2116)

Muppets
Muppet & Kid Moment — Grover and Jesse talk about love.
(First: Episode 2420)

Film
What sound does a duck make?
(First: Episode 3298)

Cartoon
A story/song about a duckling who wants to join the others playing at the water's edge.
(First: Episode 2852)

Film
"There's a lot to see under the sea," according to some young swimmers who narrate a poem about the ocean-dwellers they find.
Music: "Kyisio Calypso" by Dermot Stewart
(First: Episode 3032)

Cartoon
Fish form capital and lowercase T's.
(First: Episode 3126)

Film
Wegman's dogs form the letter T.

Cartoon
"Alphabet Jungle"
(First: Episode 2733)




SCENE 6
A toucan asks Stinky about today's letter sponsors. A number 2 asks about the number of the day and is disappointed it isn't her ("You're next week," Stinky assures the digit). A monster asks what the show is a production of, but Benny takes Stinky out on his break before he can give a proper answer.
Notes
A scene was scripted to appear before scenes 4 and 5, but was ultimately cut. In the scene, Stinky wonders what job he can perform as a part of his new hotel family. Through tears, he answers various queries from the guests and earns himself the job of concierge.[1]
Additional performers include Alice Dinnean (as a pony and the number 2), Peter Linz (as tall grey monster, lintball, and a toucan), Jim Martin (as lamb and goat doctor), and Carmen Osbahr (as a mouse), with Martin P. Robinson (as Fat Blue AM monster and tall grey monster in scene 6).
Sources
↑

Documents provided by trusted source