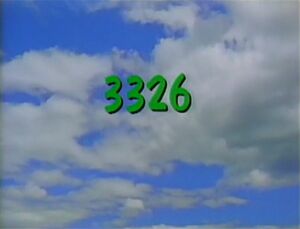 Picture
Segment
Description

COLD OPEN
Big Bird excitedly tells the viewer that Mary and her little lamb will be visiting today!




SCENE 1
Mary arrives and reports that her lamb is sick today. Ruthie shows him the lamb's substitute - a clam. Mary then recites her rewritten rhyme for the occasion:

Mary had a little clam
whose shell was white as snow
and everywhere that Mary went
the clam put on a show!

The clam then begins clacking it shell like a castanet and they all dance to a flamenco tune.

Animation
Egyptian figures illustrate the number 4.
(First: Episode 3306)

Film
Four kids dance in a colorblock grid.
(First: Episode 3149)

Cartoon
Elephants have 4 legs.
(First: Episode 0560)

Muppets
Bert sings "Doin' the Pigeon".
(First: Episode 0536)

Cartoon
A little boy describes a time when he got angry after his toy truck was destroyed by a big kid.
Artist: ArtistMike
(First: Episode 2764)

SCENE 2
Mary's lamb, Lamby, appears, having gotten over his illness. He's offended to see he's already been replaced and storms off to find a new nursery rhyme.

Film
A girl narrates a segment about her friend, Billy, who swims with dolphins.
(First: Episode 3012)

Cartoon
Karen the Kangaroo talks about words that start with the letter K. Featuring the sped-up voice of Gene Moss.
(First: Episode 0142)

Film
Ornate Ks fly through the air to a song.
Artist: Jane Aaron
(First: Episode 2945)
Cartoon
A lion named Kent gets a Kick out of being King of the forest.
(First: Episode 0463)




Muppets
Camp Wannagohoma: Grover tries to teach his campers (including Roosevelt Franklin) about what an island is, but he gets his vocabulary mixed up. He also fails to notice when the campers board the motorboat for lunch, leaving him stranded.
(First: Episode 2656)

Film
"DOG" - different kinds of dogs are shown, including a hot dog (which a dog eats).

Cartoon
The word DOG is spelled out over a weiner dog.

Muppets / Celebrity
Zoe points out to Zap Mama and some kids that Chicago is sad because he's never been to the jungle. The group cheers him up by making jungle noises with their voices.
(First: Episode 3285)

Cartoon
A boy is drawn, but he doesn't have knees at first.
(First: Episode 0954)

Film
Feet wearing all different types of shoes dance.
(First: Episode 2601)

Cartoon
Lazy Wanda's knees converse with each other.
Artist: Bruce Cayard
(First: Episode 1075)

Muppets / Cast
Carlo sings a story-song about a prince who only says "No me gusta."

Cartoon
A boy demonstrates why his dog's name is Happy.
(First: Episode 0537)

SCENE 3
Big Bird looks for Lamby to make amends. He finds that Lamby has signed himself with Little Boy Blue, who performs their new, jazzy nursery rhyme. Boy Blue drops him, however, when he learns the lamb will follow him everywhere, crimping his private lifestyle. Lamby looks for another rhyme to participate in.

Cartoon
Speech Balloon: K - Key
(First: Episode 0040)

Film
Jaws spoof presenting the letter K.

Muppets
The Two-Headed Monster demonstrates surprise.
(First: Episode 2924)

Cartoon
In Chardin's classic painting, a boy blows a bubble. It pops, and some kids yell "Surprise!"
(First: Episode 3311)




Film
A girl named Maria and her family are having a Cuban barbecue. She invited her friend, Stewart, to enjoy in the fun and learn about Cuban culture.
(First: Episode 2760)

Cartoon
HEN / PEN / TEN / MEN
(First: Episode 1881)

Muppets
"I Could Have Counted All Night"
(First: Episode 3228)

Film
Counting 10 cars on a ferry boat.
(First: Episode 2925)

Muppets
An Anything Muppet boy watches a circle around him get bigger and smaller.
(First: Episode 0285)

Cartoon
Things say that other things are small, but then something comes along that's bigger, or smaller, or whatever.
(First: Episode 0320)

SCENE 4
Lamby is now working for Mary...Mary Quite Contrary, who uses him to replace her Pretty Maids. Their partnership ends when Lamby starts munching on her garden. He starts missing his old job and follows Big Bird to Mary.

Cartoon
A number of kids named Joe play sports. Joanne plays kickball.
Artist: John Korty
(First: Episode 1871)

Muppets
Kermit the Frog reports on a musical tribute to the "Oogle Family" as performed by Cookie Monster and Old McDougal.
(First: Episode 1822)

Animation
Pencil box A/a
(First: Episode 3082)

Animation
Planting Letters: A
(First: Episode 3027)

Cartoon
A man displays the capital and lowercase A, and explains what an alligator is.
(First: Episode 0006)

Muppets
Honkers attempt to play "Mary Had a Little Lamb" on their noses.
Part 1.
(First: Episode 1561)

Cartoon
Once there were two men. Each had his own idea. One man told his thought to the other man, then the other man told his idea to the first man. Now both men knew twice as much.
(First: Episode 0268)

Muppets
Honkers attempt to play "Mary Had a Little Lamb" on their noses.
Part 2.
(First: Episode 1521)

Film
Girls sing a jump-rope rhyme about naming a puppy.
(First: Episode 3279)

Muppets
Honkers attempt to play "Mary Had a Little Lamb" on their noses.
Part 3.
(First: Episode 1463)

Cartoon
A little girl leaves everything on in the house, until the TV set recites a poem about sharing electricity.
Artist: Lisa Crafts
(First: Episode 2845)




SCENE 5
Mary and her lamb reunite and everyone recites her nursery rhyme. Ruthie makes an addition to include the clam, who starts up another flamenco tune. Everyone dances as Rosita recites the sponsors.
Notes
Community content is available under
CC-BY-SA
unless otherwise noted.