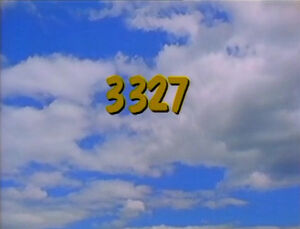 Picture
Segment
Description

COLD OPEN
Big Bird pops up and exclaims, "You know what today is? It's Gina's lucky day!"

SCENE 1
Gina is sweeping the floor of Hooper's Store, when Big Bird enters to help her out. They cooperate to clean the floor, though Big Bird has some initial trouble getting the dust and trash from his dustpan into the can. Once the floor is clean, he knocks the can over.

Cartoon
A seal and a bear fight over a circus ball, but learn to cooperate.
Artist: Frank Gresham
(First: Episode 3282)

Song
"I'm a Little Airplane"
(First: Episode 3266)

Animation
Airplanes carve the capital and lowercase letter Y.
(First: Episode 3199)

Muppets
Old West: Sinister Sam announces that someone has bought the last box of crayons, and he wants to know why. It turns out that he just wants a crayon so he can learn how to write the letter Y.
(First: Episode 1288)

Cartoon
Y is for Yo-Yo
(First: Episode 0036)

Song
Kevin Clash sings "(I Eat With) Chopsticks" over a film of kids doing so.
(First: Episode 3270)

SCENE 2
The garbage is re-swept, when a bird customer calls for help. Big Bird tends to him and points out that he can eat his birdseed eggroll one of three ways - with some chopsticks, with his fork or pecking. Getting carried away with his demonstration, he gobbles the eggroll whole. While Gina deals with the ruffled bird, Big Bird starts to look for someone to help him help Gina.

Cartoon
Name That Food, hosted by Don Carrot. The object of the game is to identify foods that appear on a screen and then eat that food. One of the contestants is willing to eat every food shown, while the other contestant refuses.
Artist: Elwood Smith
(EKA: Episode 1949)

Film
A group of kids paint a mural with the help of a mural artist.
(First: Episode 3007)

Cartoon
Two groups of mountain goats try to pass each other on a mountain road.
(EKA: Episode 0810)

Muppets
Construction worker Sally Smith is the surprise contestant of the on-location game "This Is Your Lunch." Sally must guess the contents of her lunchbox correctly after each food item gives her clues.
(First: Episode 1631)

Film
Three kids clap rhythms while naming vegetables.
(First: Episode 3051)

Cast
Savion sings "You Ought to Meet My Uncle," a song about different ways of dancing (and different uncles), and he dances with the kids.
(First: Episode 3140)

Cartoon
What if a frog and a fly switched bodies? What do you think would happen?
Artist: Cliff Roberts
(EKA: Episode 0406)

Muppets
Kermit sings "This Frog."
(First: Episode 0944)

Cartoon
K for keyhole, ketchup, and kitten
(First: Episode 0811)

Animation
Playing cards form a capital and lowercase K as a queen and a jack tango.
(First: Episode 3190)

Cartoon
K - Kangaroo
Artist: Jeff Hale
(EKA: Episode 1456)

Film
A boy is scared to go to sleep at night, until his dad tells him to use his imagination to calm himself down. He conducts a symphony with his toys.
(EKA: Episode 3271)

Cartoon
Monster in the dark (finding a light switch)
(EKA: Episode 0823)

Insert
Oscar the Grouch loves the dissonant sounds of the Tokyo String Quartet tuning their instruments. When they start playing a classical piece, he's disgusted and asks them to tune up again.
(First: Episode 3294)

Cartoon
Little girl and cat (she imagines role reversal)
(EKA: Episode 0815)

Muppets
Bip Bippadotta and The Androoze Sisters sing "Everybody's Song."
(First: Episode 2064)

Cartoon
The Bellhop must take Mrs. Stein's bags to floor 16.
(First: Episode 2496)

Cartoon
Growing Numbers #16
(First: Episode 2996)

Animation
Abstract count to 16
(First: Episode 2822)

Muppets
Ernie and Elmo sing about the parts that make up "One Fine Face."
(EKA: Episode 2331)

Cartoon
Parts of a face are drawn in black on-screen before forming a picture.
(First: Episode 3320)

SCENE 3
Big Bird returns and tells Gina he's got a partner - Mr. Snuffleupagus. Together, they try to cool off Bob's hot soup, but their combined breath knocks his table over instead.

Cartoon
Little Red Riding Hood uses a map to get to Grandma's house.
(First: Episode 2686)

Film
A class goes on a field trip to Prospect Park, where Ranger Roseanne gives them a tour.
(First: Episode 2944)

Animation
Pencil box Y / y
(First: Episode 3043)

Animation
Sand Y/y
(First: Episode 0626)

Song
"Litter Rap"
(First: Episode 2646)

Muppets
Muppet & Kid Moment — Grover and Christopher talk about what love is.
(EKA: Episode 1484)

Cartoon
A pig sings "I Love Being a Pig."
(EKA: Episode 0592)




SCENE 4
Big Bird is upset for the trouble he's caused, so he makes an apology card. Gina accepts his apology and announces the sponsors, while Big Bird spots Maria and offers his helping service.