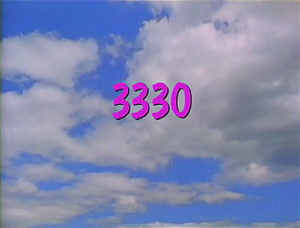 Picture
Segment
Description

SCENE 1
Big Bird and the Birdketeers march around the street, repeating "Flap, tweet!" Monty watches and expresses to Gina his desire to become a Birdketeer. He wonders how difficult it must be, but Gina tells him it's an easy process - just ask Big Bird to join. Monty heads off to give it a shot.




SCENE 1 cont'd
Monty arrives at the Birdketeer meeting at Big Bird's nest and asks if he may join. Big Bird welcomes him and says he'll first need a Birdketeer outfit. Monty eagerly rushes out and returns with a cow costume instead.

Cartoon
A story/song about a duckling who wants to join the others playing at the water's edge.
(First: Episode 2852)

Film
A girl narrates a segment about nature through winter and spring.
(First: Episode 1966)

Animation
Airplanes carve the capital and lowercase A.
(First: Episode 3209)

Film
A for action, acrobat, art, artichoke, and applause.
(First: Episode 3266)

Cartoon
A man is allergic to the letter A.
(First: Episode 3311)

Muppets
"The Sneeze Song," with Kathleen the Cow with a Pig, a Sheep, and Fred the Wonder Horse.
(First: Episode 2784)

Film
I hab a cauld ib by dose.
Artist: Bruce Cayard
(First: Episode 1170)

SCENE 2
Big Bird tries to explain that Monty's outfit doesn't work with the club, a point he illustrates using a round of "Three of These Things." Monty becomes dramatic when he finds out he doesn't belong and presumes he'll go join the "Cowketeers." He returns when they tell him they'll provide him with an outfit.

Film
On the farm, a boy enjoys a glass of MILK.
(First: Episode 3277)

Cartoon
A brief animation of pouring milk in a glass, coupled with the word milk.
(First: Episode 3012)

Celebrity
Linda Ronstadt sings a special rewritten version of "Y Andalé" with a mariachi band.
(First: Episode 2487)

Cartoon
A Spanish-speaking man falls into a hole, and a dragon helps him out.
Artist: Chris Hinton
(First: Episode 2211)

Song
Joe Raposo sings "There's a Bird On Me."
(First: Episode 0416)

SCENE 3
The Kids get Monty into his new Birdketeer costume. Big Bird and the Birdketeers show Monty how they flap and tweet. Monty frets the entire lesson and falls over when he tries. He claims he needs more practice.

Cartoon
A determined little boy makes several attempts to fly, and eventually gets his dad to take him on an airplane.
(First: Episode 1871)

Film
Two girls sing "My Picky Playmate" as they clap.
(First: Episode 3299)

Cartoon
P Words (including parachute and plug)
(First: Episode 0296)

Film
Wegman's dogs form a letter P.

Muppets
Ernie & Bert — Ernie is confused when he sees Bert playing checkers with his pigeon, Bernice. Ernie thinks it's amazing that a pigeon can play checkers, but Bert thinks it is no big deal, because Bernice has only beaten Bert in two out of ten games.
(First: Episode 1227)

Cartoon
Zork lands in Australia, where a kangaroo greets him.
Artist: ArtistMike
(First: Episode 2731)

SCENE 4
Monty has perfected flapping and tweeting. He sings about his newfound status of "Being a Birdketeer."

Film
Footage of kids playing professions, alternating with footage of analogous real-life jobs.
(First: Episode 2811)

Film
Growing Numbers #19
(First: Episode 2937)

Animation
Rap 19
(First: Episode 2560)

Cast / Celebrity
Wanda the Word Fairy introduces the viewer to her parents.
(First: Episode 2678)

Cartoon
Spike's Scribble Theatre Presents: "Island"
(First: Episode 2673)

Muppets
Sesame Street News Flash
Kermit interviews a bird who sings about how her parents still love her even though they don't live together anymore (though it is not directly stated whether her parents are divorced or separated).
(First: Episode 2695)

Cartoon
Gloria Globe appears sick and ailing, because of pollution and damage to the planet. Only by taking better care of the Earth can Gloria become well again.
(First: Episode 2781)




Muppets
Theater in the Park
Telly stars in a production of "Romeo and Alphabet."

Film
Kids sing the alphabet on an island.
(First: Episode 3154)

Cast
Angela demonstrates to kids, in song, what you can do with your arms.
(First: Episode 3226)

Cartoon
Junior has to jump across the pond to make the frog chorus.
(First: Episode 0926)




Cast
Gordon hosts "The Crossing Zone," in which a boy named Johnathan has to find a way to cross the street. Susan helps him across.
(First: Episode 2729)

Cartoon
Look both ways before you cross the street
Artist: Ray Favata
(First: Episode 1397)

Song
14 Karat Soul sings about what's "Down Below the Street."
(First: Episode 2556)

Animation
Luxo Jr.: Up and Down
(First: Episode 3130)

Film
"In the middle of the city we have a garden...."
(First: Episode 2889)

SCENE 5
Monty continues to tweet and flap, when Big Bird calls the meeting to an end. Monty is having too much fun; he doesn't want to even leave until he's perfected his craft for the next meeting. Big Bird suggests he find something else to do, like write a letter. Monty likes the idea and starts writing about his day to his mommy, listing over and over the flapping and tweeting he's done.

Film
A girl writes to her grandmother about going to summer camp.
(First: Episode 3270)

Cartoon
An ape takes a bite out of a yellow A.
(First: Episode 2813)

Muppets
Muppet & Kid Moment — Cookie Monster asks Jawhara what letter they're holding.
(First: Episode 3234)

Animation
A man plays a memory game using cards.
(First: Episode 1232)

SCENE 6
Monty finishes his letter and moves onto something else - reading. Specifically, he reads To Tweet is Human, To Flap is Divine, which consists of only "tweet, flap" over and over again. Big Bird can't take anymore and runs out in a crazed fit. Monty follows, reading him more of the book.

SCENE 6 cont'd
Gina wonders to herself how Monty's visit to the club went, when a mad Big Bird runs by, followed by Monty (thus, answering her question). She then announces the sponsors.
Community content is available under
CC-BY-SA
unless otherwise noted.