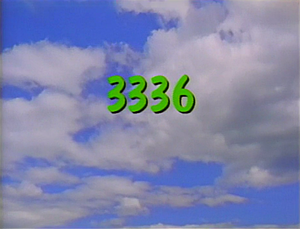 Picture
Segment
Description

SCENE 1
Big Bird shows Mr. Handford a letter he just got from his road runner cousin. He reads it, where his cousin describes all the running he did today...

Film
Joe Raposo: Road Runner (instrumental)
(First: Episode 0505)




SCENE 1 cont'd
Big Bird finishes the letter, which turns out to be a self-portrait made by the road runner; Big Bird just imagined the words. He also imagines what it would be like to be as fast as a road runner, picturing himself, then the entire street in fast-motion (using the score from the "Road Runner" film). He then imagines having a birdseed milkshake, which Mr. Handford can make a reality.

Muppets
Elmo sings "In Your Imagination."
(First: Episode 3119)

Film
At a zoo, monkeys clean each other and run around.
Music: Joe Raposo
(First: Episode 2505)

Cartoon
Two itchy gorillas agree to scratch each other's backs.
(First: Episode 1456)

Muppets
Bip Bipadotta leads "Scratch My Back" as a song about two monsters named Jack and Jill who swear that they will always be there to scratch each other's backs.
(EKA: Episode 2424)

Cartoon
Dr. Nancy Einstein shows how the brain works.
Artist: Bruce Cayard
(First: Episode 2607)

Film
ENTRADA

Animation
H / h (space paint)
(First: Episode 3218)

Muppets
Alphabet Chat: H
(First: Episode 3195)

Animation
Several cards form an H.
(First: Episode 3139)

Cartoon
A boy imagines his room turning into a jungle.
Artist: Karen Aqua
(First: Episode 2808)

Muppets / Celebrity
Oscar the Grouch puts a sign on his trash can which reads "DON'T BOTHER ME!" A sassy postal worker (Rosie O'Donnell) knocks on his can, and when he asks her "Can't you read?" she shows him how many things she can read. She then walks off to find out where Oscar the Grouch lives so she can deliver the sardine cologne he ordered. Oscar angrily rips up the sign.
(First: Episode 3190)

Animation
A girl reads a book, a magazine, a newspaper, and a letter.
(First: Episode 3142)

Animation
Can you find the animals hiding in the T-shirt?
Artist: Deanna Morse
(First: Episode 2873)

Animation
Ornate Vs spin around as a song about them plays.
(First: Episode 2942)

Cartoon
"Imagination V" -- A surreal segment involving the Venus de Milo statue, a violin, a vampire, and vigilantes.
Artist: Jeff Hale
(First: Episode 0050)

Film
Floating kids make the letter V.
(First: Episode 3133)

Muppets
"Let's All Exercise"
(EKA: Episode 2527)

Cartoon
Howard Coolsell finds out about exercise.
(EKA: Episode 2243)

SCENE 2
Mr. Handford shows Zoe and Big Bird what his life was like as a fireman. He uses Gina's hands as the fire station and a straw as a fire pole, which he (as a pepper shaker) would slide down to reach the firetruck. He then tells them he'll show them using a real fire pole.

Film
Amelia pretends she's an astronaut.
(First: Episode 2918)

Song
Leon Redbone sings "What Do They Do When They Go Wherever They Go?"
(First: Episode 3312)

Cartoon
Rap #9
(First: Episode 2509)

Cartoon
Underwater, there's a 9
(First: Episode 3283)

Cartoon
"Martian Beauty" has nine hairs, nine bows, nine eyes, nine nostrils, nine arms, and nine toes.
Artist: Bud Luckey
(First: Episode 0316)

Muppets
Guy Smiley hosts "Beat the Time." In order to win a cookie, Cookie Monster has to bring in three things that rhyme with the word "rain" before the hand goes around the clock. They turn out to be an old man's "cane", a "chain" (to which Frazzle is attached), and finally a "train" which destroys the set.
(First: Episode 0446)

Song
"It's Time for a Rhyme"
(First: Episode 3160)

SCENE 3
Over at Finders Keepers, Mr. Handford entertains everyone by sliding down Ruthie's firepole. Ruthie and he start taking turns afterward.

Cartoon
"Cooperation" - a reggae song about a group of animals who wash a car together.
Artist: Michael Sporn
(EKA: Episode 2493)

Film
Kids talk about how they like sledding down snowy hills.
(First: Episode 3276)

Cartoon
The Typewriter: V for Vacuum
(First: Episode 0774)

Film
V for violin: kids play "Twinkle Twinkle Little Star" on the violin.
(First: Episode 3280)

Celebrity
Take 6 sings their own version of The Alphabet Song.
(First: Episode 2998)

Cartoon
The Magnificent Splasho goes from the top of the ladder to the bottom of the water tank.
(First: Episode 0655)

Film
A group of people form a human pyramid to illustrate top and bottom.
(First: Episode 3144)

Cartoon
In the forest, a small tree feels insignificant, until a mother bird gives him a pep talk.
(EKA: Episode 1931)

Film
A gardener trims a bush to form a giraffe.
(First: Episode 3138)

Song
"Do the Jelly" with Celina
(First: Episode 3160)

Animation
Jerry Nelson sings "Two Pretty Flowers."
(First: Episode 3151)

Cartoon
A boy acts out his feelings as animals. ("There's a zoo in me!")
(EKA: Episode 0796)

Muppets
Bert missed the ice cream truck. Ernie offers to share his ice cream and runs home to get a bowl, while Bert holds his ice cream.
(First: Episode 3221)

Song
"It's All Right to Cry"
(First: Episode 3154)

Muppets
Ernie hasn't returned yet, and the ice cream is starting to melt...
(First: Episode 3221)

Cartoon
Aliens vacation on Earth for an afternoon, but they litter.
(First: Episode 3141)

Muppets
Bert is still waiting for Ernie, and eats the ice cream before it melts all over his arm.
(First: Episode 3221)

Animation
"Rollin' on the River"
Artist: Jane Aaron
(First: Episode 2783)

Muppets
When Ernie returns with a bowl and spoon, Bert has finished the ice cream cone and feels very sorry. But Ernie doesn't mind: the ice cream truck passed by the bus stop, so he bought a new cone for himself.
(First: Episode 3221)

Animation
Blue, red and yellow ovals play "Old MacDonald."
(EKA: Episode 2018)

SCENE 4
Big Bird writes a letter back to his cousin, describing everything from today (plus the sponsors) in crayon drawing.