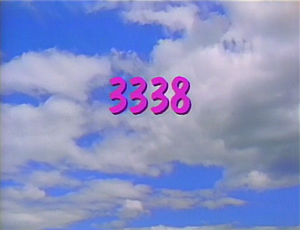 Picture
Segment
Description

SCENE 1
Elmo tells Gordon and Susan the story of "The Three Little Pigs and the Beanstalk," meshing the two classic stories together. Gordon and Susan try explaining there's no such story, when the Three Pigs run by, chasing the golden egg-laying chicken.

Animation
Cecille sings "The Game of Make Believe."
(First: Episode 2864)

Film
Children in Jamaica learn how to make their own tie-dyed shirts.
(First: Episode 3140)

Cartoon
An elephant, a zebra, a hedgehog, an ostrich, a frog and a ladybug create a rhythm with their footsteps.
Artist: Karen Aqua
(First: Episode 2794)

Muppets / Celebrity
Randy Travis sings "How Should I Tell You I Love You" while Telly acts it out.
(First: Episode 2800)

Cartoon
A man assembles the word LOVE, and a bird pecks the O into the shape of a heart.
(First: Episode 0791)




SCENE 2
"Big Bird the Bird" and "Gabi the Kid" have an old-west showdown in the street to see who's "the fastest draw in the West." Gabi draws a letter C faster than Big Bird, ending their feud...until next time.

Film
"C" for Circle
(First: Episode 3313)

Cartoon
Black cat, white cat, orange cat, marmalade cat, mouse cat, bird cat, chasing balls of string cat.
Artist: Jeff Hale
(First: Episode 1141)

Muppets
"Don't Throw That Trash on the Ground"
(First: Episode 2680)

Cartoon
Leanna Williams must save the world by cleaning it.
Artist: ArtistMike
(First: Episode 2839)

Film
What sound does a rooster make?
(First: Episode 3278)

Muppets
Mr. Johnson comes to Grover's photo studio to have his portrait taken. However, Grover photographs his foot and hand instead, and has to be reminded to capture the face.
(First: Episode 3232)

Animation
Arrows give a presentation of the human body.
(First: Episode 2839)

SCENE 3
Elmo interrupts Gordon and Susan's checkers game while he practices counting 1. Gordon suggests he find something else to count, he starts counting the two of them over and over.

Animation
Counting to 10 (Chinese imagery)
(First: Episode 3217)

Muppets
Muppet & Kid Moment — Herry asks John-John if he knows the difference between up and down.
(First: Episode 0565)

Cartoon
Cherries fall through a moving hole onto a man who demonstrates up and down.
Artist: Bruce Cayard
(First: Episode 0798)

Song
"You Can Get Right Up": a song about getting active to cheer up.
(First: Episode 3142)

Cartoon
African quilt pattern #3
(First: Episode 3160)

Muppets
Snuffy sings "Bubble on My Snuffle."

Cartoon
Dr. Annie Eyeball studies wet things which eventually become dry.
Artist: Bruce Cayard
(First: Episode 2613)

SCENE 4
Everyone clears the street as Big Bird and Gabi have another showdown to see who's the fastest "draw." Gabi quickly makes a letter U, meaning Big Bird is buying lunch for the two.

Cartoon
Speech Balloon: U for UP
(First: Episode 0650)
(new sting and sound effects added)

Muppets
Ethel Mermaid sings "I Get a Kick Out of U."
(First: Episode 3127)

Cartoon
A mouse demonstrates between by squeezing between two elephants.
(First: Episode 2750)

Film
A Puerto Rican family get-together includes cooking, playing soccer, and finally the big dinner.
(First: Episode 3081)

Cartoon
A white boy hangs out with his Latino friend.
(First: Episode 1471)



Muppets
The Count's main jumping-over-the-bed flock of sheep quits on him, so he calls the "24 Hour Emergency Counting Service". A reluctant deliveryman in sheep's clothing laments, "It's not an easy way to make a livin' ..."
(First: Episode 2122)

Animation
Teeny Little Super Guy shows his friend Harry the importance of sleep.
(First: Episode 2047)

SCENE 5
Big Bird shows Gabi how fast he can draw the number one. Since they don't have horses, they pretend to ride off into the sunset.

Cartoon
Number Guy sings "How Many Birds Can Fit on This Wire?" One bird provides the answer.

Muppets
Monsterpiece Theater: One Flew Over the Cuckoo's Nest
(First: Episode 2674)

Song
"Frog Kick"
(First: Episode 2155)

Cartoon
We Are Kids from Far and Wide: Rice harvesting in Sierra Leone
(First: Episode 2774)

Muppets
Sesame Street News Flash
Instead of a pea, this princess sleeps on things beginning with C.
(First: Episode 2527)

Cartoon
Speech Balloon: C - Cap
(First: Episode 0154)




SCENE 6
Elmo comes across Gordon and Susan, who claim they're just sitting in the park. Elmo points out all the other things they're doing as well, including waiting...for the pigs and chicken to continue their chase! Elmo joins in the chaos as Big Bird announces the sponsors.
Notes