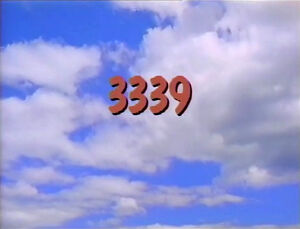 Picture
Segment
Description

COLD OPEN
Oscar complains as Savion introduces today's sponsors. Savion goes off to the library, intriguing Oscar when he mentions there might be a book he'd want to check out.

SCENE 1
At the library, the Count shocks Linda with a list of books he wants to take out. He counts them all as Linda brings them, totaling twenty. Using a whistle he learned from a previously checked-out book, he assembles some helpers (and Savion) to help bring the books home. "Reading can help you do lots of things in your life," he states.




Song
"What's Inside?" (Cookie Monster cameo)
(First: Episode 3134)

Animation
Abstract #18
(First: Episode 2859)

Animation
Growing Numbers #18
(First: Episode 2933)

Cartoon
The Bellhop is told that somebody at table 18 has a phone call, and after he struggles to get to the table, he is told to take a message. (new sound effects added)
(First: Episode 2549)

Muppets
"I'm a Bookworm, Baby!" (music button added)
(First: Episode 2994)

Film
Parts of a clown are shown in close-up as kids guess what it is.
Music: Joe Raposo
(First: Episode 0428)

Cartoon
"Letters in the Body"
Artist: Fred Garbers

SCENE 2
Ruthie realizes Elmo has the sound of a letter in his name (L). Elmo doesn't quite understand, so Ruthie cues up a cartoon to help...

Cartoon
A man jumps into a poster of Lake Lillian.
(First: Episode 0347)

SCENE 2 cont'd
After the short, Ruthie helps Elmo understand the point she's trying to make.

Cartoon
L - shooting stars
(First: Episode 2237)

Muppets
Phil Harmonic introduces Charmin', who performs an opera about the fax machine.
(First: Episode 3249)

Film
Five girls play a clapping game.
(First: Episode 2763)

Cartoon
A monster sees a box that keeps opening and closing, saying "Abierto" and "Cerrado."
(First: Episode 0771)

Film
Abierto and cerrado
(First: Episode 3271)

Muppets
Clementine plays a game with the viewer to see if they can guess what Forgetful Jones is riding on.
(First: Episode 2218)

Cartoon
Are you the monster that ate the television?
(First: Episode 1970)

Muppets
Big Bird recites a poem about front and back.
(First: Episode 2878)

Song
"Front Back Ballet"
Artist: Jane Aaron
(First: Episode 3016)

Muppets
The Three Little Pigs look for the Big Bad Wolf in a police line-up.
(First: Episode 2541)

Animation
Sand C/c
(First: Episode 0625)

Muppets
"C Drives Me Crazy"

Cartoon
Speech Balloon: C for carrot
(First: Episode 0203)

Film
Flamingos walk around to classical music. (new child voiceovers added)
(First: Episode 2498)

Cartoon
A detective follows a path on the street which consists of a straight line, followed by dots. He finds out that the truck that paints the dividing road lines happens to sputter every few feet, which is where the dots come from.
(First: Episode 2248)

SCENE 3
Ruthie visits the library in need of some books, but can't communicate with Linda because she doesn't know sign language very well. She writes down her messages, and Linda teaches her how to sign the key words of it.

Film
How to say "turtle" in sign language

Muppets
Grover the lumberjack thinks he is the first to arrive for supper, but he gets trampled by a gang of French-Canadian lumberjacks who get to the food table before he has a chance to get his snow boots off. By the time he finally gets them off, a grizzly bear grabs the last plate of food.
(First: Episode 1343)

Animation
A parade of toys illustrates first and last.
Artist: Lisa Crafts
(First: Episode 2857)

Muppets
Ernie and Bert sing "La, La, La."
(First: Episode 0321)

Animation
L / l (space paint)
(First: Episode 3216)

Cast
Elmo, Big Bird and Gordon star in a commercial for the Alphabet (as if it were a bank).
(First: Episode 2972)

Cartoon
A dog, a girl and a lizard dance to a bongo beat.
Artist: Karen Aqua
(First: Episode 2795)

Muppets
Rosita talks about what she does every morning. She kisses her parents, washes her hands and face, and brushes her hair. She has breakfast, brushes her teeth, and says "adios!" before she goes out to play.
(First: Episode 3256)

Cartoon
"Wash Your Hands Before You Eat" (new sound effects added)
Artist: Bruce Cayard
(First: Episode 1523)

Celebrity
Whoopi Goldberg introduces the sound "WH" and then yells, "Whoopi!"
(First: Episode 2861)

Film
A girl narrates a film about how things are recycled around the world.
(First: Episode 2913)

Cartoon
Gloria Globe attempts to pull a rabbit out of her hat, but pulls out a camel instead, which belongs in Egypt.
(First: Episode 2792)

Song
"Something Old Into Something New"
(First: Episode 3125)

Animation
OP words (Drop / stop / top / hop / pop)
(First: Episode 2886)

Muppets
The Two-Headed Monster sounds out the word "hop" and starts hopping.
(First: Episode 1482)

Animation
Three stripes form a jazz trio.
(First: Episode 2410)

Film
Footage of a Chinese noodle factory.
(First: Episode 0984)

Animation
A map of China morphs into the shape of animals and things that are found there.
(First: Episode 2782)

SCENE 4
Elmo repeats his name over and over, stressing the El part. He and Savion then announce the sponsors.