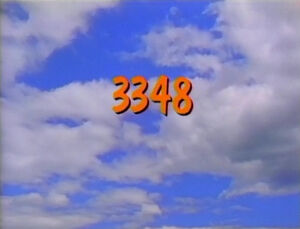 Picture
Segment
Description




SCENE 1
Elmo and Herry Monster plan to use their pencils to make the number of the day - 11. But, neither of them are able to hold them well enough to draw anything. Elmo realizes that by putting the pencils next to each other, they make an 11!

Cartoon
Lightning bugs make shapes.
Artist: Fred Garbers
(First: Episode 3150)

Song
"I'm in Great Shape": Kids dance with triangles, circles and squares.
(First: Episode 3277)

Cartoon
Kids try to guess what a bunch of shapes will form; eventually they form a chicken.
(First: Episode 2838)

Muppets
Grover is the newest employee of a fast food franchise which serves such delicacies as O'Fish, O'Salad, O'Rye Bread, and O'Milk. However, this is a different kind of "fast food" restaurant: the food zips by the customer on trays across the counter, and falls to the floor if it's not caught in time. Mr. Johnson is not ready for this, so he asks if there's any "slow food." There is, but it's served by a turtle who takes longer than Mr. Johnson wants to wait.
(First: Episode 2582)

Animation
Counting up to 11 (African masks)
(First: Episode 3151)

Cartoon
"It's a Lovely Eleven Morning" (new sound effects added)
Artist: Bud Luckey
(First: Episode 0362)

SCENE 2
Angela and Lexine come and see the Amazing Mumford's famous 11 trick, where he makes the number come out of his hat. Instead, Benny Rabbit appears from the hat. Angela points out that Benny's teeth and ears resemble an 11, so the trick worked after all. Mumford then magically sends Benny downtown...Philadelphia.

Film
How to say "bunny rabbit" in sign language
(First: Episode 3300)

Cartoon
A dinosaur tries to eat an apple on a tree. A group of kids keep telling him to "GO HIGHER!"
(First: Episode 2908)

Celebrity
"Rubber Duckie" with Little Richard.
(First: Episode 3263)

Cartoon
A boy puts together a fishbowl, and watches his fish swim around in it.
(First: Episode 2030)

Film
Footage of kids playing professions, alternating with footage of analogous real-life jobs.
(First: Episode 2811)

Cartoon
A woman sings the "O" sound in a brief opera.
(First: Episode 3319)

Film
A gymnast twirls ribbons to form the letter O.
(First: Episode 3136)

Cartoon
A lady receives a letter O in the mail, which promptly rolls around her living room.
Artist: ArtistMike

Cast
Gordon, Big Bird, Celina, Carlo, Gina and Ruthie sing "Goodbye Fly."

Cartoon
A female head is drawn as its voice-over lists its parts, ending with earrings that "do nothing" ...
(First: Episode 0821)

Song
David sings "Who You Looking At, Tiger?"
(First: Episode 0371)

Muppets
Sesame Street News Flash: The First Day of School (new music added)
(First: Episode 1628)

Cartoon
"L Look Around Song"
Artist: Bruce Cayard
(First: Episode 1483)

Film
The floating kids form an L.
(First: Episode 3128)

Cartoon
A salesman (voice of Martin P. Robinson) hawks the letter L in a commercial.
Artist: Mo Willems
(First: Episode 3306)

Muppets
Bad Bart is looking for Marshal Earp.
(First: Episode 0537)

Cartoon
In a classic painting, a boy blows a bubble. It pops, and some kids yell "Surprise!"
(First: Episode 3311)

SCENE 3
Maria is about to dig into some Chinese food at the Fix-It Shop, when Sonny Friendly appears with another of his traveling game shows. Today's game is the Number Eleven Game, where she must find something that looks like an 11. Maria tries to tell Sonny off, brandishing her chopsticks, which resemble an 11. Her prize is eleven kisses from Sonny, which makes her lose her appetite.

Song
Kevin Clash sings "(I Eat With) Chopsticks" over a film of kids doing so.
(First: Episode 3270)

Cartoon
Olga y la letra O
(First: Episode 0364)

Animation
Planting Letters: O
(First: Episode 3010)

Cartoon
A man tries to get directions to a parking space, and eventually uses a map to get there.
Artist: Paul Fierlinger
(First: Episode 2734)

Muppets
"At the Bus Stop Sign"
(First: Episode 1392)

Cartoon
Bus Stop
(First: Episode 1396)

SCENE 4
Telly rushes to Gina at Hooper's Store and requests two bandages. He isn't actually hurt, and neither is anyone else- he wants to show how they resemble a number 11. He rushes out and trips, noting he may need them after all.

Cartoon
"The Stranger" - a song about a baseball team hesitantly allowing a newcomer to join them, who ends up helping them win the game.
Artist: Michael Sporn
(First: Episode 2108)

Muppets
Ernie & Bert — Ernie keeps taking glasses of water outside the apartment. Bert thinks of possible uses Ernie could have for this water. As it turns out, the kitchen faucet is broken, and Ernie's trying to get rid of the water before the apartment floods.
(First: Episode 0425)

Film
Body part shout-out
(First: Episode 0264)

Cartoon
A man talks about how much he loves his bones.
Artist: Bruce Cayard
(First: Episode 2628)

Film
Farmer McFay counts six lemons and limes.
(First: Episode 3230)

Muppets
The Count sings "The Woodchuck Song" and counts the amount of wood a woodchuck can chuck.

Cartoon
A man illustrates 'between' in various situations throughout his work day.
(First: Episode 0779)

SCENE 5
Gina announces the sponsors. Telly shows off the number 11 with the bandages on his hand.