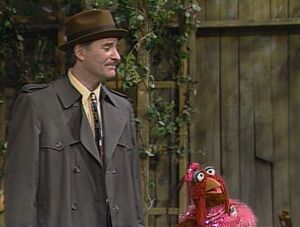 Picture
Segment
Description

SCENE 1
In the courtyard, Prairie Dawn practices a pageant song on the piano, and is confused when a voice-over announces "The Adventures of Nick and Nora Chicken." Prairie's piano vanishes right after it is announced that today's episode is "The Case of the Missing Piano."

SCENE 1
cont'd
"Don't panic, little musical girl," says a detective who arrives with a chicken, "We'll find your piano." He introduces himself as Nick Chicken (Kevin Kline), and the chicken next to him as his sister, Nora (a take off of Nick and Nora Charles from The Thin Man). They'll help Prairie out for a price (chicken feed, of course). They look around the courtyard, listening for anything that sounds like a piano, but Nick keeps bumping into things.




SCENE 1
cont'd
Suddenly, they hear a musical instrument being played, but it's a saxophone, played by a tiger. They also falsely accuse a monkey playing a guitar, and finally spot a farmer pushing the missing piano along. The farmer says he mistook it for his tractor (it's his first day on the job).

Cartoon
A derby-hatted man identifies animal sounds, ending with a tractor.
(First: Episode 0839)

Song
Leon Redbone sings "Blueberry Mouth."
(First: Episode 3300)

Cartoon
Leanna Williams explains why she loves her brother's shoes - she has fun with the box they came in.
Artist: ArtistMike
(First: Episode 2985)

Song
"We Got the Power!" - a hip-hop song about computers
(First: Episode 3058)

Cartoon
Falling leaves form H and h.
(First: Episode 3118)

Film
The floating kids form H.
(First: Episode 3118)

Cartoon
H/h (with voiceover by Roscoe Orman)
(EKA: Episode 2282)

SCENE 2
Nick and Nora Chicken hang out at Hooper's, when the voice-over introduces another episode, "The Case of the Missing Chicken." While Nick asks Mr. Handford if there are any missing chickens, Nora vanishes! When Nick finds this out, he panics, because he can't work without his sister (they're a team).




SCENE 2
cont'd
The same voice-over announces the presence of Colambo, who is now on the case. Colambo is confused when he finds out that Nora is the "sister" of Nick, who insists that he is also a chicken ("I'm one of the biggest chickens you'll ever meet!"). He shows Colambo the pictures of himself and his adopted family (chickens), then they argue over which of them is on the case, until Mr. Handford suggests they cooperate and work together. They agree to do so, and leave Hooper's.

Cartoon
A mosquito bites a man and a dog, who agree to scratch each other's backs.
Artist: ArtistMike
(First: Episode 3217)

Song
"Washin' the Dog"
(First: Episode 3020)

Animation
Counting from 10-0 (Latin rhythm)
(First: Episode 3048)




Muppets
"A New Way to Walk," performed by The Oinker Sisters as introduced by Old MacDonald
(EKA: Episode 2303)

Film
The sign flashes WALK and DON'T WALK as kids read the indications out loud, and people wait and cross the street in fast-motion.
(First: Episode 3272)




SCENE 3
Telly finds a feather on the Fix-It Shop work table, and is cornered by Nick Chicken and Colambo, who question him about whether he's seen any chickens. Nick breaks down as he explains the story to Telly, and Telly offers to help him out. Nick and Colambo follow Telly ...

Animation
Several cards form an H.
(First: Episode 3139)

Animation
Planet H / h
(First: Episode 2851)

Song
"One of These Things" (with Wegman's dogs and a terrier)
(First: Episode 3105)

Cartoon
Song: Thingy Things 8 to 1 (1:03)

Cast
"A word from your local chicken" - A nerdy Gordon interprets a chicken's words.
(EKA: Episode 2646)

Cartoon
"The Room is Full of Chickens"
(First: Episode 2971)




SCENE 4
Nick, Colambo and Telly dress in chicken outfits and pretend to be chickens, since according to Telly's logic, whoever took Nora will mistake them for chickens. Telly is approached by an agent named Bernie, who attempts to snatch him, but Nick and Colambo catch him red-handed. Bernie explains that he hires animals for his all-animal band, and Nora happens to be their tambourine player.




SCENE 4
cont'd
Sure enough, the band starts playing, and Nick spots Nora! When he tries to bring her back with him, she says she doesn't want to be a detective anymore, and they share a tearful goodbye. Colambo offers to make Nick his partner, but Nick also decides to quit the detective gig, and go into the family business: laying eggs.

Cartoon
What if we celebrate Valentine's Day with chickens instead of hearts?
(First: Episode 0488)

Muppets
"Barn in the USA"
(First: Episode 2991)

Film / Animation
Lake (time-lapse)
(First: Episode 2700)

Cartoon
Sand J/j
(First: Episode 0631)

Muppets
Sesame Street News Flash
Kermit the Frog reports from an alphabet mine where they dig Js. The miners tell him various words that begin with J and Richard presents him with his own J.
(EKA: Episode 2302)

Cartoon
Jughead Jones's J story
(First: Episode 0231)

Film
A child narrates a film of him and his brother, Andrew, taking a ride on the ferry.
(First: Episode 2951)

Muppets
Baby Tooth and the Fuzzy Funk - "Get Your Body Busy!"
Part 1
(First: Episode 2994)

Muppets / Celebrity
Zoe counts the number of times Michael Chang bounces a tennis ball.
(First: Episode 3148)

Animation
Joe Raposo counts 40 dots.
(EKA: Episode 2406)

Muppets
Count von Count sings "Lambaba" as he counts sheep and other animals that pop into the room.
(First: Episode 2789)

Animation
Fred the fish needs water to swim in, and Betty the bird needs air to fly in. Vanessa the vacuum cleaner sucks up all the air and water, but can't hold it all in. (new narration by Jim Thurman added)
(First: Episode 2564)

Muppets
Baby Tooth and the Fuzzy Funk - "Get Your Body Busy!"
Part 2
(First: Episode 2994)

Animation
Rubber Stamp #17
(First: Episode 2975)

Animation
Growing Numbers #17
(First: Episode 2975)

Animation
Seventeen derby hats drop onto a balloon head.
(First: Episode 2820)

Song
14 Karat Soul sings "Hand Talk."
(First: Episode 2622)

Cartoon
A schoolyard of gloves invites other gloves to join them.
(First: Episode 1481)

Muppets
Baby Tooth and the Fuzzy Funk - "Get Your Body Busy!"
Part 3
(First: Episode 2994)

SCENE 5
Telly asks Colambo if they can continue solving mysteries dressed as chickens, but Colambo declines. Telly the "chicken detective" goes off on his first case, and Colambo announces the sponsors.
Community content is available under
CC-BY-SA
unless otherwise noted.