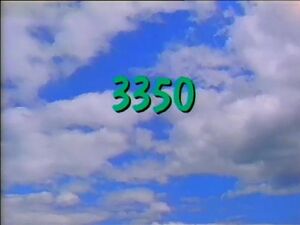 Picture
Segment
Description

SCENE 1
Elmo and Zoe watch as Luis and Maria waltz together as they head off to a wedding. The monsters want to dance too, but Elmo thinks they can do it just based on what they just watched. Elmo is proven wrong and Celina invites them up to her studio to learn.

Film
"Body Dance" (MC Lyte)
(EKA: Episode 2816)

Cartoon
Parts of a face are drawn in black on-screen before forming a picture.
(First: Episode 3320)

Muppets
Cookie Monster sings "Goodbye, Little Cookie."
(First: Episode 1630)

Cartoon
Letter B becomes a banana and broccoli
(First: Episode 2513)

Film
(song) Ornate Bs around the neighborhood and at the beach
(First: Episode 3266)

Cartoon
Letter B/b (bouncing circles)
(EKA: Episode 2222)

Muppets
The Hispanic community of Anything Muppets sings "It Sure is Hot!"
(First: Episode 2601)

Animation
Counting from 10-0 (Latin rhythm)
(First: Episode 3048)

SCENE 2
Celina teaches the young monsters that the waltz follows a counting rhythm of "one-two-three." She plays a waltz tape and demonstrates. The monsters get caught up in the counting that they keep counting instead of dancing.

Animation
"Five Waltzing Chairs"
Artist: Jane Aaron
(First: Episode 2983)

Muppets
The Rainbow Fish counts groups of 5 in the ocean.
(First: Episode 2923)

Cartoon
5s are found in an icy environment.
Artist: Joey Ahlbum
(First: Episode 3300)




Muppets
Colambo: The Great Plum Plunder
Colambo, in his office, decides to have a piece of Christmas pie, when he notices a plum missing from it. He asks the janitor, Little Jack Horner, some questions about what he was doing in the corner. It turns out that Jack had stuck in his thumb and pulled out the plum.
On the title card, the story is credited to J. Mazzarino.
(First: Episode 3121)

Film
A girl dances her way into her family portrait.
(First: Episode 3119)

Cartoon
"Do the Continental" - two kids jump into Africa.
Artist: Peter Wallach Enterprises
(First: Episode 2733)

Film
A boy signs the word cat, and morphs into one.
(First: Episode 3323)

Muppets
Muppet & Kid Moment — Chip and Dip hold a sign with the word "CAT" written on it and ask Danny if he knows what it says. When they learn that he can't read the sign, they give him clues.
(First: Episode 2805)

Animation
The word CAT is shown, followed by a black cat sitting on a chair.
(First: Episode 3000)

SCENE 3
Celina adds that cooperation is needed to perform the waltz. The monsters think they have the dance down pat, but Elmo wishes they had outfits just like Maria and Luis had on.

Animation
A big paper clip and a small paper clip can hold papers together, and so can a small staple, with the help of its "mommy."
(First: Episode 2930)

Song
Sesame Street Creature Feature: The Marmoset.
(First: Episode 2487)

Cartoon
Cat / fat / hat / sat / rat / bat / scat / splat / flat / pat
(First: Episode 0770)

Muppets
The Martians examine a fan and are "blown away" by it.

Animation
"Every Bit a' Litter Hurts"
(First: Episode 2721)

Muppets
Big Bird presents the letter B, for Natasha (who's a baby). She then grabs onto his beak.

Film
B for ball, bat, base and baseball.
(First: Episode 3266)

Cartoon
A boy chases a butterfly, and watches the clouds form into different objects.
Artist: Irra Verbitsky
(First: Episode 1736)

Muppets
Caribbean Anything Muppets sing about "Caribbean Air."
(First: Episode 2688)

Cartoon
A hippo has difficulty getting the succulent fruit down from a tree, and enlists the help of another hippo.
Artist: John Korty
(First: Episode 1899)

Film
A child voice-over talks about a Hawaiian party that her family has.
(First: Episode 3139)

Animation
Looking for shapes on the Aztec Calendar Stone (Maria voiceover)
(First: Episode 3049)

SCENE 4
Zoe and Elmo go to Finders Keepers and ask for outfits just like Maria and Luis'. Ruthie gets some Fix-It Shop-appropriate work outfits, when the monsters describe the nice outfits they were previously wearing. Ruthie just happens to have them in their size.

Song
"Exploring in Your Closet"
(First: Episode 3132)

Animation
A piece of paper floats down onto a table, then folds itself into a paper crane, which flies away.
(First: Episode 2892)

Muppets
Ernie & Bert — Ernie turns on the radio to hear his favorite exercise show, Get Moving. He engages the viewer to do all the exercises he does, such as touching toes and jumping. Bert joins in, and has so much fun jumping that he doesn't notice that his favorite program, Pigeons in the News, is coming on.
(First: Episode 1025)

Song
"Jump"
(First: Episode 3136)

Cartoon
The Typewriter gets stuck in a spot of glue, and types "G: Glue".
(First: Episode 0775)

Animation
Computer G / g
(First: Episode 3112)

Muppets
Sesame Street News Flash: Kermit meets the Seven Dwarves, seemingly from the Snow White story. However, in this version each is named after (and represents) an emotion. (Kermit ad-lib: "Hey Dulcy, we got the wrong dwarves again!") They are named Cheerful, Sad, Lovey, Angry, Proud, Surprised and Fearful.
(EKA: Episode 2415)

Cartoon
A mouse sings "Felines," a song about emotions, to the tune of "Feelings."
(First: Episode 3278)




SCENE 5
Maria, Luis and several others gather at the dance studio, where the monsters show off their waltz. Maria comments Zoe's dress is prettier than hers. Everyone dances to a waltz arrangement of the theme as Benny Rabbit announces the sponsors.
Notes
Community content is available under
CC-BY-SA
unless otherwise noted.