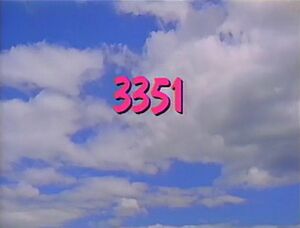 Picture
Segment
Description

COLD OPEN
While running through Central Park, Luis is followed by what appears to be a stray dog. He doesn't see any potential owners around and notices a cut on his paw. Luis decides to bring him back to Sesame Street.

SCENE 1
Luis returns to the street, finding Big Bird, Maria and Gabi playing ball. Gabi wants to keep the dog, but her parents insist on finding the owner. Big Bird, who notices the dog doesn't have a collar, pushes for them to keep the dog as well.

Cartoon
The word DOG is spelled out over a weiner dog.
(First: Episode 3326)

Film
Wanda Falbo (Word Fairy) and Barkley present a word which represents large, shaggy animals who like to chase sticks (or wands).
(First: Episode 2621)

Cartoon
A seal and a bear fight over a circus ball, but learn to cooperate.
Artist: Frank Gresham
(First: Episode 3282)

Song
"It's Time for a Rhyme"
(First: Episode 3160)

Animation
R / r (space paint)
(First: Episode 3227)

Film
Jaws spoof with the letter R.

Cartoon
Leaves form R and r
(First: Episode 3110)




SCENE 2
Maria waits back at home, when Luis, Gabi and Big Bird return with the dog, whom the vet claims is less than a year old. Maria gets the dog ready to snap a photo of him for the "Lost Dog" posters she'll be making. She starts getting some info down on the paper.




SCENE 2 cont'd
Since the photo won't accurately depict how big his, Luis produces a scale to weigh him with. Luis picks up the dog and stands on the scale with him, then subtracts his weight from the total to get the dog's. Maria finishes the poster and goes to get her purse, when the dog chews up the poster. Big Bird takes it as a sign he wants to stay.

Song
"Say Cheese"
(First: Episode 3146)

Cartoon
A man (Marty Robinson) has a small octopus on his head, but a little boy (Joey Mazzarino) has a big octopus.
Artist: Mo Willems
(First: Episode 3270)

Muppets
Sesame Street News Flash
Old MacDonald opens a health resort for his animals.
(First: Episode 2688)

Cartoon
In rhyme, a man points out animals who stole and/or ruined his clothing.
(First: Episode 0778)

Film
Looking for circles in the city (Maria voice-over)
(First: Episode 2711)

Cartoon
A poem about Hannah and Anna who lead similar lives in the city and the country.
(First: Episode 2984)

Muppets
"Big Kids Cry"
(First: Episode 1488)

Animation
Abstract count to 19
(First: Episode 2827)

Film
Growing Numbers #19
(First: Episode 2937)

Animation
Rap #19
(First: Episode 2560)

Cast
Gina plays and sings "Follow the Leader" with the kids.
(First: Episode 2604)

Cartoon
A boy demonstrates why his dog's name is Happy.
(First: Episode 0537)

Muppets
Waiter Grover: Mr. Johnson gets a different waiter for a change, a light blue monster named Piño. Then Grover comes by and argues with Piño over which one of them is serving Mr. Johnson.
(First: Episode 3061)

Animation
Luxo Jr. displays its front and back, eventually getting exhausted.
(First: Episode 3279)

Muppets
The Two-Headed Monster blows bubbles.
(EKA: Episode 1984)

Song
"B is for Bubble" (remake)
(First: Episode 3266)

Film
B's are found on a city street.

Film
Alphaquest: B
(First: Episode 2706)

Celebrity
Picabo Street stops by the park to tell Elmo about her skiing and how she won a medal. Afterwards, the two play Peek-a-Boo together.
(First: Episode 3301)

Cartoon
What Do You Do With a Pet?
(First: Episode 0465)

SCENE 3
Luis returns, having put up posters everyone advertising the missing dog. They immediately get a call from a Pumpkin Anything Muppet looking for his dog, Spot. The found dog seems to match the man's description, when Spot happens to return that very instant. Gabi and Big Bird cheer that the dog gets to stay, though Maria insists that despite his having to spend the night with them, they'll make more attempts to find his real owner tomorrow.

Cartoon
A dog-shaped television
Animation inspired by Keith Haring
(First: Episode 3045)

Song
"Cow Dog Song"
(First: Episode 0783)

Muppets
Ernie & Bert — Ernie brings a surprise home, and he tells Bert to guess what it is. The surprise turns out to be a puppy. Bert wants to call the puppy "Norman"; Ernie suggests "Godzilla the Wonder-Dog".
(First: Episode 1956)

Film
Ornate Rs fly through the sky to a song.
(First: Episode 2932)

Cartoon
A man explains the letter R with a radio. Once he starts singing, the radio decides to turn him off by tweaking his nose.
(First: Episode 0011)

Muppets
"In South America," they say "Buenos Dias" for good morning, and "Buenas Noches" for good night.
(First: Episode 3105)

Film
Wegman's dogs re-enact "Goldilocks and the Three Bears."
(First: Episode 3269)

Cartoon
Buttons ride a rollercoaster "up and down."
(First: Episode 3207)

Muppets
"Forty Blocks From My Home"
(First: Episode 2614)

Cartoon
Gerald is repeatedly kept awake by his dog Sparky, who does a dance and poses as an alligator through his shadow whenever his parents close his door.
(First: Episode 1519)

SCENE 4
Maria and Luis comment on the dog and find Gabi snuggling him in her sleep. Big Bird announces the sponsors.
Community content is available under
CC-BY-SA
unless otherwise noted.