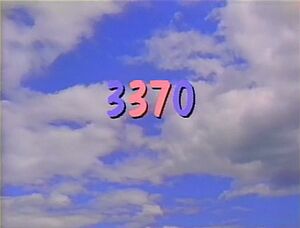 Picture
Segment
Description




COLD OPEN
Along Sesame Street, everyone seems to have a bird with them. Big Bird explains today is "Take a Bird to Work Day" and he's joining Gordon at his science class today. Across the way, Benny Rabbit is seen with a duck that he can't understand and won't help; he's on his break.




SCENE 1
Everyone on the street shows off their birds while singing about the holiday. Maria has a penguin, Ruthie has a turkey in her motorcycle and Mr. Handford has a chicken.

Animation
A mother bird brings ten worms for her 9 babies and herself.




Muppets
Guy Smiley hosts "What's My Job?" in which blindfolded monster contestants guess the occupations of different professionals, including Sonny Friendly.
(First: Episode 2573)

Film
Ornate 8s stroll through a gate and pose in other remarkable places. (gate/plate/skate)
(First: Episode 3231)

Film
Wegman's dogs form the numbers 1-8.
(First: Episode 3293)

Cartoon
The Ringmaster showcases 8 skating penguins. (new sound effects added)
Artist: Jeff Hale
(First: Episode 1291)

Film
"SCHOOL!" (high speed footage)
(First: Episode 3278)

SCENE 2
Benny still tries to understand what his duck is saying.

SCENE 2 cont'd
Meanwhile, at high school, Big Bird takes his place by Gordon's desk. He begins asking Gordon many questions about school, learning he must raise his hand before doing so. Big Bird raises his wing and asks what's taking Gordon so long to start his lesson.

Song
"At School," with animation bookended by live-action footage.
(First: Episode 2782)

Animation
J / j Gregorian chant
(First: Episode 3345)

Muppets
Sesame Street News Flash
Kermit the Frog reports from an alphabet mine where they dig Js. The miners tell him various words that begin with J and Richard presents him with his own J.
(EKA: Episode 2302)

Cartoon
The Typewriter: J for jump
Artist: Jeff Hale
(First: Episode 0772)

Song
"Jump" (soul)
(First: Episode 3136)

Animation
A girl reads a book, a magazine, a newspaper, and a letter.
(First: Episode 3142)




SCENE 3
Telly points out Oscar doesn't have a bird with him at the newsstand. Oscar theorizes he's too grouchy for any bird to hang around. So, Telly dresses up like a bird to hang out with him.

Song
Joe Raposo sings "There's a Bird On Me."
(First: Episode 0416)

Animation
Planet E / e
(First: Episode 2840)

Song
Ornate E's go easing by to a song.
(First: Episode 2937)

Animation
Sand E/e
(First: Episode 0642)

Song
Leon Redbone sings "What Do They Do When They Go Wherever They Go?"
(First: Episode 3312)

Muppets
Elmo and Zoe plays a new game were you have to do the opposite of each other.

Animation
Cecille sings "Up Down, In Out, Over and Under."
(First: Episode 2746)




SCENE 4
In Finders Keepers, Ruthie is amazed at how well her turkey has cleaned an operatic headdress. She admits she'd like to be an opera singer and dons the hat. A spotlight shines on her and she sings a dramatic version of "The Alphabet Song." An unseen audience cheers.

SCENE 4 cont'd
Meanwhile, the duck still tries to talk to Benny, who's still on his "break."

Film
Girls sing a jump-rope rhyme about naming a puppy.
(First: Episode 3279)

Muppets / Celebrity
Little Richard sings "Rosita," a song about feelings, to Rosita.
(First: Episode 3225)

Cartoon
A magician writes in his diary about the many mishaps during his performance.
(First: Episode 2053)

Song
"When You Grow Up"
(First: Episode 2912)

Film
Penguins take a bath.
Music: Joe Raposo
(First: Episode 0233)

SCENE 5
Maria shows her penguin how to fix a clock radio, when another penguin shows up, not having anyone to go to work with. Some more penguins show up and are amazed at how well Maria can add them. She admits 6 penguins is too many for her to take to work, but they don't mind - six penguins is enough for a penguin party!

SCENE 5 cont'd
Benny and the duck still have issues communicating.

Film
Joe Raposo sings "Dressed Up."
(First: Episode 0302)

Muppets
Biff sings "This Is My J."
(First: Episode 1169)

Cartoon
Consonant Sound: J, jaguar
(First: Episode 1144)

Animation
Dancing pepper pattern - which one comes next?
(First: Episode 3079)

SCENE 6
Big Bird and Gordon return from class and Big Bird finds Benny, still being driven nuts by the duck. Big Bird translates, explaining the duck wants to know how to take a break. Benny shows him his teeth-squeeking abilities, which the duck tries mastering.

SCENE 6 cont'd
Hoots the Owl, from atop the newsstand, announces the sponsors.
Community content is available under
CC-BY-SA
unless otherwise noted.