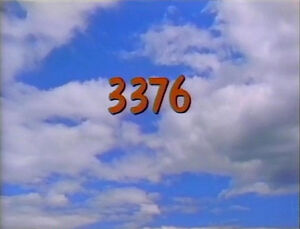 Picture
Segment
Description

COLD OPEN
Angela (in voice-over) urges Benny Rabbit to announce today's sponsors. Benny is on his way to the bus stop, but Angela points out he may not make it...




SCENE 1
Benny arrives at the bus stop, where Angela and some others are waiting. Also there is a rabbit with a clipboard - she is Louise, the bus dispatcher. She realizes she's misplaced her important pencil and becomes distraught. Benny reluctantly helps her find it and, as a result, misses his bus. Louise crankily tells him the next bus will arrive in 6 minutes.

Film
A girl narrates a film of herself taking the bus home with her dad. They play a game where she points to things and identifies them.
(First: Episode 3302)
Muppets
The Two-Headed Monster finds a pencil with a broken point, and demonstrates the fun you can have with it.
(EKA: Episode 2096)

Animation
Pencil box G / g
(First: Episode 3042)

Animation
Computer G / g
(First: Episode 3112)

Film
Paper crumples to reveal G, g, and Gg.
(First: Episode 3128)

Song
"Off to School"
(First: Episode 2944)

Cartoon
A lizard, a girl and a dog dance.
Artist: Karen Aqua
(First: Episode 2795)

SCENE 2
Zoe approaches the bus stop and asks Benny to help her in remembering the alphabet. He goes through it quickly, but it's too fast for her. He says it again slower, but misses the bus as a result. He yells at Louise for allowing it to leave, but she insists she's just doing her job.

Cartoon
Bus Stop
(First: Episode 1396)

Muppets
"At the Bus Stop Sign"
(First: Episode 1392)

Film
Farmer McFay demonstrates subtraction with six fruits.
(First: Episode 3216)

Animation
Luxo Jr.: Heavy and light
(First: Episode 2860)

Cast
Live at Sesame Hall, Bob, Maria, and Luis sing "The Curious Cantata" about a bird who asks a lot of questions, played by the ever-curious Big Bird.
(EKA: Episode 2238)

Film
A girl learns to write "tree" in Chinese.
(First: Episode 3198)

Cartoon
G for Gorilla
(First: Episode 2491)

Animation
G / g Gregorian chant
(First: Episode 3328)




SCENE 3
Mrs. Maloy and her pet woodchuck arrive at the bus stop and her pet is impressed with Benny's teeth. He's even more impressed with the way he can squeak them. Benny reluctantly tries to teach him to do the same, missing the next bus as well.

Cartoon
In a circus setting, a girl becomes excited about getting her first loose tooth.
Artist: Steven Fonti
(First: Episode 3266)

Song
"Doing the Family Thing"
(First: Episode 3180)

Cartoon
A drowsy wagoner gets across a clearing by building a bridge out of his ox-cart, and converting it back again.
Artist: Bruce Cayard
(EKA: Episode 0815)

Muppets
Kermit the Frog goes to a T-shirt shop, The Wonderful World of T-Shirts, to pick up another personalized "Kermit the Frog T-Shirt". However all the shirts have the wrong name (Kermit the Gorf, Kermit the Forg, and Kermit the Grof).
(First: Episode 1494)

Animation
R for robot, rabbit, run, read, rock, rocket.
(First: Episode 3088)

Animation
R / r (space paint)
(First: Episode 3227)

Film
Jaws spoof with the letter R.
(First: Episode 3351)

Cartoon
The Great Inventors Series: Willy Pinkham, intern at the rubber glove factory, invents the balloon.
Artist: Bruce Cayard
(First: Episode 2579)

Muppets
Telly wanders into a Hispanic community during a snowfall, freezing his fur off. He hears the patrons on the street exclaim "Hace Frio!"
(First: Episode 3133)

Animation
In a painting, a man flips a coin, and it flies in and out of buildings.
(First: Episode 3291)

Muppets / Celebrity
Elmo and Rosie O'Donnell rap the alphabet.
(First: Episode 3170)

Cartoon
While fishing one day, a boy catches the letters of the alphabet. Frustrated at not having caught any fish to eat, he decides to use his catch for alphabet soup.
(First: Episode 0004)

Film
A girls' jump-rope team trains for a contest, and end up winning second place.
(First: Episode 2510)

Cartoon
Babies and doggies pattern: What comes next?
Artist: Keith Haring
(First: Episode 3039)




Muppets
Camp Wannagohoma: Grover tries to show the campers what is alive in the forest, but they keep correcting him.
(EKA: Episode 2163)

Cartoon
All living things need clean water.
(First: Episode 2731)

Animation
"Six Circus Balls"
Artist: Jane Aaron
(First: Episode 3001)

Muppets
Bert says his favorite number is Six.
(First: Episode 1289)

Cartoon
Six pigs
Artist: Owe Gustafson
(First: Episode 1472)




SCENE 4
Benny and Louise argue some more, when Louise invites him to dinner. She's off the clock now and also lives downtown. Benny accepts and the two board the next bus. Angela announces the sponsors.
Notes
One of the ads on the bus reads "Kalvin Clash: The Scent of a Man."