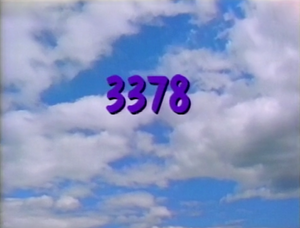 Picture
Segment
Description

SCENE 1
Big Bird, posing as "Sherlock Bird," with Dr. Zoe, investigates "The Case of the Small, Smaller and Smallest." He discovers that Gabi is small, Lexine is smaller, but Dr. Zoe is the smallest (with some help from Gabi).

Song
"We're All Growin'"
(First: Episode 3141)

Cartoon
A woman visits a car dealer, looking for a small car. She will only take a car small enough to fit her clowns.
Artist: ArtistMike
(First: Episode 3079)

Film
Wegman's dogs form a letter E.
(First: Episode 3267)

Cartoon
The Typewriter: E-Ear
(First: Episode 0807)

Animation
Planting Letters: E
(First: Episode 3009)

Cartoon
A little boy describes a time when he got angry after his toy truck was destroyed by a big kid.
Artist: ArtistMike
(First: Episode 2764)

Insert
Celina shows the Grouchketeers how to do "Doin' the Grouch."
(First: Episode 3203)

Cartoon
The word "GO" races down the street.
(First: Episode 3311)

Muppets
Elmo and Super Grover dance to hip-hop music while chanting the word "Go."
(First: Episode 3311)

Muppets
At the beach, the Twiddlebugs notice that only Thomas has a beach umbrella, which they decide to share. They soon notice that they have no idea where the ocean is.
(First: Episode 2641)

Song
Kevin Clash sings "Skin."
(First: Episode 2749)

SCENE 2
Baby Bear is going to draw today, only he's not sure what. Goldilocks shows up to help and Gina suggests they cooperate. Baby Bear gets the idea to use her as a drawing subject, along with a banana.

Cartoon
Crayons play together.
(First: Episode 3105)

Song
"(The Name of the Place is) The Laundromat"
(First: Episode 3159)

Muppets
Ernie & Bert — Bert says it's Ernie's turn to go to the laundromat. He puts numerous things in the laundry basket, including storybooks, cookies, his boots, and a radio. Before long, the basket has no room for the laundry, so he decides to go play baseball instead.
(First: Episode 0458)

Animation
Computer E / e
(First: Episode 3071)

Animation
E / e Gregorian chant
(First: Episode 3300)

Song
"Country in the City"
(First: Episode 3292)




SCENE 3
Baby Bear finishes his drawing, which he calls "A Happy Day" (because Goldilocks isn't included in it). This makes Goldilocks furious and Gina convinces Baby Bear to make amends by making a drawing of just her...provided she can settle on a pose.

Film
A boy draws a picture of his friend, Katie.
(First: Episode 2760)

Muppets
Waiter Grover: Hamburger - Mr. Johnson wants a hamburger. The restaurant offers two sizes: the big hamburgers and the small hamburgers. When the small hamburgers are too small, he orders a big one, but because there have been some problems with the big hamburger, Grover tries to convince him to order several small ones. (new sound effects added)
(First: Episode 0705)

Animation
Thirteen hamburgers dance around.
(First: Episode 2785)

Animation
Growing Numbers #13
(First: Episode 2924)

Animation
Masked March #13

Film
A boy in Jamaica goes to school and attends drum class.
(First: Episode 3145)

SCENE 4
Baby Bear finishes a proper drawing of Goldilicks, who is so happy, she invites him to spend the day with her (which he is none too thrilled about).

Song
"Happy Happiness"
(First: Episode 3320)

Cartoon
A car drives by the water.




Film
Kids practice circus acts and give a performance in a gymnasium.
(First: Episode 2889)

Cartoon
A shy girl wants to join a group bouncing a ball. (inaudible dialogue)
Artist: Joanna Priestley
(First: Episode 2849)

Celebrity
The Neville Brothers sing "Believe in Yourself," with a montage of clips from films including "I'm the Big One Now," "Reach Your Hand Up High" and "Hot in the City."
(First: Episode 3158)

Film
Jaws spoof with the letter N.
(First: Episode 3333)

Muppets
Sesame Street News Flash: The first day of school in history
(First: Episode 1953)

Animation
Sand N/n
(First: Episode 0633)

Muppets
"Home to Me"
(First: Episode 2093)

Cartoon
Knights use different words for "big".
Artist: Fred Garbers
(First: Episode 1985)




SCENE 5
Sherlock Bird and Dr. Zoe return to solve the mystery of "Big, Bigger and Biggest." By examining the clues, they find that Gina is big, Gordon is bigger, but Sherlock Bird is the biggest. Baby Bear then announces today's mysterious sponsors.