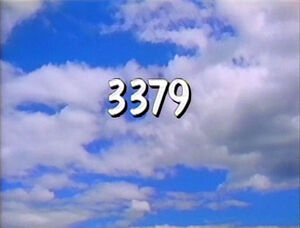 Picture
Segment
Description




SCENE 1
Kingston Livingston III is hosting "The Wide World of Writing," an on-the-street interview program. He points out everyone is writing on the street and he's going to find out what and why. Ruthie leads him to some writing at Finders Keepers.

Cartoon
A pencil tries to write the word DANCE.
(First: Episode 1966)

Film
A blind class goes on a field trip to the park, using their other senses to experience their surroundings. The teacher sings "If You're Happy and You Know It."
(First: Episode 2566)

Cartoon
Gloria Globe appears sick and ailing, because of pollution and damage to the planet. Only by taking better care of the Earth can Gloria become well again.
(First: Episode 2781)

Animation
Portraits of kids display the alphabet.
Artist: Lisa Crafts
(First: Episode 3203)




SCENE 2
Ruthie is writing a sign that reads "TUFFET SALE," as Fiders Keepers is selling some of Little Miss Muffet's old tuffets. The sale is a success, so she makes another sign - "SOLD OUT."

Cartoon
A man demonstrates what newspapers are made of, and finds an ad for "One slightly used monster."
(First: Episode 2919)
Muppets
The Two-Headed Monster finds a newspaper.
(First: Episode 2097)

Song
"Reach Your Hand Up High"
(First: Episode 2702)

SCENE 3
Kingston sees what a little girl has written - the letter I.

Cartoon
Shooting stars form the letter I/i.
(First: Episode 2218)

Muppets
Monsterpiece Theater: The King and I
(First: Episode 2727)

Song
Jeff Redd sings "Between."
(First: Episode 2738)

SCENE 4
Next, The Wide World of Writing showcases Gordon, who is in the arbor writing a shopping list. He is then showered with balloons, confetti and applause.

Film
A boy takes a bite out of an apple after it falls off a tree above him. The word APPLE is then shown.
(First: Episode 3276)

Cartoon
Apple: a riddle
(First: Episode 2889)

Muppets
The Count sings the latest South American craze - "Counting Backwards in Spanish."

Cartoon
A poem about Hannah and Anna who lead similar lives in the city and the country.
(First: Episode 2984)

SCENE 5
Kingston watches a boy draw a letter Q.

Film
A paper crumples to reveal Q, q and Qq.
(First: Episode 3105)

Film
Girls giggle as they clap their way to the letter Q.
(First: Episode 3340)

Muppets
Kermit sings "Get Along" with some Anything Muppet greasers, the Martians, the Twiddlebugs, and a cow.
(First: Episode 2600)

Song
Ivy Austin sings a song with words ending with EN.

Song
"Beautiful Baby" song, over footage of various babies and their parents.
(First: Episode 1484)

SCENE 6
Kingston now visits Oscar's trash can. Oscar writes him a note - "GET LOST." Instead of following it, Kingston compliments Oscar on it.

Film
A girl writes to her grandmother about going to summer camp.
(First: Episode 3270)

Muppets
Big Bird and a duck present the letter Q.

Cartoon
Q for Quiet
Artist: John Korty (new sound effects added)
(First: Episode 0441)

Muppets
Mr. Johnson has lunch at Charlie's Outdoor Al Fresco Fresh Air Cafe, where he's disappointed to find Grover waiting on him. The wind picks up, and blows his food away -- but when Grover gives him the bill, the wind dies down, and he has to pay.
(First: Episode 3105)

Cartoon
Dr. Annie Eyeball looks at air.
Artist: Bruce Cayard
(First: Episode 2592)

SCENE 7
Kingston watches as Danielle draws a number 14.

Animation
Parade of Numbers #14

Film
Girls dance and chant about the number 14.
(First: Episode 3014)

Cartoon
"Fourteen Desert"
Artist: Joey Ahlbum
(First: Episode 3267)

Film
Sheep dog
(First: Episode 1056)

Film
At a bus stop, three men of different ethnicities (including Bill Irwin) dance to a hip hop beat played on a radio.
(First: Episode 2919)

Cartoon
The Square
(First: Episode 0536)

SCENE 8
Kingston signs off, as Big Bird and the Birdketeers display the sponsors after writing them.
Community content is available under
CC-BY-SA
unless otherwise noted.