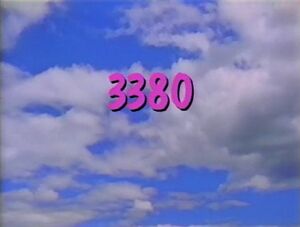 Picture
Segment
Description

COLD OPEN
Celina and Elmo are going running in the park, but Celina tells him they have to wait for her surprise friend - Buster the Horse! Neither of them have gone running with a horse before and are very interested in how it will work...

SCENE 1
Buster arrives for their run, but first, Celina says they have to stretch first (which Elmo and Buster don't normally do). They then do some warm-up exercises and Buster even convinces them to whinny before they start running.

Film
Kids dance around at gymnastics to "Rockin' Robin."
(First: Episode 3147)

Muppets
Sesame Street News Flash
Kermit the Frog witnesses how the mailman and salesman knock at the door while the Big Bad Wolf chases Little Red Riding Hood around the bed. Eventually, the Woodsman shows up, and Red and the Wolf chase him for cutting down a maple tree which was their favorite one.
(First: Episode 0621)

Cartoon
Number Creatures #20
(First: Episode 2687)

Film
Growing Numbers #20
(First: Episode 2967)

Cartoon
The Bellhop is sent to the grocery store to get twenty grapefruits. He counts to 20 on the way there so that he can remember the quantity, but forgets what item he was sent for.
(First: Episode 2533)

SCENE 2
Celina stops everyone from running for a quick count-to-20 break.

Film
A trip to an African dance school.
(First: Episode 3266)

Muppets
Alphabet Chat: Mr. Chatterly and Mr. Bull have a conversation about sporting goods that begin with B such as baseball, bowling and ballooning as the staff gives Mr. Chatterly some things that begin with B, like balls and balloons.
(First: Episode 3123)

Song
(song) Ornate Bs around the neighborhood and at the beach.
(First: Episode 3266)

Cartoon
B for bathtub, ball, boat, boot, boomerang, brush and bison.
(First: Episode 3154)

Song
Hoots the Owl sings "This is How We Take a Bath."
(First: Episode 3216)

Celebrity
Amy Tan reads the book Sagwa, the Chinese Siamese Cat to Elmo and Zoe. When Amy is called away, Elmo turns to telling the rest to Zoe himself, using the illustrations from the book by Gretchen Schields. Amy returns at the end of Elmo's mostly faithful adaptation with a Chinese siamese cat Carlo brought back from the animal shelter.
(First: Episode 3340)

Cartoon

A face is assembled and becomes an abstract portrait.
(First: Episode 3320)

Muppets
Muppet & Kid Moment — Grover talks to Carrington about their nose and how they both have it in the same place.
(First: Episode 3281)

Film
A child narrates a film of him and his brother, Andrew, taking a ride on the ferry.
(First: Episode 2951)

SCENE 3
Buster, Elmo and Celina illustrate "J" for "jog."

Film
Fay Ray, Batty and Chundo form a letter J.
(First: Episode 3280)

Animation
Planet J/j
(First: Episode 2849)

Film
Girls jump rope and sing playground rhymes.
(First: Episode 3280)




Muppets
Wish You Were Here
Big Bird explores the mask gallery at the Museo del Barrio in New York City. Edna, the art instructor, shows him and some kids how to make their own masks for a parade.
(First: Episode 3058)

Cartoon
A girl thinks about what might happen if she popped a balloon behind her friend Donald.
(First: Episode 1312)

Animation
B for bounce, break, blue, boat
(First: Episode 3061)

Animation
Sand B / b
(First: Episode 0627)




SCENE 4
Everyone stops running in where Buster considers to be the best place in the park. Elmo believes it's because of the pretty flowers and Celina thinks it's too enjoy the sounds of the birds. But, Buster likes the spot because it has nice grass to feed on.

Song
Leon Redbone sings "Blueberry Mouth."
(First: Episode 3300)

Cartoon
The Magnificent Splasho demonstrates before & after.
(EKA: Episode 2282)

Animation
Before / after: Designs of a rainforest are painted on a chair.
(First: Episode 3129)

Muppets
While standing next to a tree being cut down, Professor Grover talks about the importance about listening... especially if the sound indicates some kind of danger.
(EKA: Episode 2278)

Song
"Toothpaste Factory Rap"
(First: Episode 3266)

SCENE 5
Zoe is having trouble counting to 10, so Celina helps her with a song.

Cartoon
Counting to 10
Artist: Keith Haring
(First: Episode 3042)

Song
"Dancin' Shoes"
(First: Episode 2949)

Cartoon
In the "Land of No Shoelaces", people find it difficult to play basketball, swing, and run, until Edna Lovelace comes along.
Artist: ArtistMike
(First: Episode 3102)

Film
Korean girls do a spring dance.
(First: Episode 3170)

SCENE 6
Zoe continues practicing her counting and shows Elmo how well she can do it. The two practice together as Buster announces the sponsors.