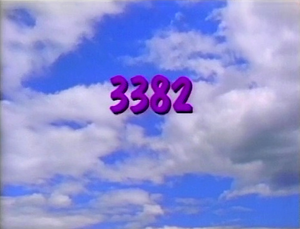 Picture
Segment
Description

SCENE 1
Zoe welcomes the viewer and introduces today's sponsors. Oscar adds someone will be getting angry at him. Zoe sticks around, wishing to see what an angry person looks like. Oscar tells Gina to get lost, but instead shrugs it off and kisses him. A girl named Kenya doesn't get mad at him either, but he won't give up...

Cartoon
The story of Tommy LaPlaid, the painter so sad until he discovered the joys of kicking his paints on the canvas.
Artist: Mo Willems
(First: Episode 3208)

Muppets
Monsterpiece Theater: 12 Angry Men
(First: Episode 3002)

Cartoon
The letter X appears on-screen.
(First: Episode 2779)

Muppets
Sherlock Hemlock sings "X Marks the Spot!"
(First: Episode 0351)

Film
Ornate Xs spin around in accompaniment to a song.
(First: Episode 2929)

Song
"You Can Get Right Up": a song about getting active to cheer up.
(First: Episode 3142)

Cartoon
A dinosaur demonstrates up and down with a pull-down window shade.
(First: Episode 2887)

SCENE 2
Oscar sees Cyranose de Bergerac approaching and knows how make him angry - mention his nose. However, Cyranose's head is so stuffed up, he has trouble hearing, so he instead mistakes Oscar's "nose" for rhyming words. Oscar is not deterred; he knows The Count will be along any minute on his usual stroll and is sure he can make him angry. Zoe patiently waits along.

Cartoon
"Big Sneeze" - a man destroys everything in his path when he sneezes.
Artist: Paul Fierlinger
(First: Episode 1579)




Muppets
Guy Smiley hosts the game show "What's My Part?". The contestant is Mr. Nose. The panelists -- Bennett Snerf, Arlene Frantic and Cookie Monster -- don't know what a nose is, because none of them have noses.
(First: Episode 0131)

Cartoon
Number Guy: "How Many Sheep Will Jump Over My Bed?" The answer is 9.
(First: Episode 3364)

Cartoon
"Nine Chickens"
Artist: ArtistMike

Cartoon
Underwater, there's a 9
(First: Episode 3283)

Muppets
Baby Fats Domino sings "Shake Your Rattle and Roll," encouraging babies to exercise.
(First: Episode 3352)

Cartoon
A detective decides to exercise on a slow day, as a crook attempts to get rid of him.
(First: Episode 2607)

SCENE 3
Oscar has set up several "No Counting" signs, hoping they'll make an incoming Count von Count angry. They fail, but the Count does get angry with Oscar's annoyance. The Count recalls a promise he made to his mommy when he was young: always count to 40 before getting angry. He does so, getting progressively more upset, but feels fine and happy afterward. Oscar enlists Zoe's help in finding someone angry.

Cartoon
40 lemmings (doo-wop)
(First: Episode 2873)

Animation
Cut-outs enter a house with an ENTRADA sign.

Muppets / Celebrity
Big Bird and tennis star Michael Chang play tennis together and tie their shoes.
(First: Episode 3145)

Animation
Pencil box Y / y
(First: Episode 3043)

Film
Jaws spoof with the letter Y.
(First: Episode 3323)

Cartoon
Mary doesn't like the letter Y at first, but eventually finds it useful, especially for her name.
Artist: ArtistMike
(First: Episode 3347)

SCENE 4
Zoe returns with Linda, whom Oscar signs "Get Lost" to. Linda is instead impressed with his signing ability. Zoe looks for someone else.

Film
How to say "bunny rabbit" in sign language
(First: Episode 3300)




Muppets
Prairie Dawn hosts "Fairy Tales Today," a talk show about fairy tale characters. Today, she interviews some fairy tale fruits and vegetables, including the beans from "Jack and the Beanstalk," the pumpkin from "Cinderella" and the apple from "Snow White," all of whom agree that they get treated unfairly in each of their stories. Prairie says that fruits and vegetables don't have feelings in the real world, which offends them.

Cartoon
Jasper and Julius: Apple
(First: Episode 0485)

Song
"Say Cheese"
(First: Episode 3146)

Muppets
Ernie & Bert — Ernie wants to go outside and play catch, but Bert gets him interested in watching his goldfish.
(First: Episode 1422)

Animation
All, none, some and one fish swim around.
(First: Episode 2109)

SCENE 5
Zoe gets Ruthie to pretend she's angry, but Oscar instantly sees it as a ruse. He starts getting worried, since it's almost time to say goodbye.

Cartoon
Stamped and painted X animation.
(First: Episode 2934)

Muppets
Muppet & Kid Moment — Grover tells Debo that the letter that's on the wall is an X, but that it's a secret. Kermit overhears Grover mention a secret and wants to know what letter the X is.
(First: Episode 1494)

Song
"Let's Go Tubbin' Today"
(First: Episode 3024)

Cartoon
A British man narrates how chewing gum is made in Guatemala.
Artist: ArtistMike
(First: Episode 2830)

Muppets
The Count sings about how he loves counting clouds, because when he does, he's "on Cloud Nine" (literally).

Cartoon
A mouse demonstrates between by squeezing between two elephants.
(First: Episode 2750)

SCENE 6
Oscar is upset nobody's gotten angry and blames Zoe, then tells her to beat it. Zoe gets angry at Oscar, who is glad someone's finally angry! He shows her in his mirror how angry she is and tells her to get lost, but not before she announces the sponsors.
Community content is available under
CC-BY-SA
unless otherwise noted.