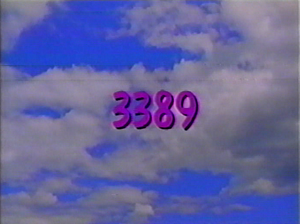 Picture
Segment
Description

SCENE 1
Ruthie sets up a display of "Can of Nuts," which have spring-loaded snakes inside. Baby Bear happens by and thinks they'd be a perfect trick to play on Goldilocks. He practices on several cans, cracking him and Ruthie up.

Animation
Luxo Sr. examines a box. Luxo Jr. pops out of the box, demonstrating "surprise."
(First: Episode 2851)

Animation
Letters on the Street: the letter C is found on a city street.
(First: Episode 3366)

Muppets
"C Drives Me Crazy"
(First: Episode 3339)

Cartoon
A fan reveals the letter C.
(First: Episode 2746)

Song
Joe Raposo sings "I'm an Aardvark."
Re-filmed version
(First: Episode 2520)

Muppets
Big Bird sings how proud he is to be a bird, even if he's not an aardvark.
(First: Episode 3273)

Cartoon
In the forest, a small tree feels insignificant, until a mother bird gives him a pep talk.
(First: Episode 1872)

Film
A man uses hedge clippers to create a peacock.
(First: Episode 3208)




Muppets / Celebrity
"A New Way to Walk"
Celebrity version
(First: Episode 3233)

Animation
Looking for shapes on the Aztec Calendar Stone (Maria voiceover)
(First: Episode 3049)

Film
A boy's mother and grandmother make him a pair of moccasins.
(First: Episode 2987)

Muppets
Elmo sings about how much he loves going "Round and Round in Circles" ... until he gets dizzy.

Video
Four break-dancers dance.
(First: Episode 2607)

Cartoon
A lost man in the desert asks a stranger for directions to the city. He builds a pretend city out of sand to show what it looks like. As it turns out, the stranger is an alien.
(First: Episode 0763)

Animation
A girl's narration describing the city is illustrated with cutout animation.
(First: Episode 2838)

Muppets / Cast
Maria, Big Bird, Oscar and the Count sing "Happy Birthday to Me."
(First: Episode 3241)

Cartoon
Kids sing "Happy Birthday". While they're singing, a birthday cake with animated candles is shown.
(First: Episode 3005)

Film / Animation
Lake (time-lapse)
(First: Episode 2700)

Muppets
Sesame Street News Flash
Instead of a pea, this princess sleeps on things beginning with C.
(First: Episode 2527)

Animation
Sand C / c
(First: Episode 0625)

Cartoon
The Carrot (censored version)
Artist: Bruce Cayard
(First: Episode 1132)

Muppets
Zoe and Wolfgang the Seal demonstrate up and down.

Cartoon
Buttons ride a rollercoaster "up and down."
(First: Episode 3207)

SCENE 2
Baby Bear finds Goldilocks and offers her a "nut" from the can. She declines, as she wants a letter V instead. He rushes off to modify the can.

Animation
Ornate Vs spin around as a song about them plays.
(First: Episode 2942)

Film
V for violin: kids play "Twinkle Twinkle Little Star" on the violin.
(First: Episode 3280)

Cartoon
The Typewriter: V for Vacuum
(First: Episode 0774)

Song
"Elbows and Knees"
(First: Episode 2641)

Cartoon
Which legs belong on the man?
(First: Episode 1691)

Muppets
After sounding out the word "cheese," the Two-Headed Monster poses for many pictures.
(First: Episode 2742)

Cartoon
Lightning bugs make shapes.
Artist: Fred Garbers
(First: Episode 3150)

SCENE 3
Baby Bear returns with a "V" label on the can, but finds Goldilocks already has a V. She now wants a number 1, so Baby Bear runs off again.

Cartoon
A map of Puerto Rico forms into the shape of animals and other things that are found there.
(First: Episode 3030)

Film
Cheri goes fishing with her abuelo.
(First: Episode 2784)

Cartoon
A brief animation of pouring milk in a glass, coupled with the word milk.
(First: Episode 3012)

Film
On the farm, a boy enjoys a glass of MILK.
(First: Episode 3277)

Muppets
Telly is shocked to see Little Chrissy and the Alphabeats at the library. They explain that in addition to being rock stars, they're also "Rock 'N Roll Readers."
(First: Episode 2612)

Film
Farmer McFay subtracts green apples from 5 to 3 to 1 and is bothered by a fly.
(First: Episode 3208)

Cartoon
Five tail feathers are subtracted from a peacock.
(First: Episode 1449)

SCENE 4
Baby Bear's can now reads "1," but now, Goldilocks has a number 1 and recites a cheer about it. She now feels like having some nuts...

Cartoon
Number Guy sings "How Many Birds Can Fit on This Wire?" One bird provides the answer.
(First: Episode 3338)

Muppets
Monsterpiece Theater: One Flew Over the Cuckoo's Nest
(First: Episode 2674)

Song
"We're Talking 'Bout the Number One"
(First: Episode 3154)

Muppets
Guy Smiley promotes the use of "Air." He leads his marching band through the walls of a barber shop every time someone there says a word out loud that rhymes with "air."
(First: Episode 2682)

Cartoon
An alien comes across a pair of tree trunks; one with multi-colored leaves, the other without. He finds and grows leaves to mount on the other tree, then strings a hammock between the two.
(First: Episode 1451)

SCENE 5
Baby Bear offers Goldilocks some nuts, but first, she gives him a box of porridge as a thank you for all his effort. He opens it up and snakes fly out. They both get a kick out of it and Golidlocks finally opens his nut can.




SCENE 5 cont'd
As the two begin to announce the sponsors, Oscar (who has been watching the entire ordeal) claims he needs help opening his trash can lid. The two open it and several snakes fly out, scaring them off. Oscar admires his work and finishes announcing the sponsors.
Community content is available under
CC-BY-SA
unless otherwise noted.