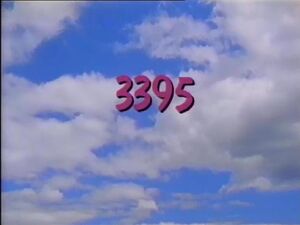 Picture
Segment
Description




SCENE 1
The Furry Arms is in its usual state of chaos. Downstairs, Ernestine the Telephone Operator answers a guest's question about today's sponsors. Humphrey and Ingrid bring Natasha to her in need of help: the chef has called in sick, forcing them to fill in and they need someone to watch Natasha. Ernestine volunteers to take care of her.

Song
"Happy Happiness"
(First: Episode 3320)

Animation
E / e Gregorian chant
(First: Episode 3300)

Animation
Computer E / e
(First: Episode 3071)

Film
Wegman's dogs form a letter E.
(First: Episode 3267)

Muppets
"Do De Rubber Duck"
(First: Episode 2304)

Cartoon
Apple: a riddle
(First: Episode 2889)

Film
Footage of kids playing professions, alternating with footage of analogous real-life jobs.
(First: Episode 2811)

SCENE 2
Ernestine shows Natasha how to be an operator. She pretends to take a call and turns the headset toward Natasha, who just blows a raspberry into it. Ernestine tells her this is the wrong thing to do, when a real caller phones in. Natasha does it again and the guest becomes very upset. Ernestine argues with them, until she sees what a bad example she's setting.

Cartoon
Figures dance around a telephone as it rings.
Artist: Keith Haring
(First: Episode 3058)

Song
"Jump" (soul)
(First: Episode 3136)

Animation
Airplanes carve the capital and lowercase T.
(First: Episode 3230)

Insert
Celina teaches Elmo and the kids the "T Dance."
(First: Episode 3276)

Song
"T, You're Terrific"
(First: Episode 3332)

Cartoon
A girl notices some footprints near and far to her. They belong to a giant purple bird.
Artist: Fred Garbers
(First: Episode 3134)

Muppets
Baby Tooth and the Fuzzy Funk: Chopstick dance
Part 1




Cast
A remake of "Can Read" with Mr. Handford reading a recipe, Rosita reading a letter from her abuela, and Ruthie reading a box label.
(First: Episode 3337)

Cartoon
"Letters in the Body"
Artist: Fred Garbers
(First: Episode 3339)

Muppets
Forgetful Jones and Clementine ride on horseback, and come across a rock. Clementine consults her book, The Cowgirl's Companion, to figure out how to handle a rock in your trail: go around it.
(First: Episode 2586)

Song
Sesame Street Creature Feature: Joe Raposo sings "Bein' a Pig."
(First: Episode 2356)

Cartoon
The detective sees a hippo bouncing on a trampoline, and wonders how the hippo can bounce, since hippos are heavy, but the hippo thinks that he is light.
(First: Episode 2537)

Insert
Elmo asks Tarah about the word on his card (STOP).
(First: Episode 3347)

Video
Ann Marie DeAngelo and Skeeter Rabbit do their dance routine. The frame freezes whenever the word STOP comes on.
(First: Episode 2600)

Cartoon
What if we celebrated Valentine's Day with chickens instead of hearts?
(First: Episode 0488)




Muppets
Big Bird's Video Postcards
Big Bird visits a Puerto Rican casita in East Harlem. He tries to find out what people do there, but everyone is too busy raising chickens, planting tomatoes, cooking and planning music to answer.
(First: Episode 3018)

Animation
Counting from 10-0 (Latin rhythm)
(First: Episode 3048)

SCENE 3
Linda teaches the kids the sign for "butterfly" as Carlo sings about the insect.

Film
How to say "butterfly" in sign language
(First: Episode 3341)

Muppets
The Martians examine a fan and are "blown away" by it.
(First: Episode 3350)

Animation
Writing utensils form the upper and lowercase letter E.
(First: Episode 2880)

Song
Ornate E's go easing by to a song.
(First: Episode 2937)

Muppets
Baby Tooth and the Fuzzy Funk: Chopstick dance
Part 2

SCENE 4
The girls receive a call from a guest requesting a ham sandwich. Ernestine points out they have the wrong number; they need to call extension #13, which she offers to transfer them to. Instead, she plugs them into her own extension and claims to be room service.

Cartoon
A mouse riding an armadillo sings a song about 13, his lucky number.
(First: Episode 2828)

Animation
Masked March #13
(First: Episode 3378)

Film
"There's a lot to see under the sea," according to some young swimmers who narrate a poem about the ocean-dwellers they find.
Music: "Kyisio Calypso" by Dermot Stewart
(First: Episode 3032)

Cartoon
Esme's wooden clown breaks, and she is about to throw it away, when it suggests she use glue to fix it.
Artist: Lisa Crafts
(First: Episode 2843)

Muppets
"Some Enchanted Lunchtime"
(First: Episode 3230)

Animation
Lillian discusses the adjustments she has had to make as a big sister. She ultimately appreciates her little sister.
Artist: Craig Bartlett
(First: Episode 2746)




SCENE 5
Humphrey and Ingrid return to collect Natasha, who has picked up Ernestine's trademark snort. All the monsters then find they can do it. After they leave, Ernestine answers another call about the sponsors, including the Children's Television Workshop mention. "If you don't mind me saying so, I think you should know that by now, Ms. Cooney," she adds.
Notes
This episode was later re-aired in Season 28 as Episode 3549.
Excluding repeats (and minor exceptions), this is the last episode to have two letter sponsors.