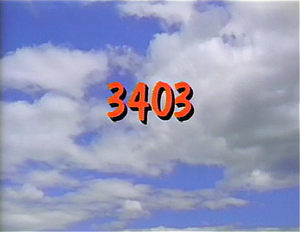 Picture
Segment
Description

SCENE 1
Carlo comes across Elmo, who is in hysterics. Elmo tries to describe what's so funny, but is laughing too hard to explain it. He shows Carlo instead...

Animation
Luxo Jr. displays its front and back, eventually getting exhausted.
(First: Episode 3279)

SCENE 1 cont'd
Elmo wants to imitate the lamp's gag, but has trouble differentiating his front and back. They watch the short again...

Animation
Luxo Jr. displays its front and back, eventually getting exhausted. (repeat)

SCENE 1 cont'd
Elmo now tries the joke again: he shows his back and front until he falls over, showing his side. He runs off to show everyone on the street.

Cartoon
A troll draws different faces on herself in front of a mirror.
(First: Episode 0800)

Muppets
The Oinker Sisters sing "The Boogie-Woogie Piggies."
(First: Episode 2922)

Cartoon
A girl builds a sand castle at the beach, but the ocean keeps washing it away, so she builds one away from the waves.
Artist: Fred Garbers
(First: Episode 1452)

Film
A little boy sings the "Cold Ocean Blues" at the beach.
(First: Episode 3150)

SCENE 2
Carlo finds Elmo working on a story instead, which he's made with pictures. Elmo begins to tell the story...

SCENE 2 cont'd
Two farmers have trouble figuring out the front, back and side of their cow to milk her. Another farmer (Elmo) demonstrates the concepts using the Luxo joke and the two farmers are able to milk the cow.

SCENE 2 cont'd
Elmo wraps up his story and wants to show more people his joke.

Film
What sound does a cow make?

Muppets
"Daddy Helps with the Dishes" - three families sing about how they help each other doing chores, cooking and homework.
(First: Episode 2223)

Film
A judo class does 20 jumping jacks.

Cartoon
Water travels from a cloud to a river, into a reservoir, and through pipes, and finally ends up in a bathroom sink.
(First: Episode 2708)

Song
"Drink of Water"
(First: Episode 2545)

SCENE 3
Elmo shows off his joke to Zoe, then helps her do it herself. She rushes off happy and he goes to find others to show it to.

Song
"I Know How to Swing"

Muppets / Celebrity
Big Bird and tennis star Michael Chang play tennis together and tie their shoes.
(First: Episode 3145)

Film
A big S emerges, Jaws-like, in a swimming pool.
(First: Episode 3345)

Cartoon
Characters on a quilt form the letter S.
Artist: Karen Aqua
(First: Episode 3368)

Film / Muppets
Alphaquest: S
A swimsuit, Grover as a silly surfer, a seagull, the sunset and a submarine.
(First: Episode 2729)

SCENE 4
Elmo finds Luis and Alison and does his joke for them. However, Luis tells him that Zoe just came by and did it for them already.

Film
A group of girls do a playground cheer ("One step forward, one step back").
(First: Episode 3031)




Song
"What's Inside?" (Cookie Monster cameo)
(First: Episode 3134)

Animation
Egyptian figures illustrate the number 4.
(First: Episode 3306)

Film
Ornate 4s fly through the air.
(First: Episode 3317)

Muppets
Big Bird says, "Let's see that number one more time!"
(First: Episode 3247)

Film
Four kids dance in a colorblock grid.
(First: Episode 3149)

Cartoon
A young bespectacled man with an accordion asks how much it costs to cross the bridge. The Bridgekeeper says admission is free, but requires that the young man show him three triangles. Two of them are found in the bridgework, and the man uses the bridgekeeper's staff to draw a third triangle in the dirt. Although the bridgekeeper has his order filled, he asks the man to play a tune on his accordion. This additional request takes the young man by surprise, but he is told to do so for the opportunity to cross the bridge.
(First: Episode 1572)

Film
The floating kids form a triangle.
(First: Episode 3122)

SCENE 5
Elmo tries to show his joke to Ruthie and the kids, but they perform it first, claiming Zoe showed it to them.




Film
Footage of the 1994 Labor Day Flag Party in Brooklyn features people marching while waving (and wearing) flags. Marina narrates about being one of the participants.

Muppets
Kermit sings "Caribbean Amphibian."
(First: Episode 2205)

Film
The crosswalk signal flashes WALK and DON'T WALK as pedestrians cross the street in fast-motion and kids read the signal indications.
(First: Episode 3272)




Muppets / Celebrity
"A New Way to Walk"
Celebrity version
(First: Episode 3233)

Cartoon
Which footprint doesn't belong?
(First: Episode 0509)

SCENE 6
Elmo spots Celina, but when he reaches her, he finds Zoe finishing up the routine already. He tells Celina it was originally his joke and becomes very angry. She suggests Elmo find Zoe and tell her how he feels.

Cartoon
"Angry Annie": A small girl vents her rage at the world, frustrated by the problems of everyday life, until her younger brother offers her part of his orange.
Artist: John Korty
(First: Episode 2087)

Muppets
Ernie & Bert — Ernie wants Bert to pretend to be mad, but Bert says that he can't, because he has nothing to feel angry about. Ernie asks Bert to pretend that he borrowed Bert's paper clip collection, and lost his favorite paper clip. The thought makes Bert really mad. Bert gets tired out, and tells Ernie that he can't get mad anymore. Ernie makes a confession -- he really did lose Bert's favorite paper clip.
(First: Episode 0216)

Film
Ducks swim and fly.
Music: Chopin's Valse Op. 64, no. 2)
(First: Episode 2510)

Animation
Airplanes carve the capital and lowercase S.
(First: Episode 3214)

Film
Kids hold an S and a square
(First: Episode 3278)

Cartoon
The letter S grows on a vine.
(First: Episode 3278)




SCENE 7
Zoe tells the joke to a group of people, when Elmo arrives and tells her how angry he is. She claims she didn't know he wanted to tell everyone and apologizes. She adds she loves the way he does the joke though and they both do it together, as Celina announces the sponsors.

COMING SOON
Coming soon on Sesame Street: Humphrey and Ingrid sing to Big Bird about how they know when Natasha is happy – when she shakes her shoe.
Community content is available under
CC-BY-SA
unless otherwise noted.