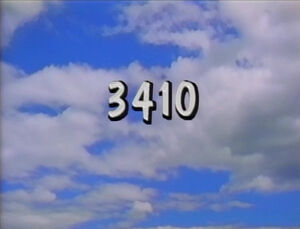 Picture
Segment
Description




SCENE 1
In the park, Elmo watches as Baby Bear draws a picture of Bob holding the letter Z ("Very heroic pose, Bob!"). Bob has to stay very still if Baby Bear wants to get the picture right. When it's finished, they all look at it and like it, and Baby Bear gives it to Bob to put on his refrigerator.

SCENE 1
cont'd
Elmo asks Baby Bear to do a picture of him holding the Z next. Bob hands Elmo the Z, but before Baby Bear can get started, Elmo changes his mind and wants to hold something else. He rushes off ...

Animation
Sand Z/z
(First: Episode 0614)

Muppets
"The Zizzy Zoomers"
(First: Episode 0359)

Film
Kids talk about playing tennis.
(First: Episode 3148)

Animation
Two frogs demonstrate up and down.
(First: Episode 3225)




SCENE 2
Elmo comes back with a number 2, which he wants to be seen holding in Baby Bear's picture. He asks for Baby Bear's input on what kind of pose he should make, which frustrates Baby Bear. Elmo decides on a pose, and just as Baby Bear is about to draw it, Elmo changes his mind again and runs off ...

Cartoon
Donnie Budd sings a two-step for pairs of animals.
Artist: Bud Luckey
(First: Episode 0342)

Film
The McDouble twins display pairs of things.
(First: Episode 3217)

Muppets
Here is Your Life
Guy Smiley salutes a still life painting of a bowl of fruit.
(First: Episode 2572)

Cartoon
"Ooh What a Fabulous Party"
Artist: Sally Cruikshank
(First: Episode 3006)

SCENE 3
Elmo has decided not to hold anything in the picture, which relieves Baby Bear. Baby Bear is about to draw, when The Count comes along and asks to watch. But Elmo notices Gina and the kids playing the "Three of These Things" game and has to join them. Elmo asks Baby Bear to join him, and he agrees. As they leave, The Count asks to borrow one of Baby Bear's crayons.

SCENE 3
cont'd
Gina, the kids, Elmo and Baby Bear play the game with a blue ball, a yellow ball, a blue pull-duck, and a blue block.

Animation
Colored tools build a house out of colored rectangles, squares and triangles.
(First: Episode 3263)

Song
"

I'm a Polar Bear

"
(First: Episode 3276)

Muppets
Big Bird describes (and acts out) a time when he lost Radar. "Having a good memory will sure come in handy sometimes!"

Cartoon
Fluffy recalls being a homeless dog, getting taken in to the dog pound, and meeting his new pal Petey.
Artist: ArtistMike
(First: Episode 2981)




SCENE 4
The Count tells Baby Bear and Elmo to stand back as he counts the 40 apples that he has just drawn with Baby Bear's crayon. After he leaves, Baby Bear realizes his red crayon is now too short to draw Elmo! Elmo remains stiff as Baby Bear runs off to get another red crayon.

Cartoon
40 lemmings (doo-wop) (new sound effects added)
(First: Episode 2873)

Insert
The Tokyo String Quartet and some kids show how important it is to practice, as Big Bird provides voiceover.
(First: Episode 3290)

Cartoon
Cap'n Feenie asks, "What is it?" It's the ocean.
Artist: ArtistMike
(First: Episode 2710)

Muppets
Cookie Monster sings "Me Gotta Be Blue."
(First: Episode 1828)

Cartoon
Two cavemen argue, each chanting "Me!" A large monolith bearing the word ME puts fear in both of them.
(First: Episode 0793)

Film
How Crayons are Made
Music: "Water Course A" and "Exchange" by Richard Harvey
(First: Episode 1579)

Animation
A group of round crayons draws a house, and is hesitant to let a square yellow crayon join, until it draws the sun. They all cooperate to make a rainbow.
(First: Episode 3105)




SCENE 5
Baby Bear comes back with another red crayon, but notices that Elmo is wearing a doctor's outfit. He's wearing them because he wants to be a doctor when he grows up, and he wants to be drawn that way now (he got the props while Baby Bear was getting the crayon). Once again, Elmo changes his mind at the last second, and runs off. He comes back dressed as a fireman, then changes his mind again and decides to be drawn as himself. Baby Bear gives up, not believing Elmo will hold still.

Song
"When You Grow Up"
(First: Episode 2912)

Muppets
Ernie & Bert — Ernie makes a clay bust of Bert, but runs out of clay for the nose, so he pulls Bert's nose off and puts it on the statue.
(First: Episode 0463)

Animation
"We Are Kids From Far and Wide": A girl describes the preparation for the Galungan festival in Bali, Indonesia.
(First: Episode 2750)

Film
Kids play low and high notes on the Shpritzer.




SCENE 6
Elmo has been holding still for a long time, and Baby Bear is almost done with the picture as he finishes drawing Elmo's nose. Now all that's left is the mouth ...

Cartoon
The parts of a man's face move around as they are drawn.

Film
Michael introduces his friend to the Afro-Brazilian martial art Capoeira.
(First: Episode 2752)

Cartoon
Z In Space
(First: Episode 0509)

Muppets
Kermit's Lectures: Kermit talks about the letter Z, but it turns up and becomes an N.
(First: Episode 2102)

Cartoon
Z for Zebu (new music added)
Artist: Jeff Hale
(First: Episode 1185)

Song
"Get On Up (Everybody Move)"




SCENE 7
When Baby Bear finally finishes the picture of Elmo, Elmo jumps for joy and moves around energetically.




SCENE 7
cont'd
Elmo compliments Baby Bear on the picture, and Bob announces the sponsors.

COMING SOON
Coming soon on Sesame Street: Oscar's mom is flung out of the subway station. "Now that's what I call an express!"