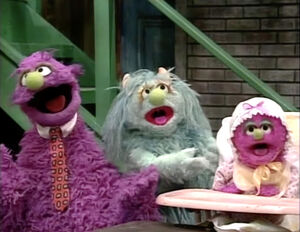 Picture
Segment
Description

COLD OPEN
Humphrey and Ingrid tease that today, the viewer will see all the wonderful things Natasha can do.

SCENE 1
Baby Natasha has just learned how to burp, gargle, snort, and make all kinds of disgusting noises, to the amazement of her parents. Humphrey and Ingrid boast and sing a song about the baby's new ability to Bob, but Bob just rolls his eyes at the proud parents.

Cartoon
A baby climbs up the stairs all by himself.
(EKA: Episode 1736)

Muppets
Elmo shows the viewer a letter very quickly, and has the viewer guess which letter it is.

Film
Girls giggle as they clap their way to the letter Q.
(First: Episode 3340)

Animation
Fans unveil Q and q.
(First: Episode 2895)

Muppets
Kermit the Frog sings "Do-Op Hop."
(EKA: Episode 2484)

Cartoon
A girl dances with a tiger.
Artist: Karen Aqua
(First: Episode 3387)

SCENE 2
Natasha fiddles with the keys of her toy piano and Bob jokingly suggests she should have a lesson. Her parents take it seriously and ask Bob to teach her. Bob instructs Natasha how to play "Twinkle Twinkle Little Star," but she instead bangs her face and head into the keys (which the parents interpret as the song).

Cartoon
Fish form capital and lowercase T's.
(First: Episode 3126)

Animation
T for toothbrush and toothpaste
(First: Episode 2811)

Song
"Toothpaste Factory Rap"
(First: Episode 3266)

Animation
"Toothpaste ... coming soon to a mouth near you!"
(First: Episode 2876)

Muppets
Grover recites a poem about a bubble.
(First: Episode 3155)

Cartoon
Norris Walnut recites a poem about clouds.
Artist: ArtistMike
(First: Episode 3345)

Celebrity
The Neville Brothers sing "Believe in Yourself," with a montage of clips from films including "I'm the Big One Now," "Reach Your Hand Up High" and "Hot in the City."
(First: Episode 3158)

Animation
Lillian is proud because she climbed a mountain all by herself.
Artist: Craig Bartlett
(First: Episode 2749)

Muppets
The Count sings "Counting Robins" with a group of robins.
(First: Episode 3375)

Cartoon
A little girl shows the building and apartment where she lives -- both with the number 6.
(EKA: Episode 0982)

Song
"My New Computer"
(EKA: Episode 2857)

Cartoon
Kids count one duck in the pond.
(First: Episode 3095)

Muppets
Monsterpiece Theater: One Flew Over the Cuckoo's Nest
(First: Episode 2674)

Cartoon
Number Guy sings "How Many Birds Can Fit on This Wire?" One bird provides the answer.
(First: Episode 3338)

Film
A girl flies and form a circle.
(First: Episode 3130)

Cartoon
A cat desperately tries to open a can of cat food by himself while his mistress is on the phone.
Artist: Dan Haskett
(EKA: Episode 2424)

Muppets
Big Bird introduces The Squirrelles, who sing "My Boyfriend's Back and Front."
(First: Episode 3228)

Song
"Front Back Ballet"
Artist: Jane Aaron
(First: Episode 3016)

Muppets / Cast
"Sing Your Synonyms"
(EKA: Episode 2331)

Cartoon
A near-sighted princess goes to the eye doctor and gets glasses.
Artist: ArtistMike
(First: Episode 3056)

Song
"Brand New Look" - people try on glasses.
(First: Episode 3271)

Cartoon
Ten tiny T's in top hats do the tippy tappy tango and take tea.
Artist: ArtistMike
(First: Episode 3230)

Film
T for Triangle
(First: Episode 3271)

Cartoon
T for tiger, teapot, television, and taxi.
Artist: Bill Davis
(First: Episode 3262)




SCENE 3
The monster family now does some silly dancing, and Bob once again jokes about taking a lesson. They all go to Celina's dance studio, where Bob tries to explain the situation. Natasha inspires Celina to create a new dance - the "Baby Boogie."

Cartoon
Jake the Snake demonstrates body parts.
Artist: Buzzco Associates, Inc.
(First: Episode 2486)

Animation
Portraits of kids display the alphabet.
Artist: Lisa Crafts
(First: Episode 3203)

Celebrity
Samuel Ramey sings a low-octave version of the alphabet song.
(First: Episode 3369)




Film
A girl named Maria and her family are having a Cuban barbecue. She invited her friend, Stewart, to enjoy in the fun and learn about Cuban culture.
(First: Episode 2760)

Animation
Yellow drops don't want to play with a red ball at first, but they make a good flower together.
(EKA: Episode 1949)

SCENE 4
Natasha says goodbye to Celina (in raspberry) and "announces" the sponsors in the same manner.