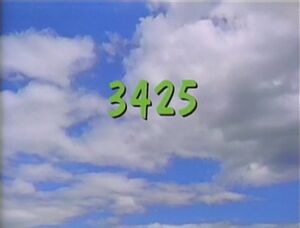 Picture
Segment
Description




SCENE 1
The Count can't wait to count the bubble jars that Mr. Handford and Carlo will put on the shelf. Telly asks to join him, and they count 20 jars. When they finish, Carlo asks The Count if he needs anything, and The Count requests another 20 bubble jars to count. Mr. Handford and Carlo take down the bubble jars from the shelf as Telly and The Count count them.

Cartoon
"Part of the Whole"
Artist: Sally Cruikshank
(First: Episode 2714)

Film
Jaws spoof presenting the letter K.
(First: Episode 3326)

Cartoon
An old woman emerges from the pouch of a bouncing kangaroo. She proclaims, "K! Kangaroo!"
(First: Episode 0489)

Animation
"k" for king, kiss and key
(First: Episode 3084)

Film
A girl narrates a segment about a Korean festival she attended with her two friends.
(First: Episode 3162)

Muppets
The Two-Headed Monster sounds out "feet," and then the camera pans back to reveal a pair of live feet on some grass.
(First: Episode 1289)

Film
Feet wearing all different types of shoes dance.
(First: Episode 2601)




SCENE 2
The Count and Telly invite the viewer to join them in counting all the bubbles that Michael blows. Telly is enticed by this bubble-blowing, so Michael offers him a chance to try it himself.




SCENE 2
cont'd
Telly tries blowing bubbles twice and doesn't succeed, which makes him upset. The Count tells him to keep trying (and not just because he loves counting Telly's tries).

Song
"The First Time" - Children try various activities (riding tricycles, tying shoes, etc.) and progressively improve.
(First: Episode 2950)

Animation
Counting up to 11 (African masks)
(First: Episode 3151)

Muppets
An Anything Muppet girl shows the viewers that the number 11 is the same right side up and upside down. (new music added)
(First: Episode 0183)

Cartoon
The Ringmaster displays 11 purple pooches. (new sound effects added)
Artist: Jeff Hale
(First: Episode 1347)

Muppets
At the beach, the Twiddlebugs notice that only Thomas has a beach umbrella, which they decide to share. They soon notice that they have no idea where the ocean is.
(First: Episode 2641)

Animation
Three stripes form a jazz trio.
(EKA: Episode 2410)




SCENE 3
After 476 tries of blowing bubbles, Telly's failed attempts catch the attention of Oscar the Grouch. The Count then realizes that he has to meet the Countess at the beach, and leaves. Oscar tells Telly to keep trying to blow bubbles (mainly because he loves the sound Telly makes when he tries to blow).

Cartoon
A boy shares his bubbles with some kids dancing in a field.
(First: Episode 1926)

Muppets
Grover recites a poem about a bubble.
(First: Episode 3155)

Animation
The word DOG is spelled out over a wiener dog.
Artist: Veronika Soul
(First: Episode 3326)

Song
"Washin' the Dog"
(First: Episode 3020)

Insert
Big Bird talks about taking a nap.

Cartoon
K for kangaroo
(First: Episode 2498)

Film
Girls dance and chant about K.
(First: Episode 3012)

Cartoon
A lion named Kent says that he gets a Kick out of being King of the Forest.
(First: Episode 0463)

Muppets
Kermit sings "Caribbean Amphibian."
(First: Episode 2205)

Cartoon
A woman displays a BUS STOP sign to a crowd.
Artist: Irra Verbitsky
(First: Episode 1231)

Film
A girl narrates a film of herself taking the bus home with her dad. They play a game where she points to things and identifies them.
(First: Episode 3302)

SCENE 4
Telly is still trying to blow bubbles, becoming more and more exhausted. He realizes that Oscar only likes seeing (and hearing) him fail, and decides to take a break from bubbles and do something else. Oscar, meanwhile, is left to amuse himself with his own raspberry-blowing.

Cartoon
A baby bird tries and tries again to fly from its nest.
Artist: Irra Verbitsky
(First: Episode 1510)

Song
Joe Raposo sings "There's a Bird on Me."
(First: Episode 0416)

Cartoon
"The Adventures of Clever Bill!" The main character solves conflicts between two fighting giants and two fighting girls.
(First: Episode 2068)

Film
Looking for squares in the city (Maria voiceover)
(First: Episode 2721)

Muppets / Celebrity
Kadeem Hardison says the alphabet with Natasha.
(First: Episode 2787)

Cartoon
Two itchy gorillas agree to scratch each other's backs.
(First: Episode 1456)

Muppets
Bip Bipadotta leads "Scratch My Back" as a song about two monsters named Jack and Jill who swear that they will always be there to scratch each other's backs.
(First: Episode 2191)

Animation
Counting to 10 (Chinese imagery)
(First: Episode 3217)

SCENE 5
Telly enters the arbor, and tells The Count and some kids that he wants to do something else besides try to blow bubbles. The Count reveals that he's in the arbor to count the kids' boo-boos, and sings a song about it. After the song, he trips and gets a boo-boo himself. Telly then decides to try blowing bubbles again.

Cartoon
A fat man and a small man demonstrate top and bottom.
(First: Episode 0525)

Film
A group of people form a human pyramid to illustrate top and bottom.
(First: Episode 3144)

Muppets
Snuffy sings "Bubble on My Snuffle."
(First: Episode 3338)

Cartoon
A chicken gets an idea to sit on a football and hatch it like an egg.
Artist: Dan Haskett
(First: Episode 2360)

Song
"Frog Kick"
(EKA: Episode 2155)

Cartoon
A baby bird falls from a tree. A boy puts him back, and in return, the mother bird saves the boy from embarrassment.
(First: Episode 0550)




SCENE 6
Telly, frustrated at not having blown any bubbles, decides to give up. He waves the bubble wand in frustration, and sees bubbles come out of it! Now that he has found a way to make bubbles without using his mouth, he feels happy. He gathers the kids to show him what he can do, and Michael tries it himself. Oscar becomes annoyed, and Telly announces the sponsors.

COMING SOON
Coming soon on Sesame Street: Elmo is confused after witnessing Linda struggle with Barkley on a leash, causing her to drop the pitcher she's holding, which shatters on the concrete.
Community content is available under
CC-BY-SA
unless otherwise noted.