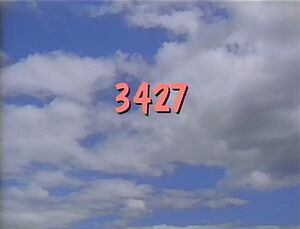 Picture
Segment
Description

SCENE 1
Big Bird, Gabi, Miles and Lexine play "Follow the Leader" in the park (with Big Bird leading), and suddenly spot a butterfly. Big Bird thinks the butterfly wants to play with them, but the kids don't think a butterfly could play the game. Big Bird argues that they shouldn't be prejudiced against butterflies, and so the kids agree to let the butterfly be the leader.

Song
Everyone has the same feelings, "No Matter What." Kids of all types play with a huge beach ball.
(First: Episode 2782)

Cartoon
Parts of a face are drawn in black on-screen before forming a picture.
(First: Episode 3320)

Muppets
Kermit shows what's inside of Herry Monster using the X-ray machine.
(First: Episode 1974)

Animation
Portraits of kids display the alphabet.
Artist: Lisa Crafts
(First: Episode 3203)

Muppets / Celebrity
Little Richard sings "Rosita," a song about feelings, to Rosita.
(First: Episode 3225)

Cartoon
A heart that says "I love you" is drawn.
(First: Episode 1971)

Film
A boy hangs out with his friend Will, who is Jewish. He learns about their culture, and about Purim.

Cartoon
A woman serves milk to her cat. Several other cats join him, including a lion. (new music added)
Artist: Bruce Cayard
(First: Episode 1017)




SCENE 2
Big Bird and the kids follow the butterfly into a different section of the park they've never visited before. While they aren't looking, it lands on a statue, and they suddenly hear sad violin music playing. They inspect the statue, and see that the statue is playing the violin. It can also talk, and the figure reveals that she feels useless being a statue. Lexine thinks the statue is pretty to look at, and Big Bird points out that the birds can sit on her. Now she feels happy to be a statue, and plays happy-sounding music.

SCENE 2
cont'd
The butterfly flies away, so Big Bird and Lexine say goodbye to the statue before they go after it. Miles and Gabi are perplexed.

Song
"Dancin' Shoes"
(First: Episode 2949)

Cartoon
A girl dances with a tiger.
Artist: Karen Aqua
(First: Episode 3387)

Insert
None, some and all of the dancers dance as Big Bird narrates.
(First: Episode 3360)

Cartoon
L - shooting stars
(First: Episode 2237)

Film
The floating kids form an L.
(First: Episode 3128)

Animation
L / l (space paint)
(First: Episode 3216)

Muppets
Kingston Livingston III sings "Just Happy to Be Me."
(First: Episode 3178)

Animation
Lillian recalls the time she joined her parents and baby sister on a hike up the hill. Lillian hiked to the top herself, and is proud of the fact.
Artist: Craig Bartlett
(First: Episode 2749)

Song
"Dressed Up" (remake)
(First: Episode 3399)




SCENE 3
The butterfly leads Big Bird and the kids to yet another section of the park. Miles still doesn't believe that the butterfly is really playing with them, but Gabi and Lexine are starting to agree with Big Bird - after all, if an 8-foot tall bird can play "Follow the Leader," why not a butterfly? Big Bird starts naming the people he'll tell about his experience when he gets back to Sesame Street, and remembers that Linda is deaf. He realizes he doesn't know how to say "butterfly" in sign language, and Miles and Gabi doubt that the butterfly knows either. Just then, the butterfly flies up to the screen and shows a film sequence of a girl saying the word "butterfly" in sign language.
(First: Episode 3341)

SCENE 3
cont'd
Everyone saw the sequence except Miles, who still doesn't believe them. They follow the butterfly elsewhere ...

Cartoon
A baby climbs up the stairs all by himself.
(First: Episode 1717)

Muppets
Zoe sings "My Name Is Zoe."
(First: Episode 3387)

Film
In Trinidad, Asha and her friends practice and dance on stilts in preparation for a carnival.

Cartoon
"The Little Letter L: A Poem by Louise"
Artist: Bruce Cayard
(First: Episode 1526)

Film
L is for look, legs, light, lemonade, and ladybug.

Cartoon
The Typewriter: L for lion
(First: Episode 0762)

SCENE 4
Big Bird and the kids follow the butterfly into a littered section of the park. Big Bird assumes that maybe the butterfly led them there so they could pick up all the trash.




SCENE 4
cont'd
As a joke, Miles pretends the trash can is a basketball hoop, and "scores" 2 points. Right then and there, Wrap Master Squirrel pops up and delivers a rap about making a game out of picking up litter and throwing it away, as its corresponding film is shown. (First: Episode 2646) By the end of the rap, the entire section of the park has been cleaned by Big Bird and the kids! Now Miles believes in the power of this butterfly. They follow it elsewhere ...

Film
The McDouble twins know how to help each other.
(First: Episode 3213)

Cartoon
A seal and a bear fight over a circus ball, but learn to cooperate.
Artist: Frank Gresham
(First: Episode 3282)

Muppets
Elmo sings "In Your Imagination."
(First: Episode 3119)

Animation
Abstract #18
(First: Episode 2859)

Animation
Growing Numbers #18
(First: Episode 2933)

Animation
Masked march #18

SCENE 5
Big Bird and the kids suddenly lose track of the butterfly, and realize that they're lost. They seek the aid of a nearby policewoman (played by writer Christine Ferraro) and firefighter (John W. Griffin), who know Sesame Street by its theme. They proceed to lead the kids home, and Big Bird asks the concessions lady (Maria Nevda) for a pretzel before he follows them.

Cartoon
Where does the cow live? (Maria voiceover)
(First: Episode 3396)

Muppets
Muppet & Kid Moment — Grover shows Torian the difference between back and front.
(First: Episode 2588)

Song
"I Put My Leg in My Pants"
(First: Episode 3402)

Cartoon
A girl explains the concept of relativity by explaining how her house is a part of a neighborhood, the neighborhood is part of a city, the city is part of a country, etc.
(First: Episode 2742)




SCENE 6
The kids come home to their relieved parents, and explain what they were doing in the park. They thank the policewoman and firefighter, and go home. Ruthie announces the sponsors, ending with the butterfly.

COMING SOON
Coming soon on Sesame Street: Gordon and Miles have dinner with The Three Bears, and are surprised when Papa Bear goes under the dinner table to pass them the ketchup.
Notes