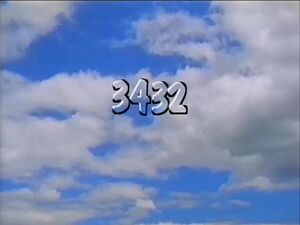 Picture
Segment
Description




SCENE 1
Telly and his Uncle Talbot are selling his home-made "Happy Caps" in the arbor. What makes them "happy" is that the extra long peak of the cap will keep one's feet protected on a sunny day. They try to sell one to Carlo, but he's already got a normal cap. Uncle Talbot must leave to make more and makes Telly wear his cap the whole day, for promotional purposes. Elmo comes by, having heard about Telly's new cap. Telly turns to respond, but the cap's peak whacks Elmo and knocks him out cold.

Cartoon
A boy demonstrates why his dog's name is Happy.
(First: Episode 0537)

Muppets
Zoe sings "My Name Is Zoe."
(First: Episode 3387)

Film
A boy takes dance lessons at The Alvin Ailey American Dance Theater.
(First: Episode 1716)

Cartoon
African quilt pattern
(First: Episode 3160)

SCENE 2
Elmo demands Telly take off his cap, but he fears he will upset his uncle if he does. Elmo warns him that if he keeps it on, he won't be able to sing "The Alphabet Song" with him and his friends. Telly assures Elmo he can sing with his cap and they do so, without Telly smacking Elmo... but he does after the song.

Cartoon
Soul O
(First: Episode 3375)

Film
A gymnast twirls ribbons to form the letter O.
(First: Episode 3136)

Animation
Fans reveal the letter O.
(First: Episode 2905)

Muppets
Sesame Street News Flash
Kermit interviews a bird who sings about how her parents still love her even though they don't live together anymore (though it is not directly stated whether her parents are divorced or separated).
(First: Episode 2695)

Animation
A girl dances her way into a family portrait.
(First: Episode 3134)

SCENE 3
In the playground, Carlo, Elmo and the kids are about to play a game when Telly arrives, still wearing his cap and wanting to play. He demonstrates that if he turns slowly, he won't hit anyone. They begin playing "One of These Things" with three number 15s and a letter O. Elmo knows the answer and Telly turns to ask him what it is, knocking him down again. Elmo moans "Ohhhhh", leading Telly to believe the letter O is the answer. He picks Elmo up, who tells him to take the hat off before he faints again.

Cartoon
A lady receives a letter O in the mail, which promptly rolls around her living room.
Artist: ArtistMike
(First: Episode 3348)

Animation
Planting Letters: O
(First: Episode 3010)

Animation
Characters on a quilt form the letter O.
Artist: Karen Aqua
(First: Episode 3375)

Muppets
Professor Grover teaches his students what "school" is, but he instead gets the lesson.
(First: Episode 1969)

Film
The word "school," accompanied by a fast film of school scenes.
(First: Episode 3278)

Cartoon
Edgar Turtle sings "Hey Diddle Diddle."
Artist: Jeff Hale
(First: Episode 2404)

SCENE 4
In Hooper's Store, everyone is prepared to eat a snack. Telly tries to be careful with his cap, but knocks over some straws and Elmo off his seat. Elmo recovers and yells that as long as he has the cap on, they won't play together, then he storms out. Telly now thinks the cap should be called an "Angry Cap."

Cartoon
A little boy describes a time when he got angry after his toy truck was destroyed by a big kid.
Artist: ArtistMike
(First: Episode 2764)




Muppets
Big Bird's Video Postcards
Big Bird finds himself in Phoenix, Arizona, where he hangs out with Diego and his family. He learns that cacti can survive the hot, dry weather, and is treated to birdseed burritos at a picnic with the family later on.
(First: Episode 3016)

Animation
Looking for shapes on the Aztec Calendar Stone (Maria voiceover in Spanish)
(First: Episode 3049)
Muppets / Celebrity
"Pretty Great Performances" features Placido Flamingo and the Sesame Street All-Animal Orchestra, led by conductor Seiji Ozawa
(EKA: Episode 2485)

Film
What sound does a duck make?
(First: Episode 3298)

SCENE 5
Telly has finally taken his cap off, now siding with Elmo on how silly it is. He hears his uncle coming and fears he will be upset when he hears about his opinion of the hat. Telly tells his uncle there's a problem with his cap. Talbot thinks it's the price when Telly physically demonstrates what's wrong to his uncle (whacking him in the face with the peak). Talbot isn't angry, but rather proud that Telly could fess up. He leaves to go fix the problem with his caps.

Cartoon
Geronimo 10-0: instead of a parachute, the girl is carried to the ground by four birds.
(First: Episode 2249)

Muppets
Ernie & Bert — At the movies, a lady with a tall hat sits in front of Ernie and Bert. She block's Ernie's view, so he asks her if she'd mind taking it off. When she places the hat on the seat next to her, Bert's view is now obstructed.
(First: Episode 0538)

Cartoon
"Ooh What a Fabulous Party"
Artist: Sally Cruikshank
(First: Episode 3006)

Film
Wegman's dogs get next to each other in pictures.
(First: Episode 3011)

SCENE 6
Telly's uncle arrives back, having fixed the problem – he's added rear-view mirrors to the cap so you can be careful. Telly points out that, while effective, the mirrors won't help you see what's in front of you. His uncle then thinks of alternate uses for the hat, such as catching butterflies and tickling giraffes. He leaves to find one.

Film
A gardener trims a bush to form a giraffe.
(First: Episode 3138)

Muppets
"Daddy Helps with the Dishes" - three families sing about how they help each other doing chores, cooking and homework.
(First: Episode 2223)

Cartoon
Abstract count to 15.
Artist: Sally Cruikshank
(First: Episode 2851)

Film
Growing Numbers #15
(First: Episode 2971)

Cartoon
"Mother Brown's Farm (Number Fifteen Song)"
(First: Episode 2693)

Film
A girl draws a picture of her friend, Dai Xi.
(First: Episode 2791)

Muppets
"Cereal Girl"
(First: Episode 2687)

Cartoon
Name That Food, hosted by Don Carrot. The object of the game is to identify foods that appear on a screen and then eat that food. One of the contestants is willing to eat every food shown, while the other contestant refuses.
(First: Episode 1491)

Muppets
Muppet & Kid Moment — Cookie Monster asks Lexine to count to 5.
(First: Episode 3236)

Song
"Brand New Look" – people try on glasses.
(First: Episode 3271)




SCENE 7
Telly is now standing around, promoting his uncle's "Happy Sunglasses" (much to his dismay). Elmo thinks they look silly and Telly shows what they can be used for – standing around and announcing the sponsors. Elmo has him take them off so they can play.

COMING SOON
Coming Soon on Sesame Street: Cecille sings about the game of make believe.
Notes
Community content is available under
CC-BY-SA
unless otherwise noted.