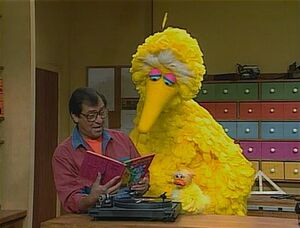 Picture
Segment
Description

COLD OPEN
The kids read the sponsors from cards, and Big Bird introduces a duckling who says goodbye instead of hello.




SCENE 1
At the nest area, Big Bird and the kids have a hard time convincing Hans (a reference to Hans Christian Andersen), the ugly duckling from the story, to not leave. He's not ugly at all.

Cartoon
At the Pride Day Ceremony, Donald is waiting to describe his proudest accomplishment, and is initially unsure of himself next to other impressive students. He finally proudly acclaims his achievement, tying his shoes all by himself.
Artist: John Korty
(First: Episode 2085)

Song
Hoots the Owl sings "This is How We Take a Bath."
(First: Episode 3216)

Cartoon
F / f (space paint)
(First: Episode 3215)

Film
Alphaquest: F
A faucet finishes a fire, and flood of freaky fish.
(First: Episode 2759)

Cartoon
Letter F words are found on the street.
(First: Episode 3353)

Muppets
Caribbean Anything Muppets sing about "Caribbean Air".
(First: Episode 2688)

Cartoon
A red scribble demonstrates out and in.
Artist: Fred Garbers
(First: Episode 3128)

SCENE 2
Hans wears a YOU sign, so instead of seeing his 'ugliness,' they'll see YOU. However, now he can't see.

Cartoon
A face is assembled and becomes an abstract portrait.
(First: Episode 3320)

Muppets
In a spoof of "Indian Love Call," a woman sings of how much she loves the word "you."
(First: Episode 3134)

Cartoon
Bruce the moose invites Toulouse LaGoose over for juice.
(First: Episode 2498)

Song
"Toothpaste Factory Rap"
(First: Episode 3266)

Cartoon
A toothbrush talks to a mouth about what could happen if not taken care of.
(First: Episode 1476)

Celebrity
Samuel Ramey sings a low-octave version of the alphabet song.
(First: Episode 3369)

Cartoon
A schoolyard of gloves invites other gloves to join them.
(First: Episode 1481)




SCENE 3
Hans has a set of wigs from Sy Duckling, the Feather Club president who's also a client. Gordon and Susan come by, but Susan makes it clear that bald is beautiful. Hans leaves to consult an expert.

Animation
El numero tres (Luis V.O.)
(EKA: Episode 2222)

Film
Three kids dance for the number 3.
(First: Episode 3167)

Cartoon
In Egypt, three lemons make lemonade.
(First: Episode 3285)

Muppets
The Bicuspids sing "Kids Just Love to Brush."
(First: Episode 2060)

Cartoon
The Typewriter: L for lion
Artist: Jeff Hale
(First: Episode 0762)

Film
Wegman's dogs form the letter L.
(First: Episode 3270)

Cartoon
"L Look Around Song"
Artist: Bruce Cayard
(First: Episode 1483)

Muppets / Celebrity
Elmo thinks that Whoopi's skin is a very pretty brown. Whoopi likes Elmo's soft red fur. Elmo admires Whoopi's bouncy hair, too. Elmo suggests that they trade, but Whoopi says that they can't -- it doesn't come off. But even if she could trade, she wouldn't want to. She likes her skin and her hair, and she wants to keep it. Elmo says that he wants to keep his fur, too.
(First: Episode 2746)

Song
"Fixin' My Hair"
(First: Episode 2734)

Cartoon
Geronimo 10-0 (parachute under haystack)
(First: Episode 2278)




SCENE 4
Hans goes to the Fix-It Shop. Luis reads him the story of Gregory the mouse, who, after tired of being called "Little Squeaky" by the other animals, tries to be a lion and fails. However, the story isn't over.




SCENE 4,
cont'd
The mouse wakes all the animals up when there's a fire, and the animals agree to stop calling him names. Transformed by the lesson, Hans decides to stop being called "the ugly duckling" and also learns that he loves stories.

Film
Letter Garden: F
(First: Episode 3048)

Animation
Sand F/f
(First: Episode 0629)

Muppets
Bert sings "I Gotta Be Clean."
(First: Episode 3061)

Animation
A piece of paper floats down onto a table, then folds itself into a paper crane, which flies away.
(First: Episode 2892)

Muppets
Rosita talks about what she does every morning. She kisses her parents, washes her hands and face, and brushes her hair. She has breakfast, brushes her teeth, and says "adios!" before she goes out to play.
(First: Episode 3256)

Cartoon
Some yucky little teeth sing praise of Mr. Toothbrush, who brushes them.
Artist: ArtistMike
(First: Episode 3211)

Film
In Trinidad, Asha and her friends practice and dance on stilts in preparation for a carnival.
(First: Episode 3427)

Cartoon
African quilt pattern
(First: Episode 3160)

Muppets
Grover is a personal trainer of his workout video called, "Grover's Monster Workout Video." He exercises with Bobby and Sissy, but he gets tired from swinging his arms, running, and jumping up and down that he faints.
(First: Episode 3227)

Cartoon
"There's an Exercise That's Right" even for a snake.
(First: Episode 2962)

Song
"Conga Counting Song"
(First: Episode 2778)

Cartoon
A female head is drawn as its voice-over lists its parts, ending with earrings that "do nothing" ... and promptly wiggle around.
Artist: James Rizzi
(First: Episode 0821)




SCENE 5
Hans is happy, but there's still one thing he'd like to change - he wants to do something else besides playing on the seesaw with Big Bird, which is not working.

COMING SOON
Coming soon on Sesame Street: Luis and Maria join a drummer while Celina and the kids dance along.
Community content is available under
CC-BY-SA
unless otherwise noted.