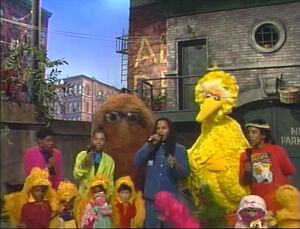 Picture
Segment
Description




COLD OPEN
Luis and Maria have a lot of work to do at the Fix-It Shop. They quickly present today's sponsors before starting to repair The Count's cuckoo clock.

SCENE 1
The Count's clock is now repaired, though strangely has 19 numbers on it. The Count explains it's Transylvian time and that 19 o'clock is the most important time of the day. They wind the clock to 19 and the bat inside shrieks 19 times. Now, it's "Bat Time," where the Count tells his bats their bat time story (a variation of "Peter Rabbit").

Animation
Number creatures #19
(First: Episode 2718)

Film
Growing Numbers #19
(First: Episode 2937)

Muppets
Kermit the Frog sings "Do-Op Hop."
(EKA: Episode 2484)

Film
Fay Ray dresses up as a "green elephant", a moose, and "Kermit the dog."
(EKA: Episode 2864)

Cartoon
Fluffy recalls being a homeless dog, getting taken in to the dog pound, and meeting his new pal Petey.
Artist: ArtistMike
(First: Episode 2981)

SCENE 2
Humphrey and Ingrid admire their newly-framed photo of Natasha, which happens to be a snapshot of the first time she went "thpfft." They also show off the tons of photos Humphrey keeps in his wallet.

Song
"Say Cheese"
(First: Episode 3146)

Cartoon
Nancy the nanny goat nibbles her nails and notices noodles.
Artist: Tee Collins
(First: Episode 0240)

Animation
Computer N / n
(First: Episode 3039)

Cartoon
N / n paper fold
(First: Episode 3114)

Film
A class makes a quilt of their faces.
(First: Episode 3034)

Cartoon
Slot-machine legs: Cowboy & horse
(First: Episode 1702)

Muppets
Ernie & Bert — Ernie and Bert explore an Egyptian pyramid. Bert is excited, but Ernie is afraid. They see statues that look like them. Bert decides to explore a tunnel while Ernie looks at the statues, and then the Ernie statue starts tapping and talking to Ernie. But when Ernie calls Bert back to the room, the statue doesn't move. Ernie is scared until the statue starts singing Rubber Duckie with him. Bert doesn't believe Ernie, until he says "Bye-bye, statue," and the statue replies "Bye-bye!" and laughs... just like Ernie.
(First: Episode 1621)

Animation
A sign above a bathroom reads "boys", while boys exit the room.
(First: Episode 3386)

Muppets / Celebrity
Prairie Dawn is sad because of how small she is; Ziggy Marley and the Melody Makers cheer her up by singing "Small People". They are joined by Big Bird, Snuffy, the Birdketeers, Natasha, Merry Monster, and Billy.
(First: Episode 2945)

Animation
Lillian is proud because she climbed a mountain all by herself.
Artist: Craig Bartlett
(First: Episode 2749)

Film
At the harbor, kids learn about dolphins, and how to communicate with them using signals.
(First: Episode 3010)

Cartoon
Autumn leaves form a capital "N" and lowercase "n."
(First: Episode 3114)

Film
Jaws spoof with the letter N.
(First: Episode 3333)

Film
"Box City Recycling Rap"
Kids sing a rap song about recycling. They build a city out of boxes and cartons.
(First: Episode 2851)

Muppets
Loretta sings about her feelings when she lost her dog Trey in the park.
(First: Episode 3233)

Film
A group of girls do a playground cheer ("One step forward, one step back").
(First: Episode 3031)

Animation
Luxo Jr. displays its front and back, eventually getting exhausted.
(First: Episode 3279)

Insert
Bob asks Zoe if she wants to go to an interesting place, just Around the Corner. Bob sings a song about it.
(First: Episode 3262)

Cartoon
A man talks about going to the city, without noticing he's walking right through it.
(First: Episode 0772)

Film
Kids talk about playing tennis.
(First: Episode 3148)

Muppets / Celebrity
Tony Danza and Big Bird play tennis without a ball, and count twenty hits, while Kevin Clash announces.
(EKA: Episode 2255)

Cartoon
With the help of his assistant, Dr. Geo shows the viewer what a mountain is.
Artist: Fred Garbers
(First: Episode 2772)

Film
A boy hikes up a mountain with his family.
(First: Episode 2734)

Muppets
Muppet & Kid Moment — Kermit and Joey sing The Alphabet Song.
(First: Episode 0426)

Cartoon
"Alphabet Jungle"
(First: Episode 2733)

Film
What sound does a cow make?
(First: Episode 3403)

Muppets
"Barn in the USA"
(First: Episode 2991)

Film
T for Triangle
(First: Episode 3271)

Animation
A picture puzzle of the letter T is put together. A man walks up to it, and calls a taxi.
(First: Episode 2933)

Film
The floating kids make a small T.
(First: Episode 3126)




SCENE 3
A drummer checks out his newly-fixed drum, which sounds perfect for Celina and her dancing students. As they drum and dance outside, Maria and Luis decide to put off work for a bit and join them. Humphrey and Ingrid announces the sponsors.