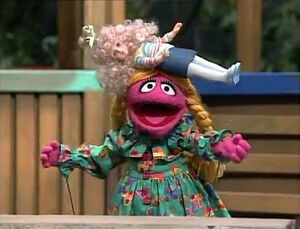 Picture
Segment
Description




SCENE 1
Big Bird welcomes the viewer and introduces the number of the day - 6, which Betty Lou will demonstrate. She gives her dolly six kisses, causing the head to fall off. Big Bird becomes concerned, but Betty Lou remains level headed and pops it back on, claiming it happens all the time.

Cartoon
Rap #6
(EKA: Episode 2580)

Film
Six children dance in a colorblock grid.
(First: Episode 3122)

Celebrity
Picabo Street stops by the park to tell Elmo about her skiing and how she won a medal. Afterwards, the two play Peek-a-Boo together.
(First: Episode 3301)

Animation
Cecille sings "I Want to Be Me."
(First: Episode 2791)

Film
Cars on the street go fast, then slow, then fast again.
(First: Episode 2988)

Cartoon
L for Laugh
Artists: Vincent Cafarelli & Candy Kugel
(First: Episode 2767)

SCENE 2
Next, Betty Lou will help show one of today's letters - L, by showing her dolly some Love with a hug, causing the head to pop off again.

Cartoon
L - shooting stars
(EKA: Episode 2313)

Song
Leon Redbone sings "What Do They Do When They Go Wherever They Go?"
(First: Episode 3312)

Cartoon
In a painting, a man flips a coin, and it flies in and out of buildings.
(First: Episode 3291)

Celebrity
Take 6 sings their own version of The Alphabet Song.
(First: Episode 2998)

Cartoon
Sign Man: OINK
(EKA: Episode 1289)

Song
Joe Raposo sings "Bein' a Pig."
(First: Episode 2356)

Cartoon
African quilt pattern #2
(First: Episode 3134)

Muppets
Grover is a personal trainer of his workout video called, "Grover's Monster Workout Video." He exercises with Bobby and Sissy, but he gets tired from swinging his arms, running, and jumping up and down that he faints.
(First: Episode 3227)

Film
Kids dance around at gymnastics to "Rockin' Robin."
(First: Episode 3147)

Animation
Planet J/j
(First: Episode 2833)

SCENE 3
Now, Big Bird presents the letter J and Betty Lou makes her dolly Jump high in the air. The head comes off again once it hits the ground. "I have a feeling I know why this happens all the time," Big Bird remarks.

Animation
J / j Gregorian chant
(First: Episode 3345)

Song
Jerry Nelson sings "I'm the Big One Now."
(First: Episode 2876)

Animation
Lillian discusses the adjustments she has had to make as a big sister. She ultimately appreciates her little sister.
Artist: Craig Bartlett
(First: Episode 2746)

Cast
"The Add-ems Family": Gordon, Susan, Carlo, Bob, Maria, Luis and Gabi star in a faux-sitcom about a family who loves to add.
(First: Episode 3391)

Cartoon
Two caterpillars plus three caterpillars equal five
(EKA: Episode 2324)




Muppets
A series of trailers for school-related dramas are shown on WCTW's "School in the Afternoon" block.
(EKA: Episode 2494)

Song
"There's a Lot of Different Ways to Get to School" (sung by Jerry Nelson)
(First: Episode 2751)




SCENE 4
Big Bird asks Betty Lou why she never gets upset when her dolly comes apart. Betty Lou recalls past activities with her dolly that caused her head to come off. At first, she would cry, until her her mommy and daddy fixed it. Eventually, she was able to do it herself and is used to it when it happens.

Cartoon
"Felines"
(First: Episode 3278)

Film
Wegman dogs make the word GO.
(First: Episode 3347)

Cartoon
The word "GO" races down the street.
(First: Episode 3347)

Muppets
Elmo and Super Grover dance to hip-hop music while chanting the word "Go."
(First: Episode 3311)

Cartoon
Jake the Snake demonstrates body parts.
Artist: Buzzco Associates, Inc.
(First: Episode 2486)

Song
"I Put My Leg in My Pants"
(First: Episode 3402)

SCENE 5
Big Bird and the kids skate by and notice Betty Lou with her dolly on her head. She tells them it's for a special trick she's trying - balancing the dolly on her head. She gives herself away when she takes a bow; she's tied the doll to her head.

Cartoon
A magician writes in his diary about the many mishaps during his performance.
(EKA: Episode 2449)

Muppets
Sesame Street News Flash
Kermit the Frog reports from an alphabet mine where they dig Js. The miners tell him various words that begin with J and Richard presents him with his own J.
(EKA: Episode 2543)

Film
Girls jump rope and sing playground rhymes.
(First: Episode 3280)

Animation
Can you find the animals hiding in the T-shirt?
Artist: Deanna Morse
(First: Episode 2873)

Muppets
Ernie, Bert, Cookie Monster, Prairie Dawn, and Herry Monster sing "I Think That It Is Wonderful."
(EKA: Episode 2492)

Cartoon
Two white squares try to push a great big object, and are reluctant to let a black square join them at first.
Artist: Fred Garbers
(EKA: Episode 2849)

SCENE 6
Big Bird announces the sponsors, as Betty Lou does some corresponding actions with her dolly.