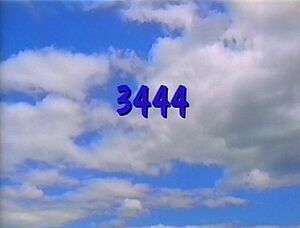 Picture
Segment
Description




SCENE 1
Rosita and Lexine are playing checkers in front of the Furry Arms Hotel, when Celina emerges with Barkley, who she's looking after today while Linda runs errands. They all decide to cooperate in taking care of him, and Lexine suggests teaching him some new tricks. Celina shows him the following segment ...

Video
Fay demonstrates addition by placing 3 balls on a table.
(First: Episode 2615)

SCENE 1
cont'd
After the segment finishes, Celina tries to get Barkley to do what Fay just did. She sets three balls on a table in front of Finders Keepers, and Lexine puts one of them on the ground, expecting Barkley to pick it up and put it back on the table. Barkley doesn't, so Lexine shows him how to do it. Celina puts the ball in his mouth, but he runs off with it instead. Rosita then realizes that Barkley just did a subtraction trick (three balls minus one equals two), and they all go chasing after Barkley.

Song
"Three Rabbits" minus two equals one.
(First: Episode 3163)

Muppets / Celebrity
Whoopi Goldberg talks with Hoots the Owl about how proud they are of their body parts.
(First: Episode 2835)

Film
Alphaboy: B - A bumpy bicycle ride.
(First: Episode 3401)

Cartoon
Speech Balloon: B for Bug
(First: Episode 0137)

Song
"B is for Bubble" (remake)
(First: Episode 3266)

Muppets / Celebrity
Tim Robbins and Elmo talk about surprise.
(First: Episode 2766)

Cartoon
Two monkeys argue over what to watch on TV, growing bigger the angrier they get.
(First: Episode 0762)

SCENE 2
Celina comes back with Barkley and congratulates him on the trick he did. She then points his attention to the next segment ...

Film
Wegman's dogs form all the letters of the alphabet.
(First: Episode 3266)

SCENE 2
cont'd
The gang thinks Barkley wants to make a letter of the alphabet, but he just runs around instead.

Film
(song) Ornate Bs around the neighborhood and at the beach.
(First: Episode 3266)
Cartoon
B for Beard (poem by Edward Lear)
Artist: Jeff Hale
(First: Episode 1147)

Film
Alphaquest: B
(First: Episode 2706)

Muppets
Ernie & Bert — Ernie is confused when he sees Bert playing checkers with his pigeon, Bernice. Ernie thinks it's amazing that a pigeon can play checkers, but Bert thinks it is no big deal, because Bernice has only beaten Bert in two out of ten games.
(First: Episode 1227)

Film
A girl dances her way into her family portrait.
(First: Episode 3119)

Muppets
"El Baile del Penguino"
(First: Episode 3133)

Animation
The word "dog" appears on-screen, followed by a shot of a dog.
(First: Episode 3124)

SCENE 3
Celina decides to show Barkley a different kind of dog, as seen in the next segment ...

Song
"Cow Dog Song"
(First: Episode 0783)

SCENE 3
cont'd
After watching the aforementioned segment, Barkley lies down and starts whimpering. Linda comes by and is confused when she sees him this way. She tries cheering him up by giving him a dog biscuit and tickling his tummy, but neither of those things work. Celina explains what happened, and Linda realizes why Barkley feels this way: he is a sheep dog, and watching the cow dog round up the cows made him want to round up some sheep. All they need to make him feel better is some sheep ...

Cartoon
Vaudeville duo Herman Happy and Stanley Sad sing a song about how they live up to their names.
(First: Episode 0772)

Film
Kids have a lost-dog poster made using an old-style printing press.
(First: Episode 1222)

Cartoon
A mouse demonstrates between by squeezing between two elephants.
(First: Episode 2750)

Animation
Growing Numbers #16
(First: Episode 2996)

Muppets
"Sixteen Samba"
(First: Episode 2822)

Celebrity
Blair Underwood swings Elmo sixteen times.
(First: Episode 2794)

Song
"Ookyook Song," a Joe Raposo song with the Alaskan words for all the things you need to put on when it's ukiuq (winter).
(EKA: Episode 2360)

SCENE 4
Linda brings some kids over to Barkley so they (along with Lexine) can pretend to be sheep. The kids all baa while Barkley chases them, and he feels a lot better afterwards. Celina becomes inspired, and leads everyone into her dance studio.

Cartoon
Is no one afraid of The Big Bad Wolf?
(EKA: Episode 2405)




Film
Lamont, who lives in the city, visits his friend Adrian, who lives in the country. Together they ride bikes, swim, and have dinner with Adrian's family.
(First: Episode 2800)

Animation
Native American bead designs display some wild animals, which have Indian names.
(First: Episode 2972)

Muppets
Big Bird recites an unusual poem about his feet.

Cartoon
Counting 40 pigs
Artist: Keith Haring
(First: Episode 3084)

SCENE 5
In the dance studio, Celina consults Linda on how to sign such dog commands sit, stand and roll over, and teaches the kids how to do them as well. This is all a part of her plan to create a dance for both kids and dogs ...

Film
A boy signs the word cat, and morphs into one.
(First: Episode 3323)

Cartoon
A story of a cat who hated rain, wished for it to stop, and witnessed the disastrous effects of no rain.
Artist: ArtistMike
(First: Episode 2724)

Muppets
The Two-Headed Monster shares a pillow.
(First: Episode 1669)

Cartoon
A mosquito bites a man and a dog, who agree to scratch each other's backs.
Artist: ArtistMike
(First: Episode 3217)

Song
"Family Song" - a rewritten version of "Brothers Song"
(First: Episode 3423)

Cartoon
A spider refuses to give up spinning a web, no matter how badly injured he becomes.
(First: Episode 1652)




SCENE 6
Celina lines up all the kids so the dance can begin. Rosita turns on the boombox, and Linda watches in amazement as Celina conducts Barkley and the kids by signing the commands. Everyone gives Barkley a hug while Rosita announces the sponsors.

COMING SOON
Coming soon on Sesame Street: Baby Bear learns how to use a revolving door, with Benny's help.
Notes
Community content is available under
CC-BY-SA
unless otherwise noted.