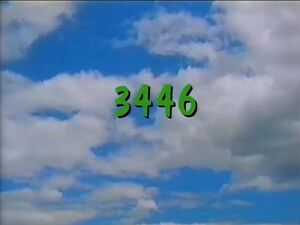 Picture
Segment
Description




SCENE 1
Big Bird and Gabi introduce today's special visitor - the mouse from "Hickory Dickory Dock," complete with clock. He performs his nursery rhyme, but when the clock strikes one, it breaks. Gabi calls over Luis to fix it, but he isn't sure it's within his knowledge. He leaves them briefly to see if the library has a book about fixing nursery rhyme clocks.

Song
"In the Library"
(First: Episode 3423)

Cartoon
A shy girl wants to join a group bouncing a ball.
Artist: Joanna Priestley
(First: Episode 2849)

Muppets / Celebrity
Kadeem Hardison says the alphabet with Natasha.
(First: Episode 2787)

Cartoon
Madrigal Alphabet
Artist: Jeff Hale
(First: Episode 0615)

Film
A boy dances his way into his family's portrait.
(First: Episode 3129)

Muppets
The Martians are a "Yip Yip Family."
(First: Episode 2724)

Cartoon
All living things need clean water.
(First: Episode 2731)

SCENE 2
The mouse is depressed; with the clock broken, he's out of a job and home. He realizes that Big Bird is tall, much like his clock, and tests out a new nursery rhyme: "Hickory Dickory Dird," where he climbs Big Bird. He finds the new situation very nice and claims it's the beginning of a beautiful friendship.

SCENE 2 cont'd
Luis returns, having serendipitously found a book exactly about fixing the mouse's clock. The mouse is in now rush and performs his new rhyme again, to Big Bird's chagrin.

Cartoon
Jim Thurman sings "Calcutta Joe."
Animation by Buzzco Associates, Inc.
(First: Episode 2492)

Muppets
Ernie & Bert — Ernie gets Bert to participate in a rhyming game, but Ernie ends the game just as Bert is starting to enjoy it.
(First: Episode 0798)

Animation
Luxo Jr.: Up and Down
(First: Episode 3130)

Song
"You Can Get Right Up": a song about getting active to cheer up.
(First: Episode 3142)

Cartoon
The Great Inventors Series: Willy Pinkham, intern at the rubber glove factory, invents the balloon.
Artist: Bruce Cayard
(First: Episode 2579)




SCENE 3
Luis looks for more parts to repair the clock, while the mouse enjoys his new partnership, especially because Big Bird can "strike one" at any point. Big Bird requests they find something else to do, as he's getting tired of the nursery rhyme. Gabi invents a new version of it, now about the letter W ("It adds a whole new dimension," the mouse notes).

Animation
W for water, wind, wave and wet
(First: Episode 3198)

Film
Wegman's dogs form a W.
(First: Episode 3277)

Song
Gina and Maria sing "The Word is "No"."
(First: Episode 2548)

Cartoon
Can a cat bark?
(First: Episode 0859)

Song
"At School," with animation bookended by live-action footage.
(First: Episode 2782)

Muppets
Super Grover teaches a class for potential superheroes. Among his students are Telly, Elmo, Zoe, Rosita, Herry, and Merry.
(First: Episode 3225)

Cartoon
Ball-dribbling characters count the feet on a wall ruler.
Artist: Bill Davis
(First: Episode 3227)

SCENE 4
Luis has finished the mouse's clock, but the mouse wants to stay with Big Bird forever, describing the things he loves about climbing him. This doesn't sit well with Big Bird.

Cartoon
Hands embrace the word "LOVE."
(First: Episode 0926)

Song
Kevin Clash sings "Skin."
(First: Episode 2749)

Cartoon
A girl fantasizes what she could do without leaving her room if her nose, ears, legs, and arms got bigger.
(First: Episode 3285)




Muppets
Guy Smiley hosts "What's My Job?" in which blindfolded monster contestants guess the occupations of different professionals, including Sonny Friendly.
(First: Episode 2573)

Cartoon
Number Guy sings "How Many Birds Can Fit on This Wire?" One bird provides the answer.
(First: Episode 3338)

Muppets
Monsterpiece Theater: One Flew Over the Cuckoo's Nest
(First: Episode 2674)

Song
"We're Talking 'Bout the Number One"
(First: Episode 3154)

SCENE 5
Big Bird tries to tell the mouse how he feels about their partnership, when the clock strikes one. The mouse realizes how much he needs the clock (and vice versa) and decides to go back to his old nursery rhyme.

Film
A group of girls do a playground cheer ("Ooh I'm so happy!").
(First: Episode 3017)

Cartoon
W for Wilhelmina
(First: Episode 0512)

Film
Alphaquest: W
(First: Episode 2712)

Animation
Characters on a quilt form the letter W.
Artist: Karen Aqua
(First: Episode 3366)

Muppets
Annette Monster and Frankie Monster sing "Love the Ocean" to urge others to "show respect for the sea" and refrain from throwing trash in the water.
(First: Episode 2680)

Cartoon
Zork lands on the coast of California, where he meets a slick agent.
Artist: ArtistMike
(First: Episode 2687)

Film
A boy's mother and grandmother make him a pair of moccasins.
(First: Episode 2987)

Cartoon
A real Indian boy tells two boys who are playing Cowboy and Indian that Indians don't say "ugh". The other kids tell him that they heard the expression on TV.
(First: Episode 0771)

SCENE 6
Now that the mouse has returned to his clock, everyone recites the nursery rhyme. Luis announces the sponsors.

COMING SOON
Coming soon on Sesame Street: Telly places a stamp on a woman's package.
Community content is available under
CC-BY-SA
unless otherwise noted.