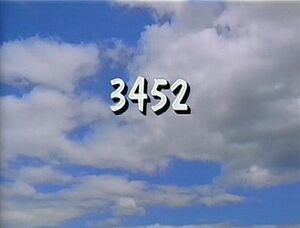 Picture
Segment
Description

SCENE 1
Big Bird and Celina greet the viewer, when Snuffy comes over in hysterics. He tries to explain what Alice did that was so funny, but can barely speak through his laughter. He brings them to the park to find her.

Animation
On a computer, a boy draws a sun setting between the mountains.
(First: Episode 3059)

Muppets
Mr. Between sings about himself.
(First: Episode 3091)

Cartoon
A woman sings the "O" sound in a brief opera.
(First: Episode 3319)

Muppets / Celebrity
"That's the Letter O"
(First: Episode 3066)

Film
A gymnast twirls ribbons to form the letter O.
(First: Episode 3136)

SCENE 2
Snuffy begins to explain that Alice got into their mother's closet, but starts laughing so much he can't continue. Alice appears in their mother's clothing, setting Snuffy off once more.

Song
"Dressed Up" (remake)
(First: Episode 3399)

Cartoon
A man demonstrates what newspapers are made of, and finds an ad for "One slightly used monster."
(First: Episode 2919)

Muppets
Grover sells newspapers in the street. He thinks they are for making paper hats, but a customer shows him they are actually for reading. The customer wants to buy a newspaper, but Grover won't stop reading the paper that the customer wants to buy. Grover reads about construction of a new building, a parade, and an expected rain shower, all of which occur as Grover reads.
(First: Episode 1966)

Cartoon
Number creatures 15
(EKA: Episode 2749)

Film
Growing Numbers #15
(First: Episode 2971)

Cartoon
Rap #15
(First: Episode 2567)

Film
"There's a lot to see under the sea," according to some young swimmers who narrate a poem about the ocean-dwellers they find.
Music: "Kyisio Calypso" by Dermot Stewart
(First: Episode 3032)

SCENE 3
Celina and Big Bird find Snuffy now laughing by a large letter O, which he claims Alice will do something great with. The others try to guess what it will be and Alice crawls through the middle of the letter.

Cartoon
Soul O
(First: Episode 3375)

Film
Letter O hoist
Music: Joe Raposo
(EKA: Episode 0894)

Cartoon
Anansi the Spider tells the story of a sad mouse.
Aritst: Fred Garbers
(First: Episode 3367)

Muppets
"I'm a Bookworm, Baby!"
(First: Episode 2994)

Film
An Indian boy narrates how Chapati bread is made.
(First: Episode 3204)

Cartoon
Song: Thingy Things 8 to 1 (1:03)
(First: Episode 3349)

Muppets / Celebrity
Oscar the Grouch puts a sign on his trash can which reads "DON'T BOTHER ME!" A sassy postal worker (Rosie O'Donnell) knocks on his can, and when he asks her "Can't you read?" she shows him how many things she can read. She then walks off to find out where Oscar the Grouch lives so she can deliver the sardine cologne he ordered. Oscar angrily rips up the sign.
(First: Episode 3190)

Song
AT words
(First: Episode 3291)

Muppets
Two-Headed Monster: HAT
(EKA: Episode 2477)

Film
How paper is recycled
(First: Episode 2627)

Cartoon
A group gives a newcomer funny looks, which hurts his feelings, but then they invite him to play marbles with them. He turns out to be a good player. (new sound effects added)
Artist: Joanna Priestley
(EKA: Episode 2840)

Muppets
"Once Is Not Enough"
(First: Episode 2921)

Animation
Arnold uses his imagination.
Artist: Craig Bartlett
(First: Episode 2754)

SCENE 4
Now, Alice dresses up in winter gear and pretends that it's winter. Celina advises her to play something else, as all the clothing could make her uncomfortable in the heat. Alice starts pretending it's summer instead, still wearing her outfit.

Song
"Hot in the City"
(First: Episode 2751)

Animation
Match the word HOT. (new music added)
(EKA: Episode 2396)




Film
A boy narrates a film of what happens when it changes from fall to winter.
(EKA: Episode 2459)

Cartoon
A poem about changing seasons.
(EKA: Episode 1093)

Cast
A voiceover instructs Maria as Chaplin where to put the shirts and the towels.
(First: Episode 0541)

Cartoon
The Magnificent Splasho goes from the top of the ladder to the bottom of the water tank.
(EKA: Episode 1647)

SCENE 5
Big Bird introduces Carlo, who sings the question of the day - what can you do with a fruit?

Cartoon
Apple: a riddle
(First: Episode 2889)

Film
A boy takes a bite out of an apple after it falls off a tree above him. The word APPLE is then shown.
(First: Episode 3276)

Song
Tony Bennett and Lexine sing "Little Things."
(First: Episode 3402)

Animation
Arrows give a presentation of the human body.
(First: Episode 2839)

Song
"Get On Up (Everybody Move)"
(First: Episode 3410)

Cartoon
The letters H, E, L and P try to arrange themselves to form the word "Help" while stuck on an island.
(EKA: Episode 2787)

SCENE 6
Alice has another trick to show off as everyone announces the sponsors - she walks through the O wearing a 15 banner.

COMING SOON
Coming Soon on Sesame Street: The gang at day care sings about their names.