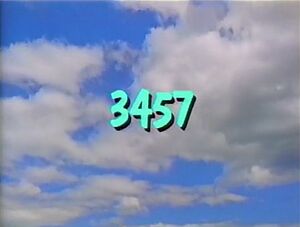 Picture
Segment
Description

COLD OPEN
Humphrey, Ingrid, Benny Rabbit, and Sherry Netherland welcome Michael Tweeter (Michael Jeter) to The Furry Arms.




SCENE 1
The Amazing Mumford makes a suitcase disappear, but cannot make it reappear. Then Michael Tweeter comes looking for his suitcase with Benny, and is very worried that it is gone. Without the things in the suitcase, he won't be able to do his show doing impressions of famous birds, at Birdland that night.

Cartoon
A girl thinks she hears a monster doing a cha-cha outside her window, but it's only the wind and crickets. Her snores frighten the real monster.
Artist: Deanna Morse
(First: Episode 2951)

Film
A boy is scared to go to sleep at night, until his dad tells him to use his imagination to calm himself down. He conducts a symphony with his toys.
(First: Episode 3271)

Animation
Pencil Box K/k
(First: Episode 2876)

Muppets
Big Bird and the Birdketeers present the letter K.
(First: Episode 3391)

Cartoon
K - Kangaroo
Artist: Jeff Hale
(First: Episode 1160)

Muppets
Cookie Monster sings "Healthy Food."
(First: Episode 2404)

Cartoon
Snacks On Parade: The Raisin
Artist: Bruce Cayard
(First: Episode 1171)

SCENE 2
Benny brings a sandwich, an apple, and a glass of milk to Michael Tweeter. He doesn't want it, but Benny makes him eat it, because he needs his strength for the evening's performance. He eats some and feels a little better. Still, he won't perform without his suitcase.

Song
Joe Raposo sings "Everybody Eats."
Re-filmed version
(First: Episode 2855)

Animation
The word TELEPHONE is displayed, followed by a ringing telephone.
(First: Episode 3048)

Film
Feet wearing all different types of shoes dance.
(First: Episode 2601)

Cartoon
Christopher Clumsy demonstrates the things feet can do.
Artist: Cliff Roberts
(First: Episode 0455)

SCENE 3
Bob, Gordon, Celina and the kids gather outside the Furry Arms and call up to Michael Tweeter, assuring him that they are all working together to find his suitcase. Celina and the kids go off to the park, Gordon goes to the subway, and Bob goes to make some phonecalls. Then the Amazing Mumford comes, and solves the problem by making the suitcase reappear.

Film
Asha and her friends practice and dance on stilts in preparation for a carnival.
(First: Episode 3427)

Cartoon
Three characters try to watch a baseball game over a fence, then cooperate by stacking their blocks.
(First: Episode 0478)

Muppets
"Do De Rubber Duck"
(First: Episode 2304)

Film
What sound does a duck make?
(First: Episode 3298)

Muppets / Cast
Maria, Big Bird, Oscar and Count von Count sing "Happy Birthday to Me."
(First: Episode 3241)

Animation
Seventeen derby hats drop onto a balloon head.
(First: Episode 2820)

Animation
Growing Numbers #17
(First: Episode 2975)

Cartoon
Abstract counting to 17
Artist: Sally Cruikshank
(First: Episode 2820)

Muppets
Telly sings "Three Sides Now."

Film
A ferry terminal switches from empty to full.
(First: Episode 2968)




SCENE 4
At Birdland, after Hoots introduces him, Michael Tweeter thanks everyone for helping him find his suitcase. He couldn't perform without it, because it contained something very special to him: his teddy bear. He dedicates the first number, an impression of Duck Ellington, to his teddy bear. He waddles about the floor, quacking "Satin Doll."

Song
"Happy Happiness"
(First: Episode 3320)

Cartoon
A boy shows his dog, Happy.
(First: Episode 0537)

Muppets
With help from Big Bird, Zoe counts to 17.

Film
How to say "butterfly" in sign language
(First: Episode 3341)

Animation
A poem about oranges.
(First: Episode 2881)

Animation
An orange pops out of a basket of fruits and gets "made up" as the face of Carmen, the role in the opera of the same name. While singing "Habanera," the famed aria from the opera, Carmen loses her "face" and can't resume singing until the wig returns.
(First: Episode 0277)

SCENE 5
For his second number at Birdland, Michael Tweeter does an impression of Ethel Merhen singing a song about singing loud, high, and fast.

Cartoon
Ladies, birds, and fish march forward and backward.
Artist: Karen Aqua
(First: Episode 3083)

Cartoon
K – king, kiss, key
(First: Episode 3084)

Film
Wegman's dogs form the letter K.
(First: Episode 3296)

Film
Ornate Ks fly through the air to a song.
(First: Episode 2945)

Cartoon
Everything you need to know about cats.
Artist: Bruce Cayard
(First: Episode 1179)

Muppets
Kingston Livingston III sings "A Cat Had a Birthday."
(First: Episode 3331)

Cartoon
"Alphabet Jungle"
(First: Episode 2733)




SCENE 6
Michael Tweeter does a Big Bird impression singing "ABC-DEF-GHI." To the delight of the crowd and the amazement of Hoots, he then does a Hoots impression to announce the sponsors.

COMING SOON
Coming Soon on Sesame Street: Elmo and Rosita pretend to be sheep.
Community content is available under
CC-BY-SA
unless otherwise noted.