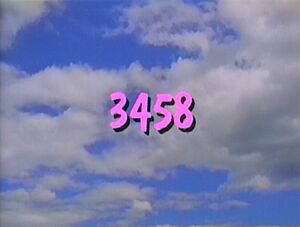 Picture
Segment
Description

SCENE 1
Rosita and Elmo tell the viewer that they'll be playing together all day long. They then display a capital and lowercase letter M, arguing over which one is the actual letter. Miles informs them they're both right.

Cartoon
Me and My M
Artist: Bruce Cayard
(EKA: Episode 1545)

Animation
M for moon, monster, monkey and magic
(First: Episode 3422)

Muppets / Celebrity
Ernie and Aaron Neville sing "I Don't Want to Live on the Moon."
(First: Episode 3242)

Cartoon
Dr. Nancy Einstein learns about ice cubes.
Artist: Bruce Cayard
(First: Episode 2582)

Muppets
Big Bird comments, "That was funny!"
(First: Episode 3147)

Song
"Around and Around"
(First: Episode 2753)

Cartoon
A dog chases a cat around, through, over, and under a doghouse.
(First: Episode 1020)

SCENE 2
The monsters run into Snuffy and Alice, who have a musical guessing game with their favorite foods.

Song
Kevin Clash sings "The Pasta Song."
(First: Episode 3137)

Animation
A pizza is made, and the slices form the word PIZZA.
(First: Episode 3393)

Muppets
Ernie & Bert — Bert tells Ernie to make a grocery list, but Ernie can't find anything to write with ... except for chocolate pudding. (Bert: "He's improving. Last time he used spaghetti sauce.")
(EKA: Episode 2477)

Cartoon
"Animal Elevator": 10-1 (subtraction)
(First: Episode 2523)

Film
A group of kids paint a mural with the help of a mural artist.
(First: Episode 3007)

Animation
Crayons play together.
(First: Episode 3105)




SCENE 3
The monsters now find Gordon about to play a game with Slimey and Wiggly. They observe a chart with four images and must find the one that doesn't begin with the letter M. The worms help out by becoming an X to cross out the image with.

Film
Wegman's dogs make an M.
(First: Episode 3276)

Animation
The letter M in various typefaces.
(First: Episode 2864)

Cartoon
A boy gets lost in a mall, and a security guard shows him how to use a map.
Artist: ArtistMike
(EKA: Episode 2874)

Muppets
The Readers of the Open Range help the citizens of Bisbee, Arizona find out where they live.
(First: Episode 3364)

Song
Joe Raposo sings "There's a Bird On Me."
(First: Episode 0416)

Cartoon
Is no one afraid of The Big Bad Wolf?
(EKA: Episode 2405)




SCENE 4
Elmo and Rosita now pretend to be sheep, looking for a grown-up to read a book about them. Ruthie volunteers and reads them Sheep Take a Hike by Nancy Shaw.

Animation
"Animal Books"
Artist: Steve Segal
(First: Episode 3396)

Film
College students volunteer at the San Francisco Children's Zoo, which has such animals as ferrets, opossums, and chinchillas.
Music: Joe Raposo
(First: Episode 2227)

Animation
Egyptian #4
(First: Episode 3306)

Video
Four break-dancers dance.
(First: Episode 2607)

Cartoon
Number Guy: "How Many Elephants Can You Fit In A Room?" The answer is 4.
(First: Episode 3358)

Muppets
Big Bird talks to the viewer about the importance of listening. He listens to the radio to learn about the weather, finding out in advance that ping-pong balls will rain on him.

Cartoon
All the instruments in Sousaville love Mr. Tuba's music, but when he plays with them, he doesn't play the same music they're playing.
Artist: ArtistMike
(First: Episode 2829)

Muppets
The Counting Crows (actual crows) sing "Count it 1-2-3."
(First: Episode 3368)

Cartoon
Bud the Bird flies above and below in a bumper car.
Artist: Lisa Crafts
(First: Episode 2901)

Film
A girl writes a letter to her grandmother about going to summer camp.
(First: Episode 3270)

Cartoon
While fishing one day, a boy catches the letters of the alphabet. Frustrated at not having caught any fish to eat, he decides to use his catch for alphabet soup.
(First: Episode 0004)

Muppets
Wanda's friends beg her to stay in the water, but she'd rather explore land and be "A Fish Out of Water."
(First: Episode 3247)

Cartoon
A magician performs a trick that makes birds appear, and fish can be glimpsed between them.
Artist: Vince Collins
(First: Episode 1614)

Film
"Simple Pleasures" by Bobby McFerrin is played over footage of a girl trying to play frisbee with a dog on the beach.
(First: Episode 2876)

Cartoon
A girl explains why she likes the poet Grubby Groo.
Artist: Mo Willems
(First: Episode 3225)

SCENE 5
Elmo and Rosita are sad because the day is over, meaning they can't play anymore...until tomorrow! Gordon escorts them home as Ruthie announces the sponsors.

COMING SOON
Coming Soon on Sesame Street: Rosita and Elmo tell Oscar they won't be bothering him anymore.