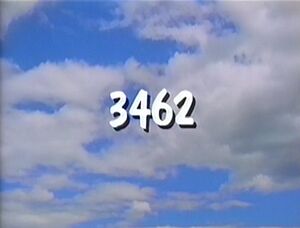 Picture
Segment
Description

SCENE 1
Big Bird starts to sing a song in the park, but is interrupted by Prairie Dawn, who needs it to be quiet so she can concentrate on writing. Then, a park gardener comes by with his lawnmower. Prairie asks Big Bird where she can find a place that's quiet.

Cartoon
A hippo who lives in the country, and likes it quiet, is disturbed when a mouse, who likes it loud, moves in.
Artist: Jeff Hale
(First: Episode 1432)

Muppets
Telly hosts "Here and There" from the library, where it's quiet. His co-host, Debra Starr, is at the airport, where it's loud. The loud noises of the airport eventually make it hard for Telly to hear Debra, so he has to talk louder into the microphone for Debra to hear him, which results in his expulsion.
(EKA: Episode 2864)

Cartoon
A cat follows its ears to a squeaking noise, which he thinks is coming from mice, but it's coming from swings.
Artist: Irra Verbitsky
(EKA: Episode 1899)

Muppets
"African Alphabet Song"
(EKA: Episode 2404)

Film
Girls sing a jump-rope rhyme about naming a puppy.
(First: Episode 3279)

Animation
Lillian is proud because she climbed a mountain all by herself.
Artist: Craig Bartlett
(First: Episode 2749)




SCENE 2
Big Bird situates Prairie in his nest, away from any noise from the park. He heads to the block to make sure things stay quiet. He silences some skateboarding kids, Gina and her singing daycare kids and Miles' basketball playing.

SCENE 2 cont'd
Prairie is relieved to finally have some quiet, when Big Bird starts yelling a loud message to everyone to keep quiet.

Cartoon
A boy finds a set of doors with animals that make the wrong sound, and swaps the doors to correct them.
(First: Episode 2711)

Film
Wegman's dogs are really sound sleepers - neither an alarm, nor a jackhammer nor an elephant will wake them up.
(First: Episode 3010)

Cartoon
Babies and doggies pattern: What comes next?
Artist: Keith Haring
(First: Episode 3039)

Muppets
Monsterpiece Theater: "Howard's End"
(First: Episode 3263)
Cartoon
Pinball Number Count #7
Artist: Jeff Hale
(First: Episode 0989)

Muppets
Elmo and Seven Goldfish sing.
(First: Episode 2734)

Cartoon
The Alligator King
Artist: Bud Luckey
(First: Episode 0411)

Film
Shapes vibrate as girls beat on their drums.
(EKA: Episode 2873)

Animation
"Let's Count Penguins"
Artist: Jane Aaron
(First: Episode 3147)




SCENE 3
With help from Bob, Big Bird writes a "Quiet Please" sign to hang on his door. As they leave, Baby Bear approaches the sign and wonders what it says. He makes such a racket that Prairie hushes him up with an even louder answer.
Cartoon
Z for zebra and zoo
(First: Episode 0281)

Muppets
Muppet & Kid Moment — Cookie Monster and Lexine identify a letter Z.
(First: Episode 3296)

Song
"At the Coastline" (Beach Boys style)
(First: Episode 2792)

Muppets / Celebrity
"Two Princes"
(First: Episode 3450)

Cartoon
A near-sighted princess goes to the eye doctor and gets glasses.
Artist: ArtistMike
(First: Episode 3056)

Song
"Brand New Look" - people try on glasses.
(First: Episode 3271)

Muppets
Grover talks about the sign "ONE WAY."
(EKA: Episode 1455)

Film
A ONE WAY sign switches sides. (Maria voiceover)
(First: Episode 3268)

Muppets
The Martians examine a fan and are "blown away" by it.
(First: Episode 3350)




Cartoon
The Fox and the Grapes
In the classic fable, a famished fox can't reach the grapes, and eventually gives up, assuming they're sour anyway.
(First: Episode 0784)

SCENE 4
Baby Bear, Big Bird and Miles play a quiet game of "Three of These Things." When the game is through, Baby Bear samples the porridge, which is still hot and he must confine his pain to a whisper. Prairie reports that her play is finished, with parts for everyone. Baby Bear is able to shout his pain now.

Animation
Match the word HOT.
(EKA: Episode 2396)

Muppets
Ernie & Bert — Ernie comes from finishing his bath, and tells Bert that there's something that he forgot. Bert asks if he's washed behind his ears, his neck, and his elbows. Finally, Ernie remembers that he forgot to turn off the water in the tub -- as the water level rises.
(First: Episode 0347)

Cartoon
A mother sings the story of how water travels down the drain and becomes rain.
(EKA: Episode 2865)

Film
Kids talk about their CATs.
(First: Episode 3308)

Muppets
Muppet & Kid Moment — Chip Cat and Dip Cat hold a sign with the word "CAT" written on it and ask Danny if he knows what it says. When they learn that he can't read the sign, they give him clues.
(First: Episode 2805)

Film
Various situations of before and after, to a hip-hop beat.
(First: Episode 3201)

Cartoon
Two alpine climbers hike up a letter Z and stake a claim on it.
(EKA: Episode 0846)

Muppets
"Zig Zag Dance"
(First: Episode 1567)

Cartoon
Sand Z/z
(First: Episode 0639)

Film
Footage of a Chinese noodle factory.
(First: Episode 0984)

Cartoon
A girl talks about her skin.
Artist: Bruce Cayard
(First: Episode 2611)




SCENE 5
Prairie begins her latest theatrical production, all about things that are quiet and loud. Bob portrays a quiet fly and Big Bird plays quiet snow. Then, Baby Bear plays a loud lion and Gina (with the kids) plays a loud train.

SCENE 5 cont'd
The cast takes their bows as Oscar the Grouch announces the sponsors.

COMING SOON
Coming Soon on Sesame Street: Baby Bear gives Telly a special football signal.