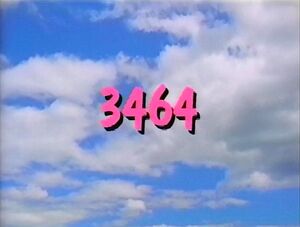 Picture
Segment
Description

SCENE 1
Rosita and Telly argue over who will sit next to Celina as they read. She points out that there's spaces on both sides of the bench, allowing them both to sit next to her.

Cartoon
"Next To Song"
Artist: Jane Aaron
(First: Episode 2851)

Film
Children in Jamaica learn how to make their own tie-dyed shirts.
(First: Episode 3140)

Muppets
Ernie & Bert — Ernie and Bert play "The Feelings Game" -- much to Bert's chagrin.
(First: Episode 2356)

Song
"Toothpaste Factory Rap"
(First: Episode 3266)

Cartoon
A toothbrush talks to a mouth about what could happen if not taken care of.
(First: Episode 1476)

Film
Wegman dogs: Jack and Jill

SCENE 2
Rosita laughs as she reads her book of Little Jack Horner, but Telly's book (Jack and Jill) has him sobbing. To cheer him up, Rosita gives him her book, which perks him up.

Cartoon
"In My Book" (sung by Jerry Nelson)
(First: Episode 2983)

Film
A girl dances her way into her family portrait.
(First: Episode 3119)

Animation
Counting to 8
(First: Episode 3170)

Film
Ornate 8s stroll through a gate and pose in other remarkable places.
(First: Episode 3231)

Cartoon
Eight buttons are counted on a monkey's shirt.
Artist: Owe Gustafson
(First: Episode 1452)

Muppets / Celebrity
Los Lobos sings "Elmo and the Lavender Moon."
(First: Episode 3101)

Cartoon
A baby and father illustrate up and down.
(First: Episode 2687)

Muppets
Muppet & Kid Moment — Cookie Monster asks Lexine to count to 5.
(First: Episode 3236)

Animation
Luxo Sr. examines a box. Luxo Jr. pops out of the box, demonstrating "surprise."
(First: Episode 2851)

Film
A boy takes dance lessons at The Alvin Ailey American Dance Theater.
(First: Episode 1716)

Cartoon
Jasper thinks that he has lost his elbow, but Julius shows him his elbow by bending his arm.
Artist: Cliff Roberts
(First: Episode 0410)

Insert
Bob asks Zoe if she wants to go to an interesting place, just Around the Corner. Bob sings a song about it.
(First: Episode 3262)

Cartoon
A poem about Hannah and Anna who lead similar lives in the city and the country.
Artist: Lisa Crafts
(First: Episode 2984)

Film
A boy draws a picture of his friend, Katie.
(First: Episode 2760)

Muppets
Hoots plays jazz in a park, accompanied by Chip and Dip. They are encountered by Mary, who wants them to play a new version of her nursery rhyme, which involves another lamb.
(First: Episode 2839)

Film
What sound does a sheep make?
(First: Episode 3416)

Cartoon
B ... US! We're on the bus!
(First: Episode 0785)




SCENE 3
Big Bird invites Celina to sit in on today's meeting of the Future First Graders of America (Sesame Street Chapter). He poses a question to the crowd: how do first graders get from their homes to school? Rosita and the kids come up with plausible answers, but Big Bird reveals the one in mind: a school bus. Snuffy joins them, pretending to be a school bus.

Song
"There's a Lot of Different Ways to Get to School" (sung by Jerry Nelson)
(First: Episode 2751)

Cartoon
A woman displays a BUS STOP sign to a crowd.
Artist: Irra Verbitsky
(First: Episode 1231)

Film
At a bus stop, three men of different ethnicities (including Bill Irwin) dance to a hip hop beat played on a radio.
(First: Episode 2919)

Cartoon
Leaves form a SH.
(First: Episode 3127)

Muppets
The Two-Headed Monster sounds out the word SHAKE, and an earthquake happens.
(First: Episode 2557)

Song
Sesame Street Creature Feature: Joe Raposo sings "Goats."
(First: Episode 2366)

Cartoon
S for Snail
Artist: Jeff Hale
(First: Episode 1158)

Film
Kids hold an S and a square
(First: Episode 3278)

Cartoon
A girl inflates a balloon in the shape of an S.
(First: Episode 0414)

SCENE 4
Celina asks Big Bird what her role in the meeting is and sits to the side reading as Big Bird continues. He introduces a special guest - an actual school principal! Instead, they're greeted by Prince Hal, who believes the role of principal is similar to his own. To clear up any more confusion, Big Bird allows him to join their meeting, then tells Celina her role is coming soon.

Cartoon
A little boy asks his big brother questions about what happens at school.
Artist: John Korty
(First: Episode 1877)

Muppets
Professor Grover teaches his students what "school" is, but he instead gets the lesson.
(First: Episode 1969)




Animation
Beads arrange themselves into different groups and finally become a girl's necklace.
(First: Episode 3108)

Film
A big S emerges, Jaws-like, in a swimming pool.
(First: Episode 3345)

Cartoon
Characters on a quilt form the letter S.
Artist: Karen Aqua
(First: Episode 3368)

Film / Muppets
Alphaquest: S
A swimsuit, Grover as a silly surfer, a seagull, the sunset and a submarine.
(First: Episode 2729)

Cartoon
Slot-machine legs: Cowboy & horse
(First: Episode 1702)

SCENE 5
Prince Hal asks Big Bird about the music that has suddenly started, meaning the meeting is over. Big Bird announces the sponsors, then finally reveals Celina's role - playing the bell that dismisses everyone.

COMING SOON
Coming Soon on Sesame Street: Snuffy dances with Gabi and the kids at a tap lesson.
Community content is available under
CC-BY-SA
unless otherwise noted.