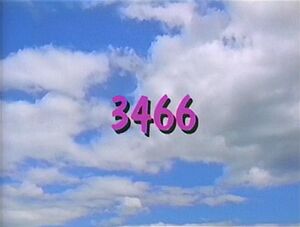 Picture
Segment
Description

SCENE 1
Rosita wants Benny Rabbit to teach her the ways of a bellhop at the Furry Arms, since she's thinking about becoming one when she grows up (she likes the uniforms). Benny explains the many, exhausting things he does, which he claims won't give him time to teach her. He gives in when he sees how sad she gets and takes her to get a uniform.

Song
"When You Grow Up"
(First: Episode 2912)

Animation
The elevator doors OPEN to reveal different environments.

Muppets
Muppet & Kid Moment — Kermit and Marlena observe their knees.
(First: Episode 1162)

Film
Island (in sped-up film, kids travel to an island)
(First: Episode 2731)

Cartoon
Zork lands on the coast of California, where he meets a slick agent.
Artist: ArtistMike
(First: Episode 2687)

Song
David sings "I'm Pretty" over a film of fish and other sea creatures.
Refilmed version
(First: Episode 2490)

SCENE 2
Benny tells Rosita another job of the bellhop: answering questions from the guests. He demonstrates by pretending to be a guest and asking her how to recite the alphabet. After going over it three times, he heads inside to fetch something for the next lesson.

Film
Kids sing the alphabet on an island.
(First: Episode 3154)
cut from the HBO Max version

Muppets
"Some Enchanted Lunchtime"
(First: Episode 3230)

Animation
In stop-motion, sandwich ingredients square-dance in a ring and arrange themselves into a sandwich, which gets a bite taken out of it in a refrigerator.
(First: Episode 3080)

Animation
Number creatures #19
(First: Episode 2718)

Film
Growing Numbers #19
(First: Episode 2937)

Cartoon
Nineteen kernels of popcorn pop.
(First: Episode 2855)
cut from the HBO Max version

SCENE 3
Benny brings out the hotel Dinger, who is rung whenever a bellhop's services are needed. "You hear the bell and you hop to it," he says, explaining the meaning of the title. He and the Dinger perform a song about the dinging sound. Rosita has one question: "When do we hop?"

Film
Fast and slow on the Shpritzer.

Cartoon
A man jumps up onto an UP. (new music added)
(First: Episode 0546)

Muppets
Ernie & Bert — Ernie sings "Happy Birthday" to a letter U, which blows out the candle on the cake. (new music and sound effects added)
(First: Episode 1306)

Cartoon
A man (voiced by Jack Dodson) describes places that begin with U and what you can do with the letter U. (new music and sound effects added)
(First: Episode 0416)

Film
A girl narrates a film of helping her dad, a pilot, fly a small plane. They fly through New York City, past the World Trade Center and the Statue of Liberty.
(First: Episode 3431)

SCENE 4
Rosita is ready to put her training into action and listens for the Dinger's bell to start helping someone. She responds instead the sounds of the telephone bell and an ice cream vendor's bell, smacking Benny with the revolving door each time she exits. She finally responds to the Dinger's bell, reporting to Benny it's time for his break (which he desperately needs).

Cartoon
Ranger Armbuckle talks about how plants travel -- by sowing their seeds.
Artist: ArtistMike
(First: Episode 2727)

Muppets
"Listen to the Bells"
(First: Episode 1955)

Cartoon
Typewriter: U for Umbrella
(First: Episode 0808)

Muppets
Ethel Mermaid sings "I Get a Kick Out of U."
(First: Episode 3127)

Cartoon
Speech Balloon: Two men demonstrate "up" on a teeter totter; one man ends up crashing through the ceiling. (new music added)
(First: Episode 0650)




SCENE 5
The Count arrives to check into the hotel, where Benny explains that carrying luggage is also part of the job. He tells Rosita to just observe for now and is shocked to see the Count has brought 10 suitcases. The Count and Rosita count them as Benny tires himself out carrying them into the lobby. The bell rings again and Rosita goes inside to respond.

SCENE 5 cont'd
Benny learns the Count is only staying for one night ("Haven't you ever heard of packing lightly?!"), when Rosita informs him that Ms. Netherland wants him to bring the suitcases upstairs...and that the elevator's broken. Benny goes on another break and collapses.

Cartoon
Uncle Al tells his nephew a story about a dog he had, but gets mixed up with the details.
Artist: Marv Newland
(First: Episode 0510)

Film
Five girls play a clapping game.
(First: Episode 2763)

Muppets
Grover applies to be a lifeguard, demonstrating to the employer that he has what it takes. He soon learns that there's only one thing he needs: swimming lessons.
(First: Episode 1951)

Song
Kevin Clash sings "Skin."
(First: Episode 2749)

Cartoon
A shy girl wants to join a group bouncing a ball.
Artist: Joanna Priestley
(First: Episode 2849)




Muppets / Cast
Ruthie reads to some kids the story of Star White (Snow White's cousin), who had a mirror that couldn't answer her question of who's the best looking. The mirror looked at a number of kids, and soon had an answer for Star White: everyone in the world is good-looking in their own way.
(First: Episode 3265)

Cartoon
A girl describes why she likes the color black.
Artist: Lisa Crafts
(First: Episode 3105)

Film
A boy draws a picture of his friend, Kerry.
(First: Episode 2776)

Cartoon
Colonel Travel takes the viewer on a tour of England.
(First: Episode 2763)




Animation
Beads arrange themselves in different ways, and finally stick themselves to a boy's jacket.
(First: Episode 3045)




SCENE 6
Big Bird, Zoe, Gina and Carlo come by on their way to the see The Chicken King, a film Rosita wants to see too. She tells Benny they should both go, but he tells her he has a job to do and can't leave. Rosita decides to forgo the movie; she can see it anytime, but doesn't have the same oppertunity to spend time with Benny. She gives him a hug and kiss, then remembers he doesn't like being touched. He allows her to keep hugging him just this once.

SCENE 6 cont'd
Carlo announces the sponsors, as Humphrey and Ingrid shake the dust from a rug (causing Ms. Netherland to sneeze).

COMING SOON
Coming Soon on Sesame Street: Elmo sings about balancing a penny on his head.
Community content is available under
CC-BY-SA
unless otherwise noted.