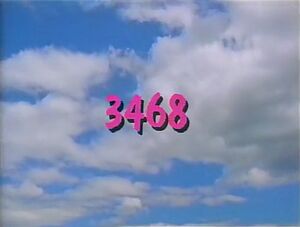 Picture
Segment
Description




COLD OPEN
Rosita presents her drawings of today's sponsors, as well as a drawing of her imaginary sheep friend, Lupé. The lamb "greets" everyone who walks by in sheep language, then tells Rosita that she wishes everyone spoke like her. Rosita finds the idea silly and walks off, but the Amazing Mumford (eavesdropping on Rosita) finds it a fascinating idea and waves his wand...

SCENE 1
Baby Bear observes that Mr. Handford is upset and asks why. Mr. Handford replies by bleating like a sheep, seemingly unable to communicate otherwise. He looks up a number in the phonebook and places a call, explaining his situation in sheep.

Film
Wegman dogs: Batty as Little Bo Peep, seeking her sheep.
Part 1

Cartoon
Is no one afraid of The Big Bad Wolf?
(EKA: Episode 2405)

Film
Wegman dogs: Batty as Little Bo Peep, still seeking her sheep.
Part 2

Animation
"The African Animal Alphabet"
(First: Episode 3396)

Film
Wegman dogs: Batty as Little Bo Peep, still seeking her sheep.
Part 3

Muppets
Count von Count sings "Lambaba" as he counts sheep and other animals that pop into the room.
(First: Episode 2789)

Cartoon
Three computer animated fish.
(First: Episode 2792)

Video
Three kids dance in three columns.
(First: Episode 3167)

Cartoon
Donnie Budd sings about three trios of animals who live on a fat lady's lap.
Artist: Bud Luckey
(First: Episode 0299)

SCENE 2
Mr. Handford talks to Detective Colambo, who is able to communicate with him. Colambo learns Mr. Handford was on his way to work, waved to Rosita and suddenly started speaking sheep.

SCENE 2 cont'd
Baby Bear notices Carlo coming into Hooper's Store and thinks he can help clear things up. Unfortunately, he's speaking sheep too and Colambo begins his interrogation.

Cartoon
A detective follows a path on the street which consists of a straight line, followed by dots. He finds out that the truck that paints the dividing road lines happens to sputter every few feet, which is where the dots come from.
(First: Episode 2248)

Song
"Elbows and Knees"
(First: Episode 2641)

Cartoon
Jughead Jones's J story
(First: Episode 0231)

Muppets
Sesame Street News Flash
Kermit the Frog reports from an alphabet mine where they dig Js. The miners tell him various words that begin with J and Richard presents him with his own J.
(EKA: Episode 2302)

Cartoon
Planet J / j
(First: Episode 2833)

Song
"Litter Rap"
(First: Episode 2646)

Cartoon
Gloria Globe appears sick and ailing, because of pollution and damage to the planet. Only by taking better care of the Earth can Gloria become well again.
(First: Episode 2781)

SCENE 3
Colambo gets more input from Gordon and the kids, who also can't stop speaking sheep. He notices Rosita is the common element in all their stories and believes she's behind it. He leads the group to find her and ask her a few questions.

Animation
Cecille sings "I'm Gonna Get to You."
(First: Episode 2873)

Film
A boy in Jamaica goes to school and attends drum class.
(First: Episode 3145)

Cartoon
Cap'n Feenie asks, "What is it?" It's the ocean.
Artist: ArtistMike
(First: Episode 2710)

Muppets
Annette Monster and Frankie Monster sing "Love the Ocean" to urge others to "show respect for the sea" and refrain from throwing trash in the water.
(First: Episode 2680)

Cartoon
The word AGUA is shown, followed by a river.
(First: Episode 3280)

SCENE 4
Baby Bear and the group find Rosita in the playground and think that she is the one who made everyone baa like sheep. Colambo then decides to Interrogate Rosita about it, but then she starts baaing too, so they figure out that it wasn't her and start wondering who it might be. Colambo scratches his head and starts thinking about who it might be.

Cartoon
A shepherd plays hide-and-seek with his sheep.
Artist: Michael Sporn
(First: Episode 2109)

Muppets
Mysterious Theater
Sherlock Hemlock is on the search for Lady Agatha's missing cat, knowing that it is under something that rhymes with "at", while Watson discovers the cat is under a mat, which leads into a big cat-and-dog fight.
(First: Episode 2569)

Cartoon
AT words: A fat cat with a hat sat on a mat. A bat scared the fat cat.
(First: Episode 1101)

Song
Jeff Redd sings "Between."
(First: Episode 2738)

Cartoon
A face is assembled and becomes an abstract portrait.
(First: Episode 3320)

Muppets / Celebrity
Elmo and Zap Mama go on an imaginary car ride.
(First: Episode 3362)

Animation
Amelia likes to pretend she can fly.
(First: Episode 2902)




Muppets
Big Bird's Video Postcards: Big Bird visits the Green Market in Union Square. He thinks the food comes out of packaging, but his friends show him how food is grown on their farm.
(First: Episode 3435)

Animation
Sand J/j
(First: Episode 0631)

Film
Girls jump rope and sing playground rhymes.
(First: Episode 3280)

Cartoon
Consonant Sound: J, jaguar
(First: Episode 1144)

Song
David sings "Who You Looking At, Tiger?"
(First: Episode 0371)

Cartoon
I am dry, they are wet (man laying on the beach)
Artist: Cliff Roberts
(EKA: Episode 0309)




SCENE 5
The group finds Mumford is the culprit and he tries to fix everything. However, he makes them moo like cows and cluck like chickens instead. Once everything seems normal, Baby Bear discovers he's speaking sheep! They all run to find Mumford again, as Colambo announces the sponsors.

COMING SOON
Coming soon on Sesame Street: Grover welcomes everybody in his Superhero Class.
Community content is available under
CC-BY-SA
unless otherwise noted.