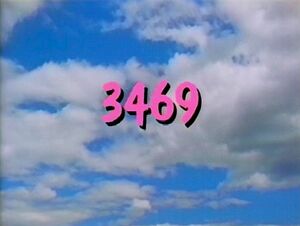 Picture
Segment
Description




SCENE 1
Big Bird welcomes the viewer from his nest area, where the Birdketeers are coloring. He's going to play teacher today and stops Gordon on his way to work (professionally referring to him as "Mr. Robinson"). Big Bird claims that since Gordon has a mustache, all teachers do and dons one himself (but is dissuaded from shaving his head like Gordon's). Gordon explains the job of a teacher, when Ms. Rodriquez, the teacher's assistant, arrives (also with a mustache). Gordon heads off to work, when Big Bird wonders what he will teach.

Song
"At School," with animation bookended by live-action footage.
(First: Episode 2782)

Muppets
Super Grover teaches a class for potential superheroes. Among his students are Telly, Elmo, Zoe, Rosita, Herry, and Merry.
(First: Episode 3225)

Cartoon
Two hippie kids wonder how to make their droopy plant grow.
(First: Episode 1484)

Song
"I Know How to Swing"
(First: Episode 3403)

SCENE 2
Mr. Bird starts the school day with a lesson on the alphabet. He begins with the letter A, when the class suddenly continues reciting the rest of the alphabet (having learned it from other sources, including Big Bird himself). He wonders what he can teach them that they don't already know...

Cartoon
Letters gather in order, against the birds-eye view of a city.
(First: Episode 3267)

Film
Lauren, a blind child, learns in class by using Braille.
(First: Episode 3142)

Muppets
Ernie & Bert — Ernie tries to get baby Ernestine to say his name. It turns out she's much better at saying "Bert!"
(First: Episode 2586)

Song
Leon Redbone sings "What Do They Do When They Go Wherever They Go?"
(First: Episode 3312)

Cartoon
"I Can Remember": A little girl remembers what to buy at the store (A loaf of bread, a container of milk, and a stick of butter) by visualizing her mother giving the instructions.
Artist: Jim Simon
(First: Episode 0408)

Song
"We Got the Power!" - a hip-hop song about computers
(First: Episode 3058)

SCENE 3
Mr. Bird now prepares a lesson on counting to 40, which the class also already can do too.

Cartoon
40 lemmings (doo-wop) (new sound effects added)
(First: Episode 2873)

Muppets
Grover the Salesman: Grover wants to sell Kermit the Frog some earmuffs, but Kermit doesn't have ears, so Grover gives Kermit some big human ears.
(First: Episode 0800)

Cartoon
A cartoon man (voiced by Bob Arbogast) is irritated to find that he has a succession of animal noses.
(First: Episode 0769)

Celebrity
The Count counts the musicians in the Tokyo String Quartet.
(First: Episode 3266)

Song
Joe Raposo sings "Take a Breath." (re-filmed version)
(First: Episode 2518)

SCENE 4
Gabi inspires Big Bird to shift gears and try to teach them something he can do, but they cannot. He shows them how he can put his head between his legs, which finds they also do with ease. He sighs, "Of all the Birdketeers in all the playgrounds in all the cites of the world, I have to get four geniuses."

Song
"Reach Your Hand Up High"
(First: Episode 2702)

Animation
Where do the a's fit?
(First: Episode 1586)

Muppets
Elmo finds a large apple and wonders what letter "apple" starts with. Slimey pops out from the apple, holding a flag with the letter A on it.
(First: Episode 3359)

Cartoon
Soul A!
(First: Episode 3359)

Celebrity
The Neville Brothers sing "Believe in Yourself," with a montage of clips from films including "I'm the Big One Now," "Reach Your Hand Up High" and "Hot in the City."
(First: Episode 3158)

Cartoon
Leanna Williams explains why she loves her brother's shoes - she has fun with the box they came in.
Artist: ArtistMike
(First: Episode 2985)

Cartoon
A girl's mom gives her a 1 from the shelf. "My 1 and only!"
Artist: Fred Garbers

Muppets
Monsterpiece Theater: One Flew Over the Cuckoo's Nest
(First: Episode 2674)

Cartoon
Number Guy sings "How Many Birds Can Fit on This Wire?" One bird provides the answer.
(First: Episode 3338)

Film
Two boys walk though a city neighborhood to some funky break dancing music.
(First: Episode 2679)

SCENE 5
Gabi tells Big Bird to gauge what the students know so he can find something they don't. He discovers they can't speak bird and demonstrates the native tongue of several of his bird friends. However, the noises are too hard for them to replicate, so he teaches them a simpler language - turkey.

SCENE 5 cont'd
Their gobbling attracts a real turkey (Joey Mazzarino), who is impressed with their accent-less skills. "They're teaching as a second language? Great! Maybe we can talk them out of that Thanksgiving thing," the turkey hopes.

Song
"It's the Shpritzer Honker Splasher Sprinkler Tweeter Squirt," the wettest musical instrument.
(First: Episode 3408)

Muppets
Muppet & Kid Moment — Cookie Monster and Lexine talk about the letter A.
(First: Episode 3263)

Cartoon
A showcase of things that begin with A, ending with avalanche and ambulance.
Artist: Cliff Roberts
(First: Episode 0132)

Film
Wegman's dogs form a letter A.
(First: Episode 3292)

Muppets
"I Love You (More or Less)"
(First: Episode 2990)

Cartoon
A hand draws a farm backdrop for the animals.
(First: Episode 0925)

Film
What sound does a rooster make?
(First: Episode 3278)

SCENE 6
Mr. Bird lets the kids go play and tells Gordon about his school day. He calls the kids back to show him what they've learned, as the turkey announces the sponsors.

COMING SOON
Coming soon on Sesame Street: The Readers of the Open Range help a girl open a door.