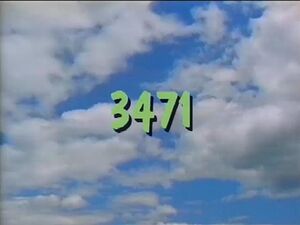 Picture
Segment
Description

SCENE 1
Zoe and Natasha are among the members of Gina's day care today. Gina announces they will be visited by four special guests. The first guest is none other than Count von Count, who is there to do some counting (what else?). He and the kids count 26 blocks, but he keeps counting, counting them in different groups.

Animation
Colored tools build a house out of colored rectangles, squares and triangles.
(First: Episode 3263)

Muppets
Baby Fats Domino sings "Shake Your Rattle and Roll," encouraging babies to exercise.
(First: Episode 3352)

Cartoon
A man teaches his dog Rover how to read the word SIT.
(First: Episode 0304)




Film
A girl named Maria and her family are having a Cuban barbecue. She invited her friend, Stewart, to enjoy in the fun and learn about Cuban culture.
(First: Episode 2760)

Cartoon
A cat catches a TELEPHONE and eats it.
Artists: The Hubleys
(First: Episode 0154)

SCENE 2
The Count believes Natasha is trying to count along with them as they count five books. He reviews this over and over again. Gina tries to point out that Natasha isn't old enough to count yet, but catches on that the Count is only doing this to keep counting.

Cartoon
A girl counts her 5 cats using ribbon to keep track.
(First: Episode 1001)

Cartoon
A kid voice-over says, "Ocean," as a fish is seen swimming in the ocean.
(First: Episode 2670)

Muppets
Super Grover: A fat blue girl loses her wind-blown hat in a tree, but she can't cross the street to get it. Super Grover comes to the rescue, and tries to call the cap back. The girl realizes that she needs a grown-up to cross the street, and with her Aunt Edna she gets her hat back. (new music added)
(First: Episode 3133)

Cartoon
Why did the chicken cross the road?
(First: Episode 2050)

Film
A zydeco band plays "Allons a Lafayette" while people dance.
(First: Episode 2498)

Cartoon
Sign Man: BINGO
(First: Episode 1171)

Film
A child voice-over talks about a Hawaiian party that her family has.
(First: Episode 3139)

Cartoon
Leanna Williams tells a story of how she traveled to Hawaii and bought a Hawaiian shirt.
Artist: ArtistMike
(First: Episode 2745)

SCENE 3
The Count takes Natasha for a walk before taking her home. The next guest at day care is Kingston Livingston III, who intends to recite the alphabet. Although everyone present is already familiar with it, Kingston demonstrates his own, unique way of saying (with lots of crazy dances).

Cartoon
Madrigal Alphabet
Artist: Jeff Hale
(First: Episode 0615)

Film
The floating kids form a triangle.
(First: Episode 3122)

Muppets
The Count takes Natasha to the park to teach her to count and sings about how much fun it can be.

Cartoon
Three scribbles exercise.
Artist: Fred Garbers
(First: Episode 1579)

Muppets
Bert sings "I Gotta Be Clean."
(First: Episode 3061)

Film
Girls do a hand-clap game about the letter Q.
(First: Episode 3322)

Muppets
The Two-Headed Monster observes the letter Q, then the word QUIET.
(First: Episode 1850)

Cartoon
Q for Quiet
Artist: John Korty
(First: Episode 0441)

Insert
Snuffy, Alice and some kids do "The Snuffleupagus Polka."
(First: Episode 3392)

Animation
Parade of Numbers #17
(First: Episode 3368)

Animation
Ornate 17s swing by.
(First: Episode 3319)

Animation
Rubber Stamp #17
(First: Episode 2975)

Muppets
Elmo explains the importance of sleep, but the audience won't stop applauding and let him sleep afterwards.
(First: Episode 2985)

Song
Joe Raposo sings "Everybody Sleeps" (re-filmed version)
(First: Episode 3026)

Cartoon
Something's missing ... is it a frog or a dog?
(EKA: Episode 2486)

SCENE 4
Big Bird is the next visitor to day care, bringing Radar along with him. He recites a poem about his favorite place - being next to his teddy bear.

Cartoon
"Ooh What a Fabulous Party"
Artist: Sally Cruikshank
(First: Episode 3006)

Film
A girl learns how to jump rope.
(First: Episode 3397)

Cartoon
Ants carry a huge letter 'Q' uphill.
(First: Episode 0787)

Film
Q, for quack. Quiet!
(First: Episode 3405)

Animation
In reversed film, Q and q candles are unmelted.
(First: Episode 3079)

Cartoon
A girl imagines she's a rock, which becomes a statue.
(First: Episode 0513)

Muppets / Celebrity
Laurence Fishburne, along with Rosita and Telly Monster, demonstrates how one brushes their teeth. Since Telly and Rosita do not have teeth, they plug their mouths with ears of corn, and brush those instead.

Song
"Take Care of That Smile"
(First: Episode 2745)

Cartoon
A girl recites a poem about her first loose tooth.
Artist: ArtistMike
(First: Episode 3319)

SCENE 5
The final guest at day care is Celina, who teaches everyone the great dance "The Laundry." Kingston announces the sponsors.

COMING SOON
Coming Soon on Sesame Street: Stinky the Stinkweed bids farewell to Fern.
Community content is available under
CC-BY-SA
unless otherwise noted.