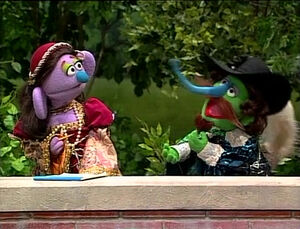 Picture
Segment
Description




SCENE 1
Roxanne, a new resident of the street, samples some perfume at Finders Keepers, which Ruthie claims all the fairy tale princesses use (and Prince Charming loves). Her large ears (which she's very sensitive about) wiggle, indicating she hears someone coming. Cyranose de Bergerac enters, following the lovely scent and is immediately attracted to Roxanne. She jokes he's not the Prince Charming she expected, especially by the way he sounds. Cyranose embarrassingly exits before Roxanne can tell him how much she likes his accent. She goes out to look for him.

Cartoon
A girl fantasizes what she could do without leaving her room if her nose, ears, legs, and arms got bigger.
(First: Episode 3285)

Film
Children on a playground form the letters of the alphabet. (new music added)
(First: Episode 1966)

Cartoon
A mosquito bites a man and a dog, who agree to scratch each other's backs.
Artist: ArtistMike
(First: Episode 3217)

Muppets
Two creatures watch a girl dance while balancing two glasses with liquid inside.
Part 1
(First: Episode 3385)

SCENE 2
Cyranose runs into Elmo, whom he begs to teach him to speak without an accent so he'll have a better shot with Roxanne. Elmo helps him master saying "hello" without an accent, but Cyranose realizes it'll take two long to do the same with all the other known words. He gets an idea and drags Elmo off, just as Roxanne comes by looking for him.

Muppets
One of the creatures tries the glass dance himself, then drinks from it.
Part 2
(First: Episode 3385)

Animation
Pencil box A/a
(First: Episode 3082)

Muppets
The Martians investigate an A.
(First: Episode 3387)

Cartoon
A man is allergic to the letter A.
(First: Episode 3311)

Song
Kevin Clash sings "(I Eat With) Chopsticks" over a film of kids doing so.
(First: Episode 3270)

Cartoon
A peasant tries to woo a pretty girl by reciting the famous "Roses are Red" poem. The lines are fed to him by a poet behind a bush, whom she eventually runs off with.
Artist: Irra Verbitsky
(EKA: Episode 2058)

SCENE 3
Cyranose's new plan is to lip-sync as Elmo invites Roxanne to the movies. They practice, all while ducking behind the wall as Roxanne runs past again and again in search of Cyranose.

Cartoon
A cartoon shows a few Spanish words - which are also English words.
Artist: Fred Garbers
(First: Episode 3011)

Muppets
Loretta sings about her feelings when she lost her dog Trey in the park.
(First: Episode 3233)

Cartoon
L for lion
(EKA: Episode 2753)

Muppets
Muppet & Kid Moment — Cookie Monster asks Lexine if she knows any words that begin with the letter L.
(First: Episode 3259)

Cartoon
A man jumps into a poster of Lake Lillian.
(EKA: Episode 0295)

Song
"Rollin' on the River"
(First: Episode 2783)

SCENE 4
Having practiced enough, Cyrnaose has Elmo call Roxanne over to ask her out. However, she notices Elmo behind the wall and sees through the plan. Cyranose makes a break for it, taking Elmo with him before he can give away his plan.

Song
"Conga Counting Song"
(First: Episode 2778)

Cartoon
A boy learns to play his violin by practicing.
(First: Episode 1513)

Muppets
Ernie & Bert — Ernie practices saying "Hola" as he repeatedly opens and shuts the door. To make him stop, Bert convinces him he's mastered it. Ernie starts to practice saying adiós instead.
(First: Episode 3198)

Cartoon
Number creatures 18
(EKA: Episode 2639)

Muppets
Big Bird requests to see that number one more time.
(First: Episode 3247)

Animation
Abstract #18
(First: Episode 2859)

Animation
Masked march #18
(First: Episode 3427)

SCENE 5
Roxanne tells Linda, Tarah and Jenny about her problems with Cyranose. They suggest that if she can't talk to him, she should write him a letter, which she starts doing.

Cartoon
Dinah from South Carolina exchanges letters with her friend Ling Lu in China.
Artist: ArtistMike
(EKA: Episode 2727)

Celebrity
The Four Tops sing "Standing at the Bus Stop Sign," while waiting for the bus to arrive. Big Bird pulls up in an imaginary bus.
(First: Episode 2290)

Cartoon
A woman displays a BUS STOP sign to a crowd.
Artist: Irra Verbitsky
(EKA: Episode 2505)

Film
A little boy sings the "Cold Ocean Blues" at the beach.
(First: Episode 3150)

Cartoon
A girl builds a sand castle at the beach, but the ocean keeps washing it away, so she builds one away from the waves.
Artist: Fred Garbers
(First: Episode 1452)

SCENE 6
Cyranose hides behind a wall, when Telly and Rosita come by inviting him to go to the park with them. He realizes that they both speak in different accents and are friends, meaning the same can happen for him and Roxanne. He goes off to find her.

Song
Everyone has the same feelings, "No Matter What." Kids of all types play with a huge beach ball.
(First: Episode 2782)

Animation
Airplanes carve the capital and lowercase A.
(First: Episode 3209)

Film
A for action, acrobat, art, artichoke, and applause.
(First: Episode 3266)

Muppets
The Two-Headed Monster shares a pair of headphones.
(First: Episode 1628)

Film
Fay Ray listens to classical music on headphones. "Are you listening to me?"
(EKA: Episode 2614)

Muppets
Big Bird remarks, "Now that was silly!"
(First: Episode 3190)

Cartoon
"Four Friends" - a reggae song about a group of animals who wash a car together.
Artist: Michael Sporn
(EKA: Episode 2493)

SCENE 7
Roxanne finishes her letter, when Cyranose appears, asking her on a date to the movies. Roxanne would much rather go somewhere and chat, as she finds his accent pleasing to her ears.

Animation
OP words (Drop / stop / top / hop / pop)
(First: Episode 2886)

Muppets
"Home to Me"
(EKA: Episode 2122)

Cartoon
A girl explains the concept of relativity by explaining how her house is a part of a neighborhood, the neighborhood is part of a city, the city is part of a country, etc.
(EKA: Episode 2742)

Song
"The Braid-y Bunch"
(First: Episode 3357)

Cartoon
A woman serves milk to her cat. Several other cats join him, including a lion.
Artist: Bruce Cayard
(EKA: Episode 1102)

SCENE 8
Cyranose and Roxanne have finished a pleasant chat, then announce the sponsors before heading off to the movies.