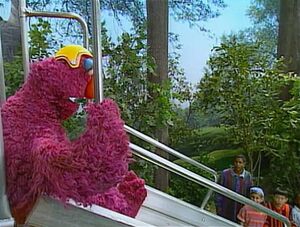 Picture
Segment
Description

COLD OPEN
Gordon is about to announce today's sponsors, when Telly, covered in pillows, announces that he's going to play on the slide in the park today. He's wearing pillows because he's afraid that he'll get hurt, like he did the last time he went down the slide.

SCENE 1
Telly arrives at the park, where Elmo and some kids are already sliding. Telly says he will slide, but then decides against it, out of fear. Elmo thinks he's smart for wearing the pillows, so Telly decides to do it after all. However, he finds it hard to climb up the ladder while wearing so much padding. He falls over, and needs the help of the other kids to get up. He vows to eventually go down the slide ...

Animation
Airplanes carve the capital and lowercase letter Y.
(First: Episode 3199)

Film
Jaws spoof with the letter Y.
(First: Episode 3323)

Animation
Characters on a quilt form the letter Y.
Artist: Karen Aqua
(First: Episode 3381)

Song
14 Karat Soul sings "Hand Talk."
(First: Episode 2622)

Cartoon
What kind of print does a hand make? (new music added)
(First: Episode 0776)




SCENE 2
After removing all his pillows, Telly climbs up the ladder. He is still afraid to go down the slide, so he climbs down the ladder. He then climbs up and down the ladder over and over again.

Cartoon
A man jumps up and down on a trampoline.
Artist: Tom Gabbay
(First: Episode 1449)

Song
"Reach Your Hand Up High"
(First: Episode 2702)

Animation
Lillian is proud because she climbed a mountain all by herself.
Artist: Craig Bartlett
(First: Episode 2749)

Muppets
Kingston Livingston III sings "Just Happy to Be Me."
(First: Episode 3178)

Animation
Z / z Gregorian chant
(First: Episode 3332)

Film
Kid jungle explorers sight a wild Letter Z.

Animation
The Letter Z in various typefaces.
(First: Episode 2855)

SCENE 3
Telly is proud about finally sitting on the slide, but is still afraid of going down it. Elmo still thinks Telly can laugh in the face of the fear of sliding, but he just can't. Elmo promises to wait with Telly until he is ready to slide, which may take awhile ...

Cartoon
Abstract count to 17
(First: Episode 2820)

Animation
Growing Numbers #17
(First: Episode 2975)

Animation
Seventeen derby hats drop onto a balloon head.
(First: Episode 2820)

Muppets / Celebrity
Little Richard sings "Rosita," a song about feelings, to Rosita.
(First: Episode 3225)

Animation
A group of round crayons draws a house, and is hesitant to let a square yellow crayon join, until it draws the sun. They all cooperate to make a rainbow.
(First: Episode 3105)

Video
Ann Marie DeAngelo and Skeeter Rabbit do their dance routine. The frame freezes whenever the word STOP comes on.
(First: Episode 2600)

Animation
An umbrella is shaped like an octagon ... and so is a STOP sign.
(First: Episode 2092)

SCENE 4
Telly is almost ready to go down the slide, and asks everyone to count to 3. After they count, Telly becomes stiff with fear, and decides to say the alphabet instead. Still more waiting to go ...

Cartoon
A boy narrates a poem about how he met Eleanor, the monster under his bed. (new sound effects added)
Artist: ArtistMike
(First: Episode 2773)

Celebrity
Samuel Ramey sings a low-octave version of the alphabet song.
(First: Episode 3369)

Film
"Simple Pleasures" by Bobby McFerrin is played over footage of a girl trying to play frisbee with a dog on the beach.
(First: Episode 2876)

Cartoon
A poem about dogs of different sizes, feelings and colors.
Artist: Deanna Morse
(First: Episode 2924)

Muppets
Big Bird and Zoe count to 17.
(First: Episode 3457)

Animation
In a Van Gogh painting, a baby takes its first steps to Papa.
(First: Episode 3492)




SCENE 5
Telly still doesn't want to go down the slide, and gives up. Elmo suggests that maybe he and Telly could slide down together. Telly likes this idea, and just as they're about to slide, Telly chickens out and lets Elmo go down by himself. Telly thinks he's a big chicken, when a real chicken slides down fearlessly. Elmo decides to seek the help of a grown-up.

Song
Ivy Austin sings a song with words ending with EN.
(First: Episode 3379)




Film
Footage of the 1994 Labor Day Flag Party in Brooklyn features people marching while waving (and wearing) flags. Marina narrates about being one of the participants.
(First: Episode 3403)

Cartoon
Mary doesn't like the letter Y at first, but eventually finds it useful, especially for her name.
Artist: ArtistMike
(First: Episode 3347)

Animation
Planet Y / y
(First: Episode 2859)

Muppets
Monsterpiece Theater: Fiddler on the Roof

Animation
Jerry Nelson sings "Two Pretty Flowers."
(First: Episode 3151)




SCENE 6
Gordon comes over to help Telly overcome his fear of going down the slide. He tells him a story: when he was a boy, he became afraid of roller-skating after hurting his knee. His father convinced him that he wouldn't have fun if he didn't skate, and helped Gordon out until he wasn't afraid of skating anymore. Telly still doesn't think the story applies to him.

Cartoon
A cat desperately tries to open a can of cat food by himself while his mistress is on the phone.
Artist: Dan Haskett
(First: Episode 2151)

Muppets
Muppet & Kid Moment — Chip and Dip hold a sign with the word "CAT" written on it and ask Danny if he knows what it says. When they learn that he can't read the sign, they give him clues.
(First: Episode 2805)

Film
A boy signs the word cat, and morphs into one.
(First: Episode 3323)




SCENE 7
Gordon agrees to hold Telly's hand while he slides down. Suddenly, the chicken accidentally gives him a shove, and he slides down all by himself! Telly is proud that he just slid down the slide by himself, and didn't get hurt. Gordon announces the sponsors, while Telly and Elmo have fun sliding.
Community content is available under
CC-BY-SA
unless otherwise noted.