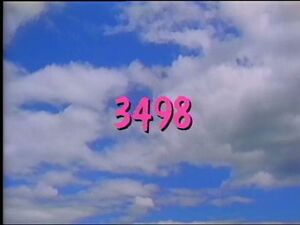 Picture
Segment
Description

SCENE 1
Rosita teaches Big Bird, Telly and some kids that "Me gusta" means "I like it" in Spanish. Big Bird tries saying it to Maria and Luis, who sing a song about how to use the phrase, backed up by a mariachi trio.

Film
A girl draws a picture of her friend Amelia.
(First: Episode 2784)

Cartoon
A girl describes why she likes the color black.
Artist: Lisa Crafts
(First: Episode 3105)

Film
Kids sing the alphabet on an island.
(First: Episode 3154)

Muppets
Grover's Health Minute: Kermit the Frog and Grover talk about teeth. Grover notices that Kermit does not have any teeth at all, so he puts a pair of teeth in Kermit's mouth. Grover says to see a "tooth checker," to eat crunchy things like bananas and to clean teeth with a "tooth comb."
(First: Episode 1949)

Cartoon
In a circus setting, a girl becomes excited about getting her first loose tooth.
Artist:

Steven Fonti


(First: Episode 3266)

Song
"Say Cheese"
(First: Episode 3146)

Cartoon
A purple elephant tries to get 10 peanuts in his trunk at once, but can't, so he smushes them into peanut butter instead.
(First: Episode 2987)

SCENE 2
With the help of Osvaldo, Grundgetta, and two other grouches, Oscar gives Maria and Luis a musical rebuttal to their song, changing it to "No Me Gusta" -- but ironically, the grouches can't stop dancing!

Film
"C" for Circle
(First: Episode 3313)

Muppets / Celebrity
"C is for Cookie" with Marilyn Horne. (opening vamp cut)
(First: Episode 3189)

Cartoon
A fan reveals the letter C.
(First: Episode 2746)

Song
Kevin Clash sings "(I Eat With) Chopsticks" over a film of kids doing so.
(First: Episode 3270)

Muppets
Muppet & Kid Moment — John-John and Herry Monster count to twenty.
(First: Episode 0441)

Cartoon
A mosquito bites a man and a dog, who agree to scratch each other's backs.
Artist: ArtistMike
(First: Episode 3217)

Song
Everyone has the same feelings, "No Matter What." Kids of all types play with a huge beach ball.
(First: Episode 2782)




SCENE 3
Finders Keepers is having a "Lincoln's Birthday" sale. Elmo comes by, feeling sad because he lost his imagination hat. Ruthie gives him some different hats to try on, and he has fun with an admiral's hat, then a space helmet. Maria comes back with Elmo's imagination hat, but Elmo is busy going on an imaginary trip to the planet Mayonnaise.

Animation
Arnold uses his imagination.
Artist: Craig Bartlett
(First: Episode 2754)

Song
"I'm a Little Airplane"
(First: Episode 3266)

Muppets
The Two-Headed Monster shares a pair of headphones.
(First: Episode 1628)

Animation
"Six Circus Balls"
Artist: Jane Aaron
(First: Episode 3001)

Cartoon
Pinball Number Count #6
Artist: Jeff Hale
(First: Episode 0983)

Film
Six children dance in a colorblock grid.
(First: Episode 3122)

Insert
Snuffy teaches the kids how to "Do the Spaghetti."
(First: Episode 3216)

Song
"Big G and Little G"
(First: Episode 3397)

Film
Kids exploring a jungle find a giant "G" swinging on vines.

Film
Paper crumples to reveal G, g, and Gg.
(First: Episode 3128)

Song
"I Put My Leg in My Pants"
(First: Episode 3402)

SCENE 4
Elmo has found a coat that matches Abraham Lincoln's, and Ruthie gives him a stovepipe hat and beard to match.

Animation
Cecille sings "I'm Gonna Get to You."
(First: Episode 2873)

Muppets
Ernie & Bert — Ernie brings a surprise home, and he tells Bert to guess what it is. The surprise turns out to be a puppy. Bert wants to call the puppy "Norman"; Ernie suggests "Godzilla the Wonder-Dog".
(First: Episode 1956)

Cartoon
A man teaches his dog Rover how to read the word SIT.
(First: Episode 0304)

Muppets
"C Drives Me Crazy"
(First: Episode 3339)

Film
Girls do a hand-clap game about friends whose names start with C.
(First: Episode 3277)




Muppets
Mac TV host Old MacDonald introduces the newest music video, "A New Way to Walk" performed by The Oinker Sisters.
(First: Episode 2268)

Song
"Litter Rap"
(First: Episode 2646)

SCENE 5
As Elmo and Rosita debate on which of them should announce the sponsors, Ruthie does it for them.

COMING SOON
Coming soon on Sesame Street: Ruthie and Wolfgang sing a duet.