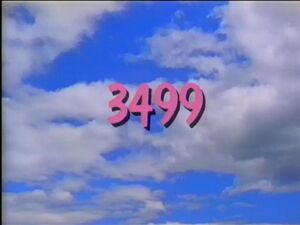 Picture
Segment
Description

COLD OPEN
Elmo encounters Big Bird on his way to the Sesame Street Talent Show. He shows Big Bird what he's going to do: jump up and down and count from 1 to 10. Big Bird reveals that he's the Master Bird of Ceremonies, and demonstrates what he does by announcing today's sponsors.




SCENE 1
Big Bird is running the talent show today, but Snuffy is too shy to be the first act. "Elmo the Great" goes first instead, counting backwards from 10 while shaking maracas and jumping up and down.

Cartoon
Geronimo 10-0: instead of a parachute, she is carried to the ground by four birds.
(First: Episode 2249)

Muppets
The Count sings the latest South American craze - "Counting Backwards in Spanish."
(First: Episode 3379)

Film
A gardener trims a bush to form a giraffe.
(First: Episode 3138)

Animation
D / d (space paint)
(First: Episode 3213)




Muppets
In a Dragnet spoof, Darlene depends on D-tective Dave to debunk the debacle of her "DOG" word, which is missing its first letter.

Cartoon
D for Dance: Ladies on stage dance a can-can to the tune of "The Infernal Gallop" from Jacques Offenbach's Orpheus in the Underworld, the lyrics of which are all the letter D.

SCENE 2
Snuffy is still too shy to go up on stage. The next act is the "Laughing Seal Duet" by Ruthie and Wolfgang.

Cartoon
A lizard, a girl and a dog dance.
Artist: Karen Aqua
(First: Episode 2795)

Animation
A Keith Haring mural comes to life after some kids EXIT.
(First: Episode 3006)

Cartoon
A honking orange ball follows signs to the EXIT.
(First: Episode 1879)

Muppets
Monty orders a new chair, which Grover delivers. However, Monty cannot decide where the chair should go.
(First: Episode 3256)

Cartoon
Two cartoon cacti sing "Here We Are."
(First: Episode 3153)

Celebrity
Telly Monster dons a pair of cat ears in hopes of surprising people, but no one seems interested. John Goodman shows him a better way of surprising people - bunny ears. They each put on a pair, but are instead surprised when they see the kids wearing elephant ears.
(First: Episode 3213)

Cartoon
Ralph asks Marvin what would happen if he didn't have a mouth, a nose and ears.
(First: Episode 0468)

Muppets
Kermit sings "I Love My Elbows."
(First: Episode 2582)

Cartoon
Autumn leaves form a capital "N" and lowercase "n."
(First: Episode 3114)

Film
The floating kids form a letter N.
(First: Episode 3109)

Animation
N/n paper fold
(First: Episode 3114)

Muppets
Ernie & Bert — Bert and Ernie go fishing. Ernie catches fish by yelling "Heeeeere fishy, fishy, fishy!", and they come flying into the boat. Bert tries it, but only catches a shark.
(First: Episode 1641)

Film
Kids play bongo drums loud and soft.
(EKA: Episode 2862)

SCENE 3
Big Bird encourages Snuffy to go onstage, guessing it's because of the fact that Snuffy thinks he won't be that good at his talent. Snuffy tries to say he won't go onstage for a different reason, but Big Bird goes to introduce the next act - The Alphabet-eers, who present the letters while Celina and Savion sing a parody of "That's Entertainment."

Cartoon
Two girls sing a reggae rendition of the alphabet.
(First: Episode 3269)

Film
A boy is scared to go to sleep at night, until his dad tells him to use his imagination to calm himself down. He conducts a symphony with his toys.
(First: Episode 3271)

Animation
Abstract count to 14.
(First: Episode 2811)

Film
Girls dance and chant about the number 14.
(First: Episode 3014)

Cartoon
"Sing a Song of Fourteen"
(First: Episode 2670)

Muppets
Monsterpiece Theater: "Guys and Dolls"
Herry Monster sings about how he likes to play with dolls, and Ruby sings about how she likes to play with trucks.
(First: Episode 2591)

Animation
Can you find the animals hiding in the T-shirt?
Artist: Deanna Morse
(First: Episode 2873)

Muppets
Luis reads the story of "Princess Sleepy". A prince tries to wake the sleeping princess in the woods. First he yells, then uses a feather, an alarm clock and blowing a trumpet, but it don't work. Then he gets a new idea and tries to kiss her. She wakes up and he turns into a frog.
(First: Episode 3377)

Song
"Dressed Up" (remake)
(First: Episode 3399)

Cast
Maria as Chaplin falls in love with a painting (Linda) at the art museum.
(First: Episode 2033)

Cartoon
Consonant Sound Limerick: D—Dog
Artist: Jeff Hale
(First: Episode 1149)

Film
Kid jungle explorers sight a wild letter D.

Muppets
Little Chrissy and the Alphabeats sing "Cluck Around the Clock."
(First: Episode 2817)

Film
Fay Ray's head moves across the floor from left to right.
(First: Episode 3034)

Cartoon
Bruce the moose invites Toulouse LaGoose over for juice.
(First: Episode 2498)

Film
Fay Ray's head moves across the floor from right to left.
(First: Episode 3034)

SCENE 4
Snuffy is finally ready to be in the show. While Bob plays the theme song on piano, Snuffy announces the sponsors to much applause.

COMING SOON
Coming soon on Sesame Street: Wolfgang cries out for fish.
Community content is available under
CC-BY-SA
unless otherwise noted.