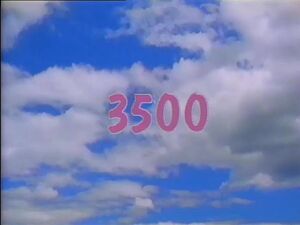 Picture
Segment
Description

Celebrity
Maya Angelou leads Big Bird and some kids in a ring game, "Little Sally Walker."
(First: Episode 3171)

Film
Amelia pretends she's an astronaut.
(First: Episode 2918)

Song
Joe Raposo sings "Take a Breath." (re-filmed version)
(First: Episode 2518)

Cartoon
A schoolyard of gloves invites other gloves to join them.
(First: Episode 1481)

Muppets
Elmo sings "In Your Imagination."
(First: Episode 3119)

Cartoon
Campers don't want to play ring toss with Zork, until their counselor reminds them about being judgmental.
(First: Episode 2761)

Film
James talks about how great it is to be Indian-American, because he gets to learn about things from two different places.
(First: Episode 3191)

Cartoon
A map of India morphs into the shape of animals that are found there.
(First: Episode 2668)




SCENE 1
Herry Monster welcomes the viewer, planning on playing a game of football. However, Benny Rabbit, Maria and the kids are all too busy to play with him. Wolfgang the Seal comes looking for fish and Herry thinks he'd make a fine creature to play with. He thinks if he gets some fish, Wolfgang will play with him.

Cartoon
A beaver does his exercises, while his friends make fun of him. He then uses his strength to save his friends when the dam breaks.
Artist: Irra Verbitsky
(First: Episode 2067)

Cast
"Between You and Me" (Gina and Savion)
(First: Episode 3133)

Muppets
Grover sits in a park and recites a poem about a butterfly that he sees.
(First: Episode 1967)

Film
Ducks swim and fly.
Music: Chopin's Valse Op. 64, no. 2)
(First: Episode 2510)

Muppets
"Do De Rubber Duck"
(First: Episode 2304)

Animation
F candles
(First: Episode 3081)

Film
Alphaboy fans his father's feet with feathers.
(First: Episode 3442)

Cartoon
A football player talks about his favorite sport.
Artist: John and Faith Hubley
(First: Episode 0135)




SCENE 2
Herry doesn't have any fish, but instead writes "FISH" on his football. He believes Wolfgang will enjoy reading the word as much as he loves eating the food. Wolfgang sees the word and believes that means the football has fish inside it. Herry throws Wolfgang a long pass and Wolfgang catches it, but runs away with the football.

Animation
Masked March #15
(First: Episode 3375)

Film
Growing Numbers #15
(First: Episode 2971)

Cartoon
"Mother Brown's Farm (Number Fifteen Song)"
(First: Episode 2693)

Film
A child in a classroom draws a picture of her dog Puck, and goes over the care required to keep a pet.
(First: Episode 2853)

Cartoon
A dog has a discussion with his master about where to go.
Artist: Dan Haskett
(First: Episode 2392)




Cast
Gordon hosts "The Crossing Zone," in which a boy named Jonathan has to find a way to cross the street. Susan helps him across.
(First: Episode 2729)

Cartoon
Why did the chicken cross the road?
(First: Episode 2050)

SCENE 3
Wolfgang tries opening the football to get to the fish, when H. Ross Parrot arrives with his "volunteers" for another of his alphabet rallies. He tells Wolfgang that without the alphabet, there'd be no fish at all. Together, they recite the alphabet and Ross heads off.

Cartoon
Jazz Alphabet: male vocalists shout each letter.
(First: Episode 0619)

Muppets
Big Bird talks about between by showing that he is in the middle between Zoe and Radar.

Animation
Y: Yuri, a yellow yak, eats yams and yogurt.
(First: Episode 3381)

Muppets
Old West: Sinister Sam announces that someone has bought the last box of crayons, and he wants to know why. It turns out that he just wants a crayon so he can learn how to write the letter Y.
(First: Episode 1288)

Cartoon
Y for yawn
(First: Episode 0301)

Song
Joe Raposo sings "Everybody Sleeps" (re-filmed version)
(First: Episode 3026)

SCENE 4
Wolfgang struggles breaking open the football. He acquires a pickaxe, then a mallet, then a larger mallet, but nothing seems to work. Herry and Maria stop him before he smacks the ball anymore.

Cartoon
Letter F words are found on the street.
(First: Episode 3353)

Muppets
Big Bird displays a letter F for FAST, then moves around fast.
(First: Episode 3215)

Film
Cars on the street go fast, then slow, then fast again.
(First: Episode 2988)

Muppets
Ernie & Bert — Ernie approaches Bert in a harried manner, talking rapidly. Bert tells him to talk slower so he can understand him. Ernie says, slowly, that Bert's bread is burning in the oven, which causes Bert to speak in the same rapid, harried manner.
(First: Episode 0323)

Song
"Elbows and Knees"
(First: Episode 2641)

Cartoon
Jasper thinks that he has lost his elbow, but Julius shows him his elbow by bending his arm.
Artist: Cliff Roberts
(First: Episode 0410)

Animation
Teeny Little Super Guy notices his friend Alice wanting to join a baseball game. He gives her the idea to go over there and ask them if she can play.
Artist: Paul Fierlinger
(First: Episode 1900)

Cartoon
The story of Tommy LaPlaid, the painter so sad until he discovered the joys of kicking his paints on the canvas.
Artist: Mo Willems
(First: Episode 3208)

SCENE 5
Herry and Maria tell Wolfgang that there's no fish inside the football. Wolfgang becomes disappointed, but perks up when Herry gets him a fish to cheer him up. Maria announces the sponsors.
Community content is available under
CC-BY-SA
unless otherwise noted.