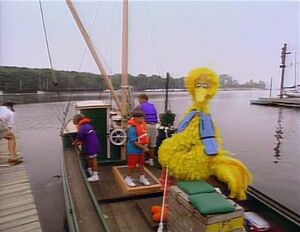 Picture
Segment
Description




SCENE 1
Big Bird and Telly wonder why Wolfgang the Seal won't stop barking. Mr. Handford remembers that yesterday he put up a sign in the Hooper's Store window that says "Special today: FISH" ... but that was yesterday's special, which means Hooper's is out of fish. Since fish are Wolfgang's favorite thing in the world, Big Bird wonders how to get him one. Luckily, Big Bird's friends Colin and Marlee are about to go fishing right now, so they let him come along with them. Big Bird leaves, promising to bring a fish back to Wolfgang.

Cartoon
"Water Conservation": Frank the fish calls Carl and tells him not to leave the water running while brushing his teeth, otherwise the lake will be dry.
Artist: Peter Chung
(First: Episode 2689)

Muppets
"Pond Full of Fish"
(EKA: Episode 2840)

Cartoon
A family of snakes makes shapes, and rolls away.
(First: Episode 1506)

Song
"I'm in Great Shape": Kids dance with triangles, circles and squares.
(First: Episode 3277)

Cartoon
Q/q (balloons)
(EKA: Episode 2495)

Film
Girls do a hand-clap game about the letter Q.
(First: Episode 3322)

Cartoon
Ants carry a huge letter 'Q' uphill.
(EKA: Episode 0851)

Muppets
The Two-Headed Monster shares a pillow.
(First: Episode 1669)

Song
Joe Raposo sings "Everybody Eats."
Re-filmed version
(First: Episode 2855)

SCENE 2
Wolfgang waits impatiently for Big Bird to come back from his fishing trip ...

SCENE 2
cont'd
Meanwhile, the boat takes off on the lake.

SCENE 2
cont'd
Mr. Handford tells Wolfgang to be patient, and persuades him to try a new food. Today's special is chicken, so he serves different chicken dishes, which the seal gobbles up right then and there. Telly is amazed at the way he eats the chicken, but accidentally says the word "fish," which makes Wolfgang hungry for fish.

SCENE 2
cont'd
Meanwhile, on the fishing trip, the boat arrives at the spot where Big Bird will hopefully catch a fish.

Cartoon
Name That Food ("Will you eat it?")
(First: Episode 1491)




Muppets
Prairie Dawn hosts "Fairy Tales Today," a talk show about fairy tale characters. Today, she interviews some fairy tale fruits and vegetables, including the beans from "Jack and the Beanstalk," the pumpkin from "Cinderella" and the apple from "Snow White," all of whom agree that they get treated unfairly in each of their stories. Prairie says that fruits and vegetables don't have feelings in the real world, which insults them.
(First: Episode 3382)

Cartoon
3 song (butterflies, birthday presents, waving pennants etc.)
(First: Episode 0927)

Cartoon
Three computer animated fish.
(First: Episode 2792)

Cartoon
The Ringmaster presents 3 high-flying felines (cats to us) who fall into a barrel of water. (new sound effects added)
Artist: Jeff Hale
(EKA: Episode 2164)

Film
A film insert about washing elephants at the Bronx Zoo. The song "Splish Splash" is used in part of the segment.
(EKA: Episode 2096)

SCENE 3
Wolfgang continues to bark, driving Telly and Mr. Handford up the wall. Telly suggests that they all say the alphabet ("I know it's a crazy idea, but so was striped toothpaste!"), which briefly distracts Wolfgang from his thoughts of fish, until Telly says the word again.

SCENE 3
cont'd
Meanwhile, Colin and Marlee catch one fish after another, but Big Bird still hasn't caught any yet.

Cartoon
Psychedelic alphabet
(EKA: Episode 0872)

Song
Joe Raposo sings "Doggy Paddle."
(EKA: Episode 2517)

Cartoon
Big / bigger / biggest (bikes)
(First: Episode 1245)

Muppets
Grover and Mr. Johnson
Mr. Johnson asks Grover the concession stand monster for a box of popcorn. Grover asks him if he would want the big, bigger, or biggest box of popcorn. Mr. Johnson wants the big popcorn, but Grover suggests the bigger popcorn. The two have a tug-of-war over the popcorn, resulting in the biggest popcorn box falling over Mr. Johnson's head.
(First: Episode 3489)

Song
AT words
(First: Episode 3291)

Animation
The word CAT is shown, followed by a black cat sitting on a chair.
(First: Episode 3000)

SCENE 4
Wolfgang drives Telly and Mr. Handford out of Hooper's with his barking. Telly gets another idea: this time, he'll get Wolfgang ready to eat the fish by doing exercises with him. Mr. Handford leads Wolfgang, Telly and some kids in some jumping jacks, until Telly faints.

SCENE 4
cont'd
Meanwhile, Big Bird thinks he has succeeded in catching a fish, but it turns out to be a boot.

Cartoon
The rabbit and the turtle race to the top of a building. The rabbit goes up 40 steps, but the turtle takes the elevator.
(EKA: Episode 2258)

Film
Fay Ray listens to classical music on headphones. "Are you listening to me?"
(First: Episode 2614)

Cartoon
All the instruments in Sousaville love Mr. Tuba's music, but when he plays with them, he doesn't play the same music they're playing.
Artist: ArtistMike
(First: Episode 2829)

Muppets
Cookie Monster has a riddle: what do you get when you have one cookie between two cookies? A cookie sandwich!
(First: Episode 3209)

Song
Jeff Redd sings "Between."
(First: Episode 2738)

Cartoon
The Typewriter: "Q", Quiet
Artist: Jeff Hale
(First: Episode 0768)

Muppets
Elmo shows the viewer a letter very quickly, and has the viewer guess which letter it is.
(First: Episode 3415)

Animation
A paper crumples to reveal Q, q and Qq.
(First: Episode 3105)

Song
Kevin Clash sings "Skin."
(First: Episode 2749)

Cartoon
A girl talks about her skin.
Artist: Bruce Cayard
(First: Episode 2611)

Insert
Chicago and Zoe present Celina doing the Vegetable Day Dance, dressed as a broccoli. Chicago sings a song about the vegetable.
(First: Episode 3292)

Cartoon
The Carrot (censored version)
Artist: Bruce Cayard
(EKA: Episode 1211)

Muppets
Bert missed the ice cream truck. Ernie offers to share his ice cream and runs home to get a bowl, while Bert holds his ice cream.
(First: Episode 3221)

Animation
A sign above a bathroom reads "boys", while boys exit the room.
(First: Episode 3386)

Muppets
Ernie hasn't returned yet, and the ice cream is starting to melt...
(First: Episode 3221)

Cartoon
Dr. Annie Eyeball looks at air.
Artist: Bruce Cayard
(First: Episode 2592)

Film
On a windy day, Maria (in voice-over) asks a man (Bill Irwin), "Does air move things?" The wind speaks for him.
(First: Episode 2876)

Muppets
Bert is still waiting for Ernie, and eats the ice cream before it melts all over his arm.
(First: Episode 3221)

Song
"Take Care of That Smile"
(First: Episode 2745)

Muppets
When Ernie returns with a bowl and spoon, Bert has finished the ice cream cone and feels very sorry. But Ernie doesn't mind: the ice cream truck passed by the bus stop, so he bought a new cone for himself.
(First: Episode 3221)

Cartoon
Two white squares try to push a great big object, and are reluctant to let a black square join them at first.
Artist: Fred Garbers
(EKA: Episode 2849)




SCENE 5
Big Bird finally returns with a very small fish in a small bag. Wolfgang wolfs it down immediately, and feels better. Telly and Mr. Handford announce the sponsors, and Big Bird talks some more about his great fishing trip.